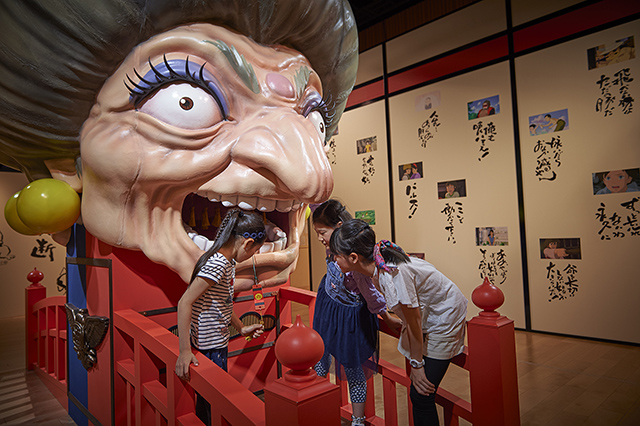 Attention Ghibli fans! Ghibli Park is set to open in the fall of 2022, bringing some of the studio's most iconic films to life in a theme park setting.

So to get you excited for its launch, here are 20 spots that are all some way or another connected to Ghibli.
Image photo

Set to open in the fall of 2022, Ghibli Park will recreate the fantasy worlds created by the studio in Aichi Expo Memorial Park.

Three different areas will open initially - Youth Hill, Big Ghibli Warehouse and Dondoko Forest - with an additional two areas - Mononoke Village and Witch Valley - coming in 2023. Aside from reproduced landscapes and buildings from popular Ghibli anime films, the theme park will also feature video installations, children's playgrounds, shops, and cafes.

There will be attractions based on "My Neighbor Toto" and "Spirited Away" while the main gate will resemble the buildings from "Howl's Moving Castle".

4.0

9 Reviews

Aichi Nagakute-shi Ibaragabasama Otsu 1533-1 Aichikyuhakukinenkoen

0561641130

9:00-17:00(Latest entry16:30…

View All

02

Toshio Suzuki & Studio Ghibli Exhibition

Toshio Suzuki & Studio Ghibli Exhibition

Toshio Suzuki & Studio Ghibli Exhibition

After its initial run in Hiroshima two years ago (and subsequent exhibitions in Nagoya, Kanazawa and Tokyo), the Toshio Suzuki & Studio Ghibli Exhibition is taking place at Huis Ten Bosch Museum in Nagasaki from July 13 to September 23, 2019.

It focuses on the work of long-time Studio Ghibli producer, Toshio Suzuki, with engaging artworks and calligraphy by Suzuki himself. Learn about his early inspiration in Showa-era manga and see a three-meter-tall depiction of Yubaba and Zeniba from "Spirited Away".

After exploring the exhibition, you can shop for limited-edition merchandise featuring all your favorite characters, then grab themed dishes at the Tea Salon on the first floor of Huis Ten Bosch.

URL:http://english.huistenbosch.co.jp/events/

Toshio Suzuki & Studio Ghibli Exhibition

Nagasaki Sasebo-shi Huis Ten Bosch machi 1-1

0956270246

View All

Ghibli Museum

Ghibli Museum

Another exhibition not to miss is the Ghibli Museum, which is situated in Inokashira Park in the city of Mitaka.

It's a destination to immerse yourself in the characters and scenery from some of the studio's most famous films, as well as discovering the art and techniques of animation.

See a replica of the Catbus from "My Neighbor Totoro" and a 3D zoetrope with characters from the 1988 film, then step into the mock animation studio to learn about illustration techniques.

Remember that you need to reserve tickets well in advance to visit the museum and that you can't just turn up!

URL:http://www.ghibli-museum.jp/en/

Popular tours: Studio Ghibli Museum Tickets—Preorder & Last-Minute Tickets

4.5

1904 Reviews

Tokyo Mitakashi Shimorenjaku 1-1-83 Metropolitan Inokashira Park In Saiten

0570055777

10:00-17:30 (Admission Hours…

View All

Studio Ghibli Museum Tickets—Preorder & Last-Minute Tickets

¥3,500

Update date:2022/10/01

04

Ghibli Clock (Nittele Big Clock)

Ghibli Clock

Ghibli Clock

Designed by Hayao Miyazaki, the Ghibli Clock is a 10-meter-high x 18-meter-wide automated clock in Tokyo's Shiodome district.

It was sculpted by 3D modeling artist Kunio Shachimaru who also created a robot soldier on the roof of the Ghibli Museum. Coincide your visit with its five weekday movements (12:00 pm, 1:00 pm, 3:00 pm, 6:00 pm, 8:00 pm), with an additional one on weekends at 10:00 am. Be sure to arrive at least 3 minutes before the hour when all the action begins!

Hi Tele Dai Watch

Tokyo Minato-ku Higashishimbashi 1-chome 6-1

View All

05

A-san no Niwa ("Mr. A's Garden")

Mr. A's Garden

Mr. A's Garden

Designed by Studio Ghibli founder, Hayao Miyazaki, A-san no Niwa ("Mr. A's Garden") is situated in the leafy residential Tokyo neighborhood of Asagaya.

It originated as an old house dating from the Taisho era that people said was the kind of house that Totoro (from the Studio Ghibli classic "My Neighbor Totoro") would live in.

It became known locally as the "Totoro House" but sadly burned down during a fire in 2009.
After Hayao Miyazaki heard about the tragedy, he decided to design a beautiful park in its place, centered around a small building that's actually a public restroom.

06

Nukumori no Mori("Forest of Warmth")

Forest of Warmth

Forest of Warmth

Located in the city of Hamamatsu in Shizuoka Prefecture, Nukumori no Mori ("Forest of Warmth") is a fairytale-like village nestled in an enchanted forest that's gaining in popularity for its Ghibli-esque atmosphere.

It's clustered with cottages and mushrooms that appear as though they've been built by elves or fairies, as well as a handful of stores selling jewelry, gifts, and cakes.

The main store is called the Cottage of Warmth and is packed with furniture, ceramics, and candles for visitors wanting to create their own fairytale house. It also has a room dedicated to Studio Ghibli items, such as puzzles, toys, and tableware.

URL:http://www.nukumori.jp/

Shizuoka Pref. Hamamatsushi Nishi-ku Wajichou 2949

0534861723

[Weekday]11:00-16:00(Last en…

View All

07

Attractions based on particular anime films

Attractions based on particular anime films

If you're looking for attractions themed around a particular Studio Ghibli anime film, we'll introduce some of the most popular spots to visit below.

08

―Ponyo on the Cliff by the Sea

Tomonoura

Tomonoura

Tomonoura

Ponyo, the eponymous fish heroine of Ghibli's 2008 nautical adventure, was created during a two-month research trip to Tomonura. Don't be surprised if you've never heard of it: this tiny port town at the southern end of Hiroshima Prefecture's Fukuyama City is small but incredibly picturesque.

For the full scoop on its history, visit the Museum of History and Folklore, then walk along its coast for Ponyo-esque scenes of busy fishermen, bobbing boats and Edo-period stone lighthouses.

Read more
The Studio Ghibli Heritage in Tomonoura
The scenery in the 2008 movie "Ponyo" is largely derived from Tomonoura." …

Tomonoura

#1 Satsuki and Mei's House

Satsuki and Mei's House

Fans of "My Neighbor Totoro" can head to Satsuki and Mei's House at the Aichi Expo Memorial Park in Nagakute City. It's a life-size recreation of the house where Satsuki and her four-year-old sister Mei lived and was created for the World Exposition in 2005 that was themed around "Nature's Wisdom".

4.5

118 Reviews

Aichi Pref. Nagakuteshi Ibaragabasama Otsu 1533 - 1 Aichi & Earth Expo Memorial Park

0561641130

View All

Tickets for Satsuki & Mei's House (Moricoro Park)

¥1,500

Update date:2022/10/01

#2 Shiro-Hige's Cream Puff Factory

Shiro-Hige's Cream Puff Factory

Shiro-Hige's Cream Puff Factory

For a sweet treat endorsed by Studio Ghibli, don't miss a visit to Shiro-Hige's Cream Puff Factory, which is owned by a relative of Hayao Miyazaki. Located in Setagaya City, it's the only cream puff store in the world to be certified by Ghibli.

#3 Totoro's Forest

Totoro's Forest

Totoro's Forest

Despite being three decades old, Totoro–a forest spirit resembling a wild mix of furry creatures–endures as one of Ghibli's best-known and most-loved creations. In a meta-cycle of life imitating art imitating life, the forested region in Saitama which initially inspired Ghibli's masterpiece is now known as Totoro's Forest.

Miyazaki has made generous donations to a national trust focused on protecting its land from developers. For the most Totoro-like experience, visit in the late spring or summer to wander through this leafy paradise in search of your own furry friend.

Both Miyazaki and Studio Ghibli have drawn inspiration from across Japan, but a new 200-acre theme park collecting their oeuvre will significantly one-up Mitaka's Ghibli Museum.

The tentatively-titled Studio Ghibli Theme Park is scheduled to open its gates in 2022 — hot on the heels of what's expected to be Miyazaki's final film — giving fans a whole new way to immerse themselves in the mind of Miyazaki and co.

Sayama Hills (Totoro Forest)

Saitama Pref. Tokorozawashi Sayamagaoka other

0429476047

View All

#1 Edo-Tokyo Open Air Architectural Museum

Edo-Tokyo Open Air Architectural Museum

If you want to experience the world that Hayao Miyazaki referenced when creating "Spirited Away", head to the Edo-Tokyo Open Air Architectural Museum.

This outdoor museum in Koganei City is clustered with historical buildings that have been relocated here for preservation, with the Kagiya izakaya and Kodakara-yu bathhouse among the buildings that are featured in the anime. You can feel the presence of Kaonashi ("No Face") and Chihiro while exploring the museum, which comes with plenty of photo opportunities.

4.5

353 Reviews

Tokyo Koganeishi Sakurachou 3-7-1 In the Metropolitan Koganei Park

0423883300

[Apr.- Sep.] 9:30-17:30[Oct.…

View All

#2 Shima Onsen

Shima Onsen

One of Ghibli's most successful films, Academy Award-winning Spirited Away primarily takes place in the steamy enclaves of a towering bathhouse.

The surrounding onsen town is based on Gunma Prefecture's Shima Onsen, an old-school spot tucked at the bottom of a northwestern mountain range. It's an area already famous for onsen, but Shima's 40-or-so springs routinely land in Gunma's top four spots to soak.

Fans of Spirited Away may recognize its red-banistered bridges and neon-lit alleys of restaurants and small shops, but the centerpiece is Sekizenkan Ryokan. The traditional inn's multi-story structure is a dead ringer for the onsen hotel where young Chihiro/Sen experiences her spiritual odyssey.

#3 Dogo Onsen

Dogo Onsen

Dogo Onsen

Spirited Away is far too epic to have only one source of inspiration. Fans can head to Matsuyama City in Ehima Prefecture to discover more of what sparked Miyazaki's imagination.

Centuries-old Dogo Onsen is like a cartoon come to life; second and third floors sprout from all angles, giving the site the mixed air of both palace and theme park. Like Mary Poppins magic bag, its reasonable exterior feels downright infinite from the inside, with winding staircases leading to indoor and outdoor baths.

Read more
Dogo Onsen: The Ancient Hot Springs of Ehime Prefecture
There are few natural hot springs that rival Ehime Prefecture's Dogo Onsen. " …

13

―Kiki's Delivery Service

Shodoshima Olive Park

Shodoshima Olive Park

"Kiki's Delivery Service" was a 1989 anime by Studio Ghibli that follows 13-year-old Kiki as she completes her training to be a witch.

Shodoshima Olive Park

The 2014 live-action remake was filmed in Kagawa's Shodoshima Olive Park which has become a pilgrimage destination for Kiki fans from across the world. You can rent a "magic broom" for free to explore the park (just as Kiki did), as well as visit the herbal garden and Greek-inspired windmill that featured in the film.

Stop in at the restaurant to dine on fresh Shodoshima produce, then pick up Kiki-related gifts at the on-site store.

URL:http://www.olive-pk.jp/en/index.html

4.0

436 Reviews

Kagawa Pref. Shouzugunshoudoshimachou Nishimura A: 1941-1

0879822200

8:30-17:00

View All

#1 Yakushima

Yakushima

Yakushima

Subtropical cedar forests fill the island of Yakushima, a four-hour ferry ride from Kyushu's southern coast. Miyazaki and his team came here for guidance while conjuring the world of Princess Mononoke, a nature-filled epic centering on a sprawling and tangled forest filled with open-mouthed tree spirits ("kodama" in Japanese).

Parts of Yakushima experience near-constant rain, which can make for a wet trip but is a necessary component for the rich ecosystem that's earned its designation as a national park and, in some areas, a Natural World Heritage site. Massive cedar trees who've weathered thousands of years of wind and rain easily transport you to the world of feral wolf-child San and the rest of Mononoke's beloved cast.

#2 Shirakami Sanchi

Shirakami Sanchi

Shirakami Sanchi

Ghibli thinks big, so expect their inspiration to be just as expansive. More fuel for Princess Mononoke came from the northern tip of Honshu (Japan's main island) via the lush folds of mountainous Shirakami Sanchi.

Like Yakushima, Skirakami Sanchi holds World Heritage status, not only for its nature but for its diverse ecosystem of curious monkeys, black bears, and many distinct species of birds.

Die-hard Mononoke fans should make an effort to see both Yakushima and Shirakami Sanchi to better understand and experience the true scope of its origin story.

#1 Tomogashima

Tomogashima

Connected by ferry to Kada Port in Wakayama, Tomogashima is an uninhabited island between the prefecture's mainland and Awaji Island.

From the Meiji period until the end of World War II, it served as an important military base, with old bunkers, powder magazines and underground tunnels dotting the landscape today. These red-brick ruins, slowly being reclaimed by nature, are believed by many to resemble scenes from Hayao Miyazaki's "Castle in the Sky".

#2 Tenku no Michi

Tenku no Michi

Another destination that attracts fans of this anime film is Tenku no Michi on Kumamoto's Aso City Road. This scenic road extends from the Aso Valley all the way to Kita Gairinzan, and is said to appear like the road from "Castle in the Sky".

Laputa Nomichi

Kumamoto Pref. Asoshi Kario

0967-32-1960

View All

#3 Takeda Castle

Takeda Castle

One more location that will remind you of that movie is Takeda Castle. You can see the remains in Takeda, Asago City. The ruins of the castle are the only thing left now, but it's a truly magnificent sight.

Takeda Castle:http://wadayama.jp/takedajyoseki

Hyogo Pref. Asagoshi Wadayamachoutakeda

0796742120

[3/1-5/31] 8:00-18:00 (Last …

View All

18

―From Up on Poppy Hill

Yamate Italian Mountain Garden

Yamate Italian Mountain Garden

Studio Ghibli's canon isn't all magic dust mites and shape-shifting raccoons. Up On Poppy Hill forgoes fantasy to tell a teenage love story set in 1960s Yokohama.

At the center of narrative sits the Latin Quarter, a cherished house slated for demolition and which serves as a reference to a favorite Miyazaki trope "why are we so quick to destroy the past in pursuit of the future?"

Fans of the Latin Quarter's mix of American Victorian and Art Nouveau architecture can see its real-life counterpart in Yokohama's hilltop Yamate neighborhood: a two-story mansion designed by JM Gardiner and built in 1910.