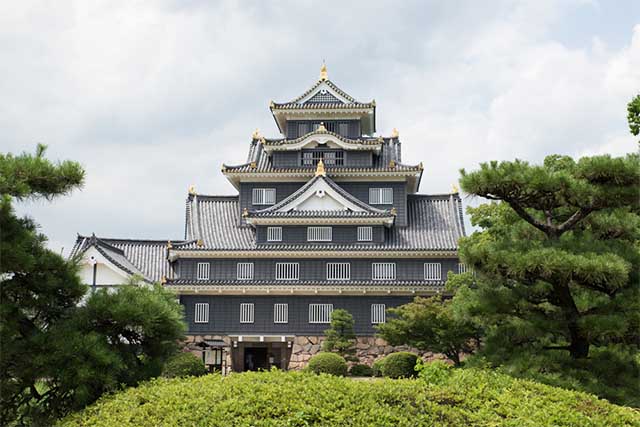 Known as the land of sunshine due to its warm climate and negligible rainfall, Okayama is the capital city of Okayama Prefecture. With a population of 720,841, it is the second largest city in the Chugoku region of Japan, behind Hiroshima.
Modern day Okayama was founded on June 1, 1889, though it has a long and rich history as a castle town during the Edo period. It has since become an important regional power, in part due to its significance as a transportation hub as it is conveniently located just one hour from Kyoto and about 35 minutes from Hiroshima by Shinkansen. It is also the place where the Sanyo Shinkansen meets the one and only rail connection to Shikoku.

Okayama's mild year-round climate makes it the ideal place for growing grapes, olive trees,peaches, and other fruits. The land of sunshine is home to the famous Korakuen Garden which is known as one of the top three ranking gardens in all of Japan, as well as playing home to the city's other great landmark, the impressive Okayama Castle. Also worth a visit is the Bizen Osafune Japanese Sword Museum, where visitors can immerse themselves in the history and craftsmanship of Japanese swords, and experience the splendor of the ancient deadly weapons up close.

Other famous sightseeing spots are the Korakuen garden, The Okayama Orient Museum as well as the Okayama Prefectural museum, specializing in exhibitions on the local culture and history. Most of these places are all located within convenient walking distance from one another, making it very easy to experience a lot in a short amount of time.

With its close proximity to the picturesque islands of the Seto Inland Sea, Okayama is a good starting point for anyone who wishes to explore "the mediterranean of Japan". The most well known of these islands is Naoshima, thanks to its large concentration of world class art museums.

Okayama is blessed with natural beauty. The imposing Seto-ohashi Bridge that spans Honshu and Shikoku islands, and Mount Washu-zan (which overlooks them), only add to the aesthetically pleasing atmosphere of the city.

Not just a pretty face, Okayama also serves as the setting of the popular fairy tale of Momotaro, a prominent hero of Japanese folklore. Visitors to Okayama will notice the town is strewn with allusions and homages to the legendary hero.