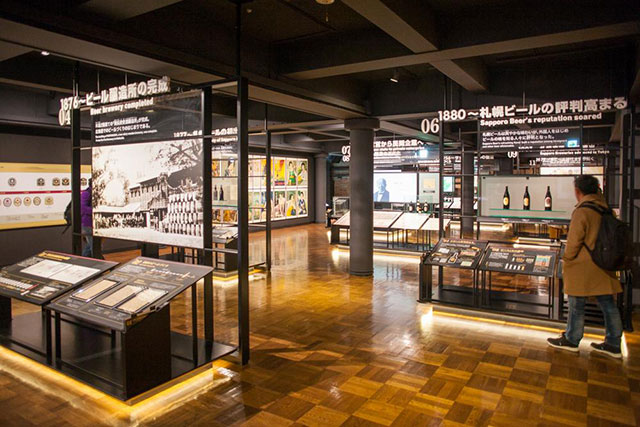 Japan is well known for its platinum standard of product craftsmanship, but many consumers may not realize that this applies to more than just what we see on the shelves. Pull back the curtain and explore the workings of a Japanese factory for a whole new level of appreciation for your favourite things. Tours are cheap (or often free), and come with special perks like the chance to get hands-on and try making something for yourself or indulging in that holy grail of consumer incentives: free samples.
01

Sapporo Beer Museum in Sapporo, Hokkaido

Sapporo Beer Museum in Sapporo, Hokkaido

Sapporo is Japan's oldest beer brand, and its Sapporo, Hokkaido factory is one of Japan's only beer-related museums. At over 100 years old, it also has the distinction of having been declared a Hokkaido Heritage site. Indulge in its sudsy history with a free self-guided tour featuring signage support in English, Korean, and simplified Chinese, or upgrade to a 500-yen guided premium tour, which ends with a flight of three beers–including a tour-exclusive reproduction of Sapporo's original brew. How's that for value? After a trip to the gift shop, end your day with a meal at the Sapporo Beer Garden, serving up–you guessed it–Sapporo's full line of beer and Hokkaido mainstays like local lamb dish Genghis Khan.

4.0

1251 Reviews

Hokkaido Sapporoshi Higashi-ku Kitashichijouhigashi 9-1-1

0117481876

11:00-18:00(Latest entry17:3…

View All

02

Nikka Whisky Miyagikyo Distilleries

Nikka Whisky Miyagikyo Distilleries

Japanese whisky magnate Nikka operates two distilleries, one of which is only several hours north of Tokyo in Sendai, Miyagi prefecture. Using a process brought to Japan from Scotland by chemist Masataka Taketsuru at the turn of the 20th century, Nikka produces everything from low-cost convenience store mixer whiskies to award-winning single malts. Try them all at Nikka's Miyagikyo Distillery, a lush, red-brick estate that uses water from nearby Nikkawa River to craft the company's exclusive blends. Though free tours are in Japanese, English commentary is available using a downloadable smartphone app. No matter which language you listen to, the 70-minute tour culminates in a tasting of two types of whiskies and a tangy swig of apple wine.

Miyagi ken Sendai shi Aoba ku Nikka 1

0223952865

[Tour information] 9:00-11:3…

View All

03

Nikka Whisky Hokkaido Factory Yoichi Distillery

Nikka Whisky Hokkaido Factory Yoichi Distillery

Nikka's castle-esque Hokkaido distillery offers the perfect winter warmers to get your blood flowing after a snowy day on the island's western coast. Its locale and climate were chosen by Nikka's founder for their similarity to Scotland–including fresh ocean air, whose presence gives the distillery's whiskies a crisp salt-water finish. But it takes more than good ingredients to make good whiskey. Yoichi Distillery's tour allows you to observe its unique coal-fired distillation process, a bit of a unicorn in modern-day production due to the difficulty it presents to its workers. Guided tours are in Japanese, but English-speaking visitors can get by with video displays spread throughout the factory explaining each step of manufacturing. As with any good tour, all of your studying is rewarded by a smoky sample at the finish line.

4.5

1281 Reviews

Hokkaido Yoichigunyoichichou Kurokawachou 7-6

0135233131

[Shop/Museum] 9:15-16:15 (La…

View All

04

Kirin Yokohama Beer Village

Kirin Yokohama Beer Village

This factory's close proximity to Tokyo makes it ideal for a boozy day trip from the bustling metropolis. Kirin's Yokohama factory, the largest and oldest brewery in Japan (and with a website claiming it cranks out more than 2000 cans per minute), offers an extensive multimedia tour teaching participants about the special brewing process that has made Kirin one of Japan's top-four beer manufacturers. It's a bit heavy on chemistry, but entertaining enough that it never feels like a lecture. In fact, depending on your interests, you can opt for one of three tour varietals: the standard factory tour, a "nature-themed tour" for the eco-minded, and a family alternative which probably swaps some of the molecular science for a couple of cute mascots (though just how "family-friendly" a beer-based tour can be is debatable). Thankfully, all roads lead to a free tasting, and–if you're feeling peckish–a meal at in-house restaurant Spring Valley. Tours fill up fast, so best to reserve your spots in advance.

4.5

309 Reviews

Kanagawa Pref. Yokohamashi Tsurumi-ku Namamugi 1-17-1

0455038250

[Special experience only at …

View All

05

Pottery Kiln Tour at Kouraku in Arita

Pottery Kiln Tour at Kouraku in Arita

Though its population certainly drinks its fair share, Japan produces much more than alcohol. For a little something different, head to Arita in Saga Prefecture to see what a century and a half of craftsmanship looks like via Kouraku's Pottery Kiln Tour. It's brief (an average tour takes only 30 minutes), but the best part comes afterwards: an all-you-can-take 90-minute pottery hunt. Kouraku lets you go full-Indiana Jones, digging through piles of pottery with gloves and a flashlight in a search for buried treasure. If it fits in your basket, it's yours!

幸楽窯

佐賀県西松浦郡有田町丸尾丙2512

0955424121

View All

06

Azamiya Minsah Craft Center

Azamiya Minsah Craft Center

If you find yourself in Okinawa, head to Ishigaki Island (a sorely-overlooked vacation destination) to check out Azamiya Minsah Craft Center. Visitors can watch the dyeing and weaving of traditional Minsah textiles, whose pattern of alternating rectangles symbolizes eternal love and is said to have supernatural qualities. Depending on availability, you might also opt to pull up a chair and weave your own masterpiece via paid workshops lasting anywhere from 20 minutes to several hours. Though these are offered only in Japanese, wily participants could probably follow along with a careful eye and a lot of patience.

Knowing the origin story of what you buy imbues it with a whole new sense of meaning. The next time you're looking to pick up your favourite made-in-Japan goods, why not skip the shops and head straight to the source?