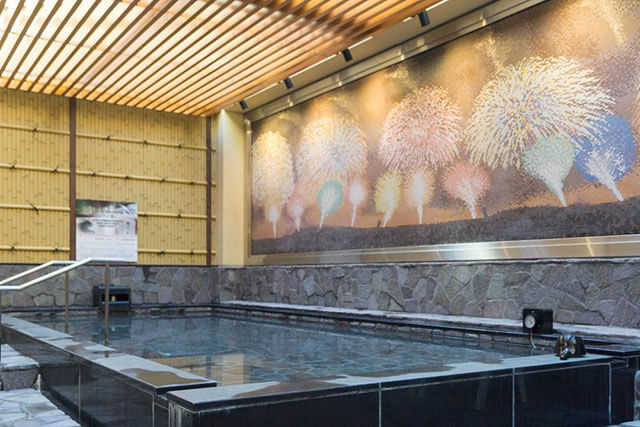 Depending on your home culture, Japan's custom of public bathing can take a little getting used to. Aside from the main requirement of taking it all off in front of a group of strangers, there are a couple of rules that Japanese people know intuitively and on which your local bathhouse likely won't budge (e.g. yes, you have to scrub yourself before getting in a communal tub; no, your modesty towel can't touch the bath water). Even the names of the establishments themselves can be confusing: "onsen" refers to a facility using naturally-hot thermal water, whereas sento are basically giant boiler-heated bathtubs. But don't let the logistics keep you away: once initiated, you'll wonder how you ever got along without the near-miraculous ritual of onsen and sento. For some of our favourite Tokyo locations, check out the list below.
Spa LaQua

Located in the shadow of Tokyo Dome, LaQua is an onsen bathing complex with a slew of ways to rest and rejuvenate. Onsen water rich in sodium chloride comes from approximately 1,7000 meters below street level and straight into a wide range of both indoor and outdoor baths, and both low-temperature and piping hot saunas (available for an additional fee) are the perfect place to sweat out the stress of a Tokyo commute. Other amenities include Japanese, Vietnamese, and international restaurants, and a set of hair and nail salons to help you look as good as you'll feel. Spa LaQua isn't cheap–adult admission is 2850 yen–but its convenient loction makes it a great way to add an onsen experience to your day in Tokyo.

4.0

46 Reviews

Tokyo Bunkyou-ku Kasuga 1-1-1 Laqua Building

0338174173

[Spa] 11:00-9:00 next day

View All

Thermae-yu

Speaking of convenience, Thermae-yu is only a short walk from Shinjuku Station's Kabukicho exit. It's an area known for some occasionally seedy glitz and glamour, but this pristine onsen is packed with all of the features you'd expect from a tourist-friendly Tokyo bathing complex–including extended hours: for an extra fee, bathers can scrub and soak well for 24 hours. One thing that makes Thermae-yu stand out is language support: most of its staff speak at least basic English, which means it can make for a great first foray into onsen culture.

4.5

124 Reviews

Tokyo Shinjuku-ku Kabukichou 1-1-2

0352851726

Open 24 hours

View All

Jakotsuyu

While "super sentos" like Spa LaQua and Thermae-yu guarantee a solid experience, most Tokyoites do their public bathing in smaller sentos like Asakusa's Jakotsuyu. Though you won't find theme park-style perks like nail salons and meal service, they're a much better window in traditional bathing culture–and admission typically costs under 500 yen. Those who don't speak Japanese will be relieved to know that entry here is handled via a multilingual ticket vending machine, after which visitors change and head into a modest main bathing area overlooked by a retro tile mural of Mount Fuji. It may be humble, but Jakotsuyu still pipes out top-quality onsen water and includes a few different style tubs (warning: watch out for the always uncomfortable electric shock bath, essentially a set of submerged live wires meant to stimulate and relax your muscles but which some may liken to sticking your finger in a socket).

04

Saya No Yudokoro Onsen

Saya No Yudokoro Onsen

Housed in what used to be a 40s-era family home, Itabashi's Saya No Yudokoro offers 14 baths of nutrient-rich onsen water, including several lush outdoor baths in which you can soak under the sky no matter what time of year you pay them a visit. Though it's the furthest spot from the city centre on our list, if you find yourself in northern Tokyo, Saya No Yudokoro is a great way to recharge–though be advised they have a strict no-tattoo policy. After your bath, pop into the on-site soba restaurant to enjoy views of a traditional Japanese rock garden you fill your belly

4.0

235 Reviews

Tokyo Itabashi-ku Maenochou 3-41-1

0359163826

9:00-24:00(Last entry23:00)

View All

05

Tokyo Somei Onsen Sakura

Tokyo Somei Onsen Sakura

A short walk from Sugamo Station, affectionately known as "Obaachan no Harajuku" ("Grandmother's Harajuku") because of its plethora of fashion-forward elderly, Tokyo Somei Onsen Sakura is somewhat of a sento and onsen hybrid: thermal water is used in its bath, but heated using boilers to help it reach the ideal temperature for bathing. If that doesn't bother you (keep walking, purists), Sakura's highlight is its outdoor baths, including a skin-revitalizing "silky bath" and special saunas constructed using rare Japanese stones. As its name suggests, visiting Sakura in springtime presents the opportunity to float under a canopy of cherry blossoms–the perfect way to take your trip to the onsen from satisfying to superb.

3.5

15 Reviews

Tokyo Toshima-ku Komagome 5-4-24

0359075566

10:00-23:00 (Reception until…

View All

Every part of Tokyo has its own character, and there's no more relaxing way to experience this than through the city's bath culture. The next time you're in one of the neighbourhoods mentioned above–or any other–why not swing by an onsen or sento to see how the locals soak?