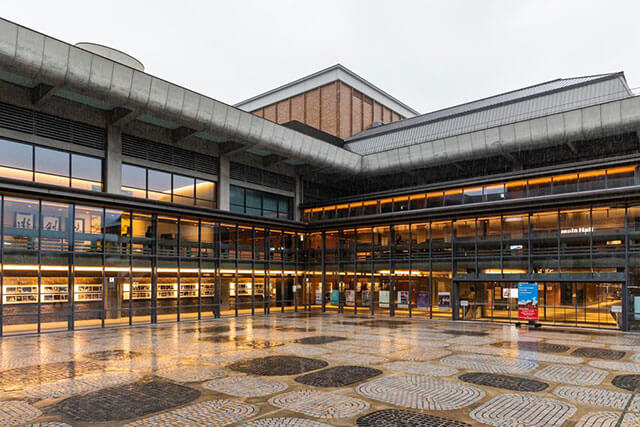 When Japan restored imperial rule at the Meiji Restoration in the 1860s and moved from feudalism to steam-powered industrialization and the embrace of Westernized modernity, the new capital at Tokyo became the place where everything was happening, and Kyoto drifted to the periphery, becoming a museum to a cherished but outmoded way of life.

Most visitors to Kyoto are there to experience temples, shrines, and festivals that date back centuries, but the city has quietly become a home for artists, some seeking inspiration from the cultural capital, some simply staying on after art (or theater or music or film) school, others in search of cheaper rents and an artistic community distant from the Kanto megalopolis.

Here are six places to experience the artistic side of Kyoto.
Maekawa Kunio, an acolyte of Le Corbusier, saw his design for the Kyoto Kaikan realized in the the same year as his Tokyo Bunka Kaikan was finished in Ueno Park (he also did the design for the nearby Tokyo Metropolitan Art Museum). Unlike much of his work, those buildings both escaped the wrecking ball—but it was a very narrow escape for Kyoto Kaikan. The old theater had been kept up but it was in need of an expensive seismic upgrade and facelift. ROHM Semiconductor footed the bill to restore the theater. The three halls of the theater have become the place to see experimental theater, but also traditional performing arts like noh and rakugo.

ロームシアター京都

4.0

42 Reviews

京都府京都市左京区岡崎最勝寺町13

0757716051

View All

Set in the Meiji Era (1868 to 1912) Meirin Elementary School, Kyoto Art Center is part of a municipal project to promote contemporary art in the city. The former school now hosts gallery space, studios, a coffee shop and an auditorium. It's difficult to sum up a particular vibe or curatorial bent at KAC—a positive thing, since there are always surprises to discover—but perhaps there is a slight bias toward the type of interactive, socially-engaged work that subsists on grants rather than Ginza gallery buys. If you plan to spend time in the city, look up KAC's workshops, including the three week intensive Traditional Theater Training.

4.0

26 Reviews

Kyoto Kyoto-shi Nakagyo-ku Muromachi-dori Takoyakushi Sagaru Yamabushiyamacho 546-2

0752131000

View All

The flagship Leica store in Gion stays true to the brand's austere minimalist approach, with cameras displayed like antique vases under Perspex. The wood beams of the renovated machiya home are preserved, and continue upstairs in the gallery. The space has hosted works and talks by Leica photographers and Leicaphile celebrities.

Leica Kyoto

Kyoto Kyoutoshi Higashiyama-ku Gionmachiminamigawa 570-120

075-532-0320

http://jp.leica-camera.com

View All

This gallery off Teramachi Dori might remind you of similarly polished spaces in Ginza or Azabujuban, hosting contemporary artists in a minimalist space. It's representative of the gallery vibe in Teramachi, and a good spot to see what's hot in the local art scene.

Kyoto Kyoto-shi Higashiyama-ku Gionmachiminamigawa 570-210

0755320910

View All

In some ways, Domoto Insho represents both the traditional artisans of Kyoto, as well as the wave of modern artists that made the city home over the past half century. Domoto was born and raised in the city, taught at the Kyoto Municipal Special School of Painting, and his work is visible in temples and tea pavilions all over town. Domoto borrowed freely from Western modern art, even when working in media as bound by tradition as temple screens. The Insho Domoto Museum, a short walk up the road from Ryoanji, collects the work of the artist and his accomplices, including the work of his brother, a lacquerware artist, that includes a set of sideboard panels designed for the Argentina Maru.

Kyoto Kyoutoshi Kita-ku Hiranokamiyanagichou 26-3

0754630007

9:30-17:00(Last entry16:30)

View All