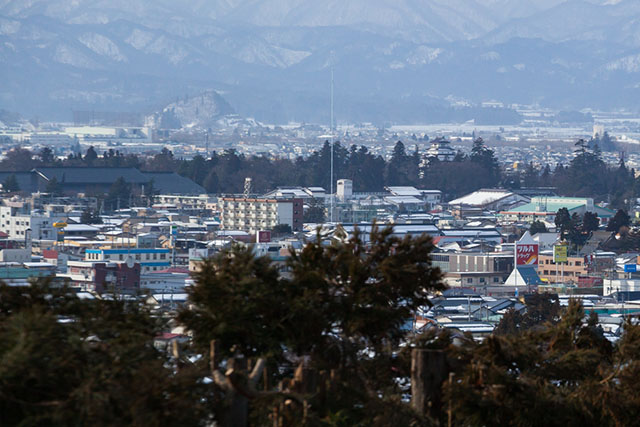 Previously a training hub for samurai, Aizuwakamatsu, or Aizu, is now known for its preserved castle and rich cultural history. Located in Western Fukushima, Aizu is becoming an up and coming sightseeing spot, where visitors can relax in a hot spring or indulge in the restored Edo period architecture. The self-proclaimed "Samurai City" also has plenty to offer to the history buff as the city was the backdrop for the Boshin War of 1868.

In the 1800s, the sons of samurai were trained at the Nisshin-kan school to become proper young individuals of society. The Edo-era restored school still offers classes to youngsters and adults, with far less discipline than in the past. Visitors are welcome to partake in Zen meditation or calligraphy. The popular NHK historical dramas "Yae No Sakura" and "The Byakkotai" were also filmed on location at the school.

The red tile roofs of the 600 year old Tsuruga-jo Castle overlook the town. The castle was faithfully restored in 2011 as an exact replica of its Tokugawa period design. The castle hosts a small history museum with a display of samurai life. The surrounding castle park is especially picturesque in spring with its cherry blossoms.

Aizu is known for its traditional Tohoku cuisine such as wappa meshi, a rice bowl served in a wooden box topped with seasonal fare. Aizu chicken, locally raised poultry, and Kozuyu, a New Year's dish of winter vegetables, are also popular local foods. Raw horse meat with spicy miso is also a delicacy dating back to the Edo period. At the time, the city was a popular transit stop with many horses stopping by to pick up packages.

If there's one thing Aizu does well, it's sake. The fresh, pure taste of the sake comes from the melted snow of the Iide-Asahi mountain range, used for growing the rice that will eventually be fermented. The largest and most well-known brewery is Suehiro Brewery, in operation since 1850. The brewery is open for tours and also hosts a cafe serving sake-themed desserts. In the mood for more sake? Learn and taste Aizu's history of sake brewing at the Aizu Sake Museum. Just a ten minute walk from Tsuruga-jo, the museum offers a perfect break from walking, drinks included!

Aizu is easily accessible via JR Tohoku Shinkansen with a quick transfer at Koriyama Station to the JR Banetsu-Sai Line to Aizuwakamatsu Station. The one-way trip is 9,000 yen (covered by the JR Pass) and takes about three hours. The city itself is easily explored by bicycle or a tourist loop bus that circle all the main attractions.