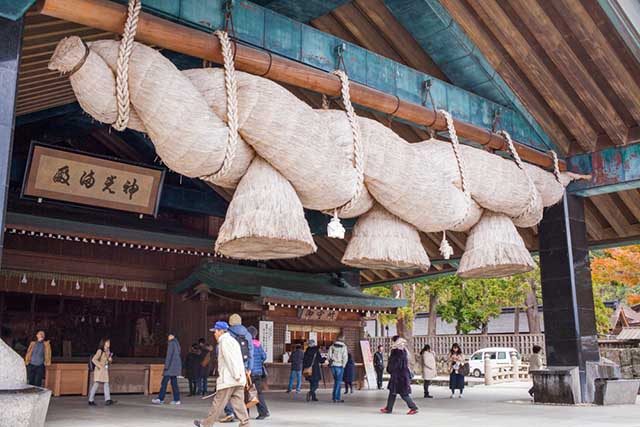 Izumo City stretches along the north coast of Shimane Prefecture boasting a mild climate, an attractive rugged coastline facing onto the Sea of Japan, and part of the 16 kilometer wide Lake Shinji. Izumo's claim to fame is the influential Izumo Taisha Shrine which sits in the north of the city within shouting distance of the coast.

The city of Izumo is in a relatively quiet corner of Japan, primarily visited as part of a trip to Izumo Taisha Shrine. Some of the most ancient Japanese books have put Izumo on the map as one of the country's most important cities for mythology and Izumo Taisha most probably the oldest of Japan's shrines. The huge Shinto shrine grounds consist of several buildings dedicated to Okuninushi, the god of relationships and the guardian of Japan.

The surroundings of Izumo Taisha Shrine are well set up for a day trip to the area thanks to a generous dose of shops, restaurants, museums, and old buildings. Highlights in the area include the former Taisha Station, a beautiful architectural structure open to visitors, and the Shimane Museum of Ancient Izumo which covers the fascinating history of the region and exhibits artifacts dug up in the area that are supposedly around 120,000 years old.

The Hinomisaki coastline which borders the Sea of Japan offers spectacular views over unique rock formations and the mountainous region of Izumo as well as the Hinomisaki Lighthouse and Hinomisaki Shrine. With the ocean so close there is, of course, a delicious selection of seafood on offer around the city. However, the Izumo staple is their take on soba noodles which are served in a stack of three lacquer ware dishes which are perfected with the addition of tasty sauce and toppings. To the east of the city lies Lake Shinji, shared between Izumo City and neighboring Matsue City, which is famous as a prime spot for seeing a vivid sunset.