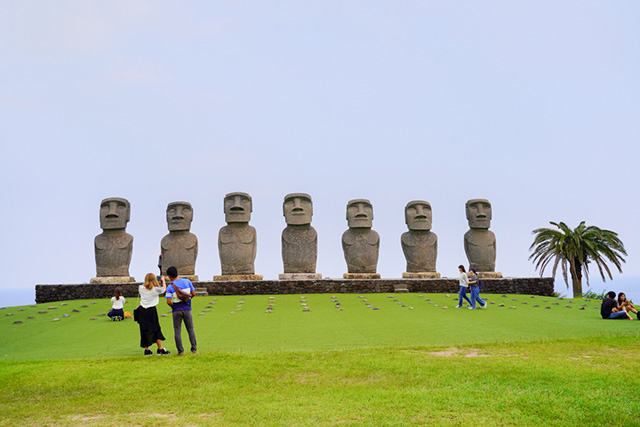 While you might think you're on the shore of the famous Easter Island with the mysterious and monolithic Moai figures carved by the Rapa Nui people, Sun Messe Nichinan is actually a replica situated in a relaxing amusement park along the Nichinan coast in Miyazaki. Nestled amongst tropical palm trees, the Sun Messe Nichinan statues are a charming attraction in front of exquisite panoramic views of the crystal Pacific Ocean waters and are the only permitted replicas of the Moai figures in the world.

Sun Messe Nichinan

The site is a 40-minute drive from the Miyazaki Airport and can be reached by bus. It is open to the public from 9.30am to 5pm. If you're keen to drive to the site, you will be treated with picturesque views of the ocean along the seaside Phoenix Road. Each statue is deemed responsible for a blessing, which includes love, leisure, money, marriage, business, study, and good health. They each represent the spirits of the Easter Island explorers who discovered the island some centuries ago.

Sun Messe Nichinan

But why has Japan built a number of large statues that represent and honour the spirits of Rapa Nui legends? Nearly two decades ago, a documentary was aired on Japanese TV that shed light on the destruction of the statues on Easter Island after conflict arose between tribes and an earthquake hit the area. Japan decided that it would be responsible for restoring the statues to promote world peace. A team from the Tadano Corporation with the Nara National Research Institute for Cultural Properties then began rebuilding the statues on the island in partnership with the Institute for Easter Island Studies of the University of Chile. After three years, the original statues were built and restored and the site achieved UNESCO World Heritage Site status.

Sun Messe Nichinan

The documentary that showed the damage of the site on Easter Island inspired the Tadano Corporation to help by providing a crane to fix the statues. The imitation statues that are settled on the Japanese coast were a way of expressing gratitude for helping Easter Island to rebuild.

Sun Messe Nichinan

When you're there, be sure to check out the Moai museum and the different gardens and trails surrounding. There are some stores you can stop by at for purchasing some cute Moai souvenirs to take home with you. Kids have an opportunity to have a play on the playground equipment or you can walk through the butterfly garden while wandering around the site.

Sun Messe Nichinan

If you are prepared enough to have a Japanese or international driving license, then you can rent a golf buggy to drive around the amusement park. Or if you're a keen animal enthusiast, there are some random farm animals at Sun Messe Nichinan to entertain you amid the beautiful backdrop of the ocean.