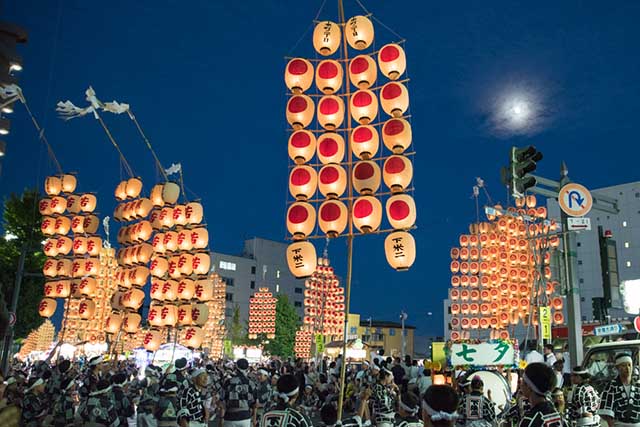 While Japan has plenty of exciting summer festivals, the northern region of Tohoku is home to some of the nation's most spectacular celebrations, the majority of which take place throughout the month of August.
If you want to experience some of Japan's most interesting local culture, visiting one (or more) of the countless festivals that are held all over the country is what we would consider a mandatory entry on your bucket list. The best time of year to visit Tohoku is during the warm summer months, and most specifically in the first week of August, when a whole host of events are taking place throughout this northern region of Japan.

For a few years, six of the Tohoku summer festivals were held all at once in the same location at an event called the "Tohoku Rokkon Festival". This was an initiative started as a means of showing support and drawing attention to Tohoku as Japan's hardest hit region by the Tohoku earthquake and tsunami in 2011. Since 2017, however, things have gone back to normal and the festivals are once again only held at their original locations. This is no reason not to stop off at more than one festival, though. With many of the festival cities located relatively closely together, it's easy to travel from one place to the next using public transportation. We even have a dedicated article for those of you who want to experience all of them in one week.

The festivals that make up this spectacular time of the year in Tohoku are: The Aomori Nebuta festival, where giant floats are pulled through the streets of Aomori in front of millions of visitors; the Akita Kanto festival, where you can see local talents balancing massive bamboo poles covered in paper lanterns; the Morioka Sansa festival, where thousands of dancers made up of hundreds of teams dance along the main streets of the city; the Fukushima Waraji festival, a quirky dance festival where you get to see the biggest straw sandal in Japan; the Yamagata Hanagasa festival, where thousands of dancers wearing hats decorated with flowers dance throughout the streets; and last but not least, the Sendai Tanabata festival, when the shopping district in Sendai is decorated with countless colourful streamers and other paper decorations.

Even if you won't be able to explore all of these spectacular events during your time in Japan, we highly recommend that you at least try to stop by a few of them if you get a chance. They are all great fun and will give you a good chance to enjoy the cheerful spirit of Japanese summer festivals.