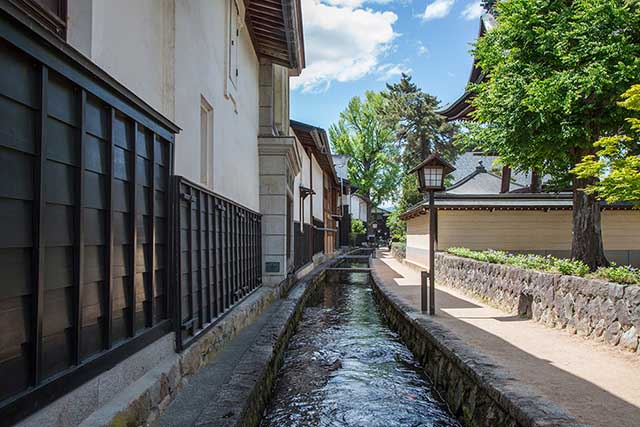 Hida-Furukawa is a pleasant riverside town situated in the heart of Gifu Prefecture's mountainous Hida region. It is often referred to as the twin of the slightly bigger town of Takayama which is situated just fifteen minutes south by train. Both places are famous for their nicely preserved old towns, traditional festivals and a rich history of carpentry. Hida-Furukawa attracts a lot less attention than its bigger brother Takayama, making it a great place to escape the crowds for a few days.

The old town is divided by a narrow canal that runs off the bigger Seto River situated a little way upstream. The canal cuts through the town center and runs alongside pedestrianized streets carrying with it swarms of koi-carp, adding a rather colorful touch. On either side of the river sit rows of old town-houses and warehouses from a bygone era, their distinct bright white stone walls add to the uniqueness of the town's character. Local carpenters make every effort to protect the old structures, preserving the atmosphere of Japan's Edo period.
Highlights in the old-town include the Mishima wa Candle Shop which has specialized in traditional Japanese candle making for over 200 years and a series of sake breweries which have also been in operation for several generations.

4.0

18 Reviews

Gifu Pref. Hidashi Furukawachouichinomachi 3-12

0577734109

9:30-17:00

View All

Every spring on the 19th and 20th of April, the townsfolk come together to celebrate their annual festival – The Furukawa Festival, also known as The Naked Festival, due to the large numbers of men who take part in the procession in little more than skimpy cotton underwear. Teams of locals parade through the streets, beating large Japanese taiko drums, while carrying beautifully decorated wooden floats. The festival often coincides with the towns cherry blossom season, making it a colorful display of both manmade and natural beauty.

Those looking to escape downtown Hida-Furukawa for the day have plenty of options available to make the most of the area's scenic beauty with an abundance of hiking trails that start near the town and bicycle rental companies offering rentals by the day. For those feeling a little more adventurous, the now-abandoned Kamioka Railway which used to serve the local mining community has a unique and fun, family-friendly cycling course on bikes that are attached to the old train tracks. The three kilometer course winds through stunning mountainous scenery and several disused train stations.

JR Hida-Furukawa Station can be accessed by train from Tokyo and Osaka via Nagoya. Trains also run from Toyama and Takayama. The Train Station also acts as the town's Bus Station, with bus routes to and from Takayama, Kyoto, Osaka, Nagoya, Kanazawa, Gero Onsen, Matsumoto and Kamikochi.