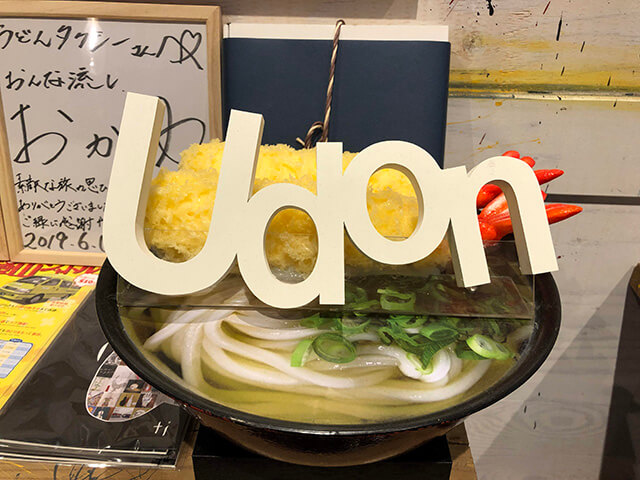 Kagawa had been dubbed "Udon Prefecture" and is famed throughout Japan for its Sanuki udon. This iconic noodle dish is deeply entrenched in the local culture and there are literally hundreds of restaurants where you can try it. In this article, we'll introduce some of the places not to miss and the easiest way to get around - the Udon Taxi!
Operated by the Kotohira Bus Co., the Udon Taxi offers a unique tour through Kagawa that takes you to some of the area's best udon eateries. There are over 550 udon shops in Kagawa Prefecture (apparently that's more than the number of traffic lights!), so you'll be spoiled for choice. The Udon Taxi is a great option if you're not sure where to start and there are English brochures available if you don't speak Japanese.

It's not easy to become an Udon Taxi driver, with three different tests to be completed. After a written test checking their knowledge about the specialties of each udon shop and some unique udon facts, they then have to complete a field test to make sure they are interesting and engaging to ride with. The final test involves making noodles by hand and mastering the secret techniques of Sanuki udon.

Udon Taxi
https://www.udon-taxi.com/en/

02

Recommended restaurant no. 1: Miyagawa Seimensho

Miyagawa Seimensho

Tucked away in a quiet setting away from the city center, Miyagawa Seimensho appears more like a noodle factory than a restaurant. But once you step inside, you'll realize that it's bustling with regulars who come to feast on their delicious udon. The ordering process is unique, with each customer lining up with their bowl before adding noodles, broth and ingredients according to their preference. If you're not sure what to order, why not try their Kake Udon, which costs 240 yen for a large size (fried tofu and tempura cost extra).

Miyagawa Seimensho

Udon 240 yen

Kagawa Zentsuji-shi Nakamuracho 1-1-20

0877621229

View All

03

Recommended restaurant no. 2: Kamaage Udon Nagata in Kanoka

Kamaage Udon Nagata in Kanoka

Next up is Kamaage Udon Nagata in Kanoka, which is one of the most popular udon shops in Kagawa and often has a long line out its front door. They specialize in kamaage udon in which the udon is served with some of its cooking water and accompanied by a dipping sauce, plus toppings such as spring onion and ginger. You can select your preferred size, with a small bowl costing 300 yen and a large (1.5 servings) 400 yen.

Kamaage Udon 400 yen

4.5

213 Reviews

Kagawa Pref. Zentsujishi Konzoujichou 1180

0877635921

9:00-17:00(L.O.17:00)

View All

04

Recommended restaurant no. 3: Yamashita Udon

Yamashita Udon

One of the pioneers of bukkake udon, this renowned restaurant is situated on a quiet road surrounded by mountains and rice paddies. While there are 68 seats inside, the queue often stretches out the door, particularly on weekends and holidays. Bukkake udon is traditionally served cold with a chilled dashi sauce and a variety of meat protein and/or vegetable garnishes. At Yamashita Udon, you can have your bukkake udon served either cold or hot, with a small size costing 250 yen.

Udon 250 yen

4.0

121 Reviews

Kagawa Pref. Zentsujishi Yogitachou 284-1

0877626882

9:30-16:00

View All

05

Learn about Sanuki udon culture at the UDON HOUSE

UDON HOUSE

Want to learn more about Sanuki udon? Why not stay at UDON HOUSE, which opened in October 2018 as a place where travelers could discover the culinary and cultural origins of Sanuki udon. It offers unique one or two-day programs where you'll learn the secrets of making udon from scratch under the guidance of local specialists and visit a local farm to see first-hand how the ingredients and seasonings are grown. The two-day program includes an udon breakfast and visits to some of the region's hidden favorites before heading out on an afternoon excursion to enjoy the beauty of the Seto Inland Sea.

UDON HOUSE is ideal for foodies who want to delve a little deeper into Kagawa's udon culture while staying with like-minded travelers. It occupies a newly renovated house that has retained the atmosphere of a traditional residence, with the accommodation including Japanese-style rooms and shared dormitories. There's also a shared kitchen where you can put your new-found skills to the test and the shelves are stocked with original products and goods related to udon.

UDON HOUSE

香川県三豊市豊中町岡本1651-3

0875891362

View All

06

The endless possibilities of udon

Udon

It's rare to visit a destination where a single dish connects the community as strongly as it does in Kagawa. Sanuki udon is a dish that's loved by both young and old and is served simply, yet with attention to high quality and taste. So why not experience the charm of this "Udon Prefecture" next time you visit Japan!