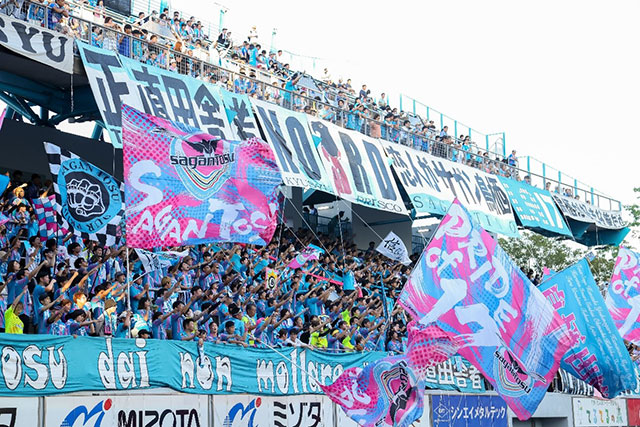 Among the many experiences unique to Japan, the most captivating are to be found outside the urban centers, in the regional cities. Like watching a professional soccer club with its local community supporters.
Of course, there are many famous clubs in urban centers, but their games draw thousands of fans in enormous events, which can be intimidating for those just wanting a peek.
In contrast, regional professional soccer clubs have a distinctly warm vibe, where both the teams and players play freely and spiritedly to the cheers of their kindly local supporters. These fans warmly welcome tourists seeking an authentic regional experience.
In Saga, Kyushu's smallest prefecture, the local club Sagan Tosu is known for its captivating commitment to running for its fans until the very end. If your travels in Kyushu coincide with a match day, why not stop by to watch them play? Sagan Tosu has a handy online ticketing system, so everything is in place to join in the fun.
Japanese event tickets purchase site by PIA corporation
01

Sagan Tosu Battles in Japan's Top League

When it comes to watching soccer, it's natural to want to see an exciting match. So don't forget—just because Sagan Tosu isn't from a big city, it doesn't mean they're the kind of club that disappoints the crowd.

There are 60 teams in the Japan Professional Football League, ranked in strength from J1 to J3. Only 18 clubs make it to the top league, J1. Yet since the 2012 season, Sagan Tosu has been fighting it out as a J1 powerhouse every single year. The team boasts many foreign players, and even Fernando Torres, who played for Atlético de Madrid, has been on the roster. The matches are bound to be top-notch quality.

From Saga City, you can reach Sagan Tosu's home stadium, Ekimae Real Estate Stadium , in about 30 minutes by train. You can see the stadium's blue and pink club colors as soon as you step out of the nearest station, Tosu Station. If you're planning to visit Kyushu's largest city in Fukuoka Prefecture, then you can get to the stadium from Hakata in just an hour by train. In the unlikely event that there is no convenient train, a taxi ride will only set you back about 12,000 yen. If you have half a day to spare, then this could be an attractive travel option.

03

Experiences at the Stadium

Sagan Tosu's home stadium, Ekimae Real Estate Stadium, is highly regarded by both players and fans as one of the most splendid stadiums in Japan. Constructed specifically for soccer, the stadium boasts a real grass pitch, and roofs over the main and back stands to keep off the sun and rain. Also, the slope of the stands is designed so that even those in the topmost row can enjoy an immersive experience.

The stadium is well-known for the variety and deliciousness of the cuisine it offers. On match days, food trucks line up in the plaza to offer fans sweets, hot snacks and other dainties. Inside the stadium, there are numerous shops offering specialties such as Saga Wagyu Beef, saké from Saga Prefecture's esteemed breweries, and shochu from all over Kyushu. Best to head to the stadium with an empty belly.
The stadium itself isn't tense with the fervor of soccer fans, but rather has an appealing aura that welcomes both home and away supporters without a shred of discrimination.

04

Wear a Number 17 Jersey and Join in the Cheering!

As the match begins, the local fans transform into Sagantinos—the passionate supporters of their home team.
The sight of everyone waving flags, chanting "We are SAGAN!" and jumping in unison is a sight to see! While it's fun just to watch, why not muster up the courage to join in the cheering and revel in the camaraderie with local fans? But be prepared for some energetic singing and jumping. It might be tiring, but it promises to be a thrilling experience.
You can buy Tosu uniforms and other goods at the stadium or in the Tosu Station building. Supporters wear the number 17 jersey.

If a Sagan Tosu game happens to be on while you're in Japan, you're truly in luck. Be sure to check out the match schedule and consider purchasing tickets.
Japanese event tickets purchase site by PIA corporation

Tickets typically can be bought for 3,000 to 6,000 yen and go on sale about one month before the match. An English reservation interface is available, so you can simply follow the on-screen instructions and pay with a credit card.
The system issues you a QR code that you can show to enter the stadium.

Match-day tickets are also available both online and at the ticket booths with a 500-yen surcharge.
If you can, try to book in advance to enjoy the grand stadium experience.
If you want to immerse yourself in the cheering, buy a Category 1 ticket; if you prefer to watch the Sagantinos from a distance, opt for a Category 3 ticket.
Why not make Sagan Tosu a cherished memory of your soccer experience in Japan?