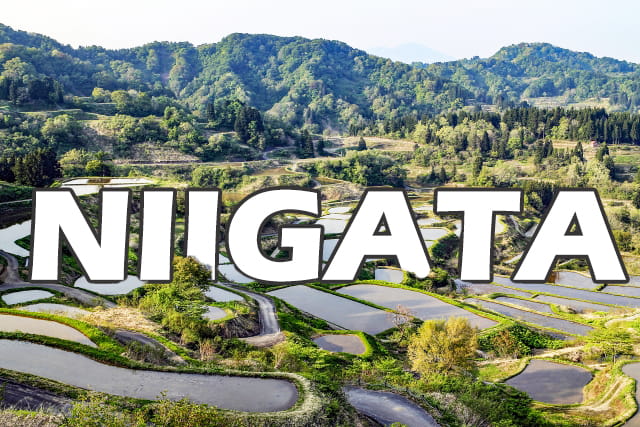 Niigata is a natural delight from the popular ski resorts of Echigo-Yuzawa to the terraced rice paddies of Hoshitoge where nutrient-rich water from the mountains flow down to the paddy fields to create the perfect conditions for some of the fluffiest grains, rice. And of course, with this rice comes one of the finest sake (rice wine) in Japan.
One of the highlights of this prefecture is indisputably the breathtaking natural wonders for all season. In spring, because of its geographical location, sakura (cherry blossom) period is longer than any other places in Japan and typically lasts for more than one month. Takada Castle's Sakura Road that is filled with over 4,000 cherry trees which are lit up by 3,000 paper lanterns is a must to visit in April. The mountains cut out in jagged peaks across the east of the prefecture which borders Gunma and Fukushima, are home to many hiking trails as well as to ski resorts in winter. Experienced hikers tend to challenge the three peaks of Echigo Sanzan and Mt. Hiragatake during summer. And in winter, ski resorts at Yuzawa is highly popular due to its super easy accessibility from Tokyo. And finally, autumn is the harvest season and you'll find endless golden paddies and parks with autumn foliage cloaked in stunning hues of red, orange and yellow.

Urban escapees might take a one-hour jetfoil or two-hour ferry ride to the Sado Island just across the water from Niigata city. The island is famous for its clear waters and rocky shores so visitors tend to chill out or sunbathe in the clearest water that is marked as one of "Top 100 Sea-Bathing Spots" in Japan.

佐渡島

新潟県佐渡市

View All

Rich in natural resources, Niigata is not just famous for its quality rice and sake but also fresh seafood from the Sea of Japan and other food from the mountains. The warm local cuisine such as hegi soba (a noodle dish with a smoother texture due to it being made with funori seaweed), noppe (a delicious traditional stew filled with bountiful ingredients) and sasadango (a dango or dumpling made of mugwort-flavored sticky rice and red bean paste wrapped in bamboo leaf) are some of the noteworthy local dishes that is worth a try.