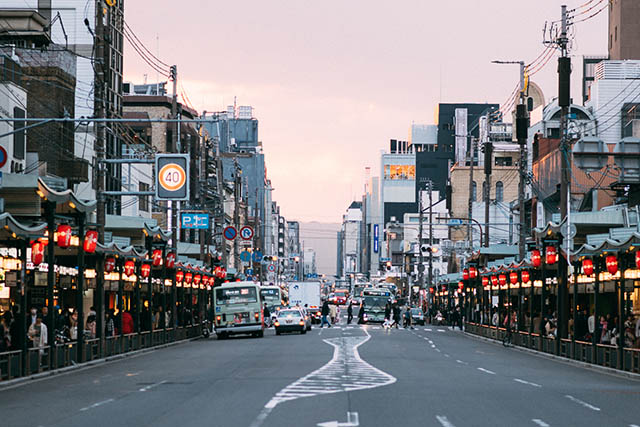 Kyoto, just like most other Japanese major cities, has an excellent public transportation network consisting of buses, a subway network and several smaller train lines. The compact size of the city also makes cycling an attractive option for getting around.
Kyoto's subway network consists of two lines. The Karasuma Line runs from north to south, and the Tozai Line runs from east to west. The lines meet in the center of Kyoto, and depending on where you are staying, these may be put to good use when getting around town.

There are also several other train lines servicing the city, some of which allows for travel to other parts of the Kansai region, or in some cases even further. Just like in most other cities, JR is one of the main operators in Kyoto too. For inter-city travel, the Shinkansen is difficult to beat. The high-speed train connects Kyoto with cities as far as to Tokyo in the east and Fukuoka in the west. Making stops in every major city in the Kansai Region, such as Osaka, Kobe and Himeji, on its way.

GetAround Kyoto

There are also local trains operated by JR that can be put to good use by the Kyoto visitor who also plans to see a bit of the outskirts of the town as well. The Sagano-Sanin line for example, connects Kyoto Station with the charming town of Arashiyama just northwest of central Kyoto.
And if you're planning to visit nearby Nara or Uji, the JR Nara line will most likely be of good use.

Other major train operators in Kyoto are Keihan, Hankyu and Kintetsu. The Keihan Line connects popular tourist destinations such as Tofuku-ji and Fushimi Inari Taisha with central Kyoto. It also provides an easy way to get from downtown Kyoto to Yodoyabashi Station in central Osaka.

GetAround Kyoto

The Hankyu Line connects many major cities in the Kansai region, extending to Shinkaichi in Kobe to the west, and runs all the way to Kawaramachi in central Kyoto, making stops in Osaka on the way, where branch lines also serve the town of Takarazuka. The Kintetsu railways have lines extending mostly southwards from Kyoto, and are a good option if you're planning to visit Nara and Yoshino. Their network extends as far as Ise-shima and Nagoya in the east.

There's also a small tram line called the Keifuku line. It starts at Omiya Station in western Kyoto, and runs to Arashiyama and Kitano. As a means of transportation, it's hardly the fastest or best option to get around, but this line might be of interest anyway thanks to the huge amount of retro charm it has.

If you're planning to visit Kurama and Kifune up in the mountains just north of Kyoto, the private Eizan Eiden Line (often referred to as "Eiden"), is the best option. It departs from Demachiyanagi station in the northeastern part of Kyoto. From there, you can connect to Kyoto station via bus 205 from the other side of Kamo River, or by taking the Keihan Line to line Tofukuji station, and change again to the JR Nara Line.

GetAround Kyoto

The relatively compact size of downtown Kyoto means that cycling is an excellent way to get around town, and there's an abundance of rental bicycle shops located all over town. The staff at your hotel or hostel will likely know about the nearest ones. Renting a regular bicycle usually cost between 500 to 1,000 yen per day.

If you're planning to fly to Kyoto, it might be useful to know that the nearest major airport is the Osaka International Airport. This is the smaller of Osaka's two airports, mainly served by domestic flights. For international flights, you're most likely to use the Kansai International Airport. The trip from Kyoto station to Kansai International Airport takes about 75 minutes by the Haruka Limited Express train operated by JR.