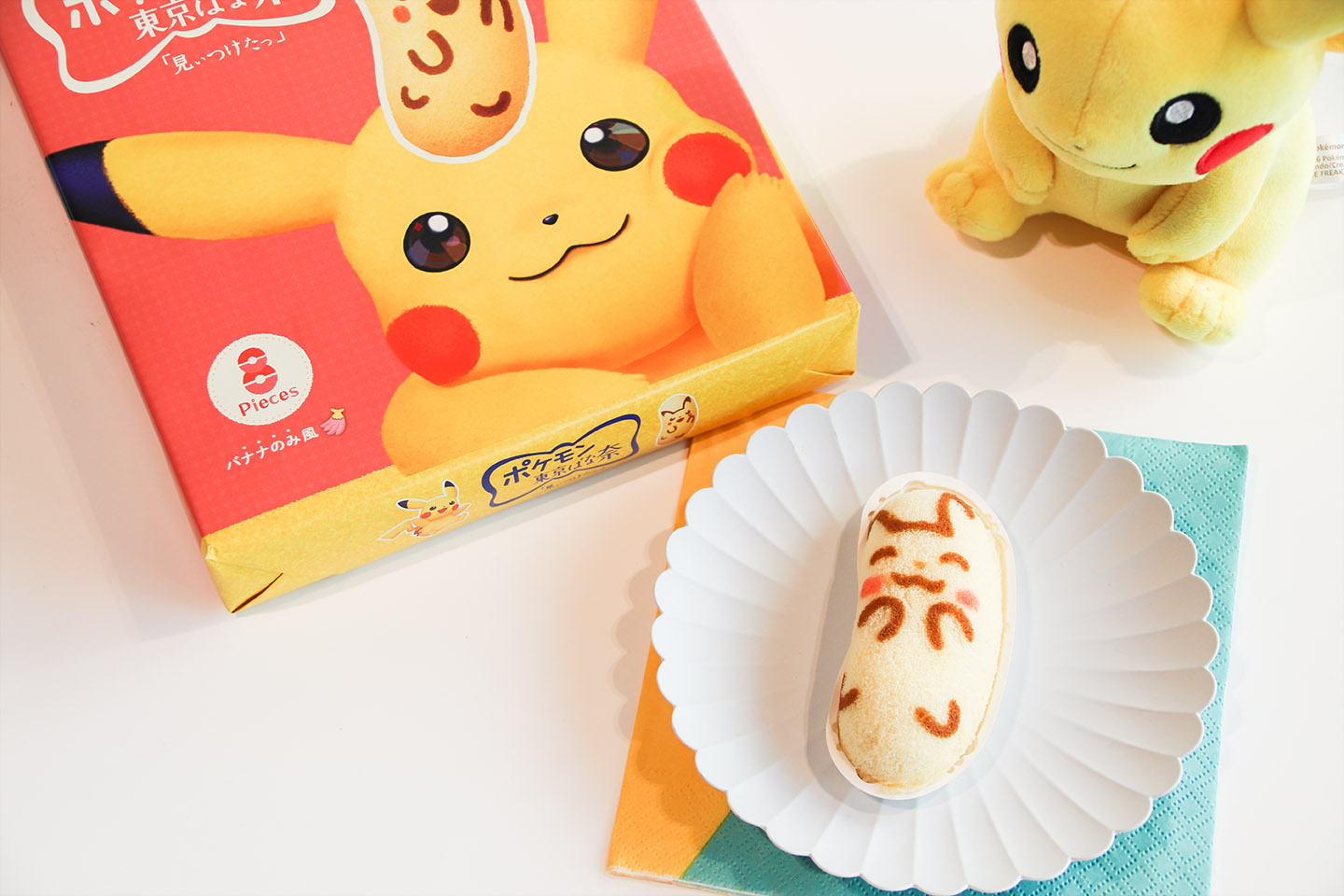 On December 10th 2020, the first permanent Pokémon Tokyo Banana cake shop opened at Tokyo Station inside Hanagataya (1F South Passage). One of the popular sweets, Tokyo Banana, a fluffy banana shaped sponge cake filled with banana flavoured custard cream is now collaborated with Pokémon. It comes with Pikachu posed in 6 different poses and only available exclusively at this permanent store.
Tokyo Banana is a popular brand of local souvenir sweets founded in 1991 which has been one of the must buy souvenirs from Tokyo. Since its release, this cake has been popular among locals and visitors alike. The banana flavored custard cream fillings are so tasty that anyone would want to go for seconds. Starting with the original version, Tokyo Banana has made different flavors and designs but, this winter, it has finally collaborated with the world wide iconic character, Pikachu. There are 6 poses to Pokemon Tokyo Banana with one special rare one. If anyone finds a heart shaped female version of Pikachu's tail, then you are a lucky winner.

Box of 8 for 1188yen (tax inclusive)

Creamy banana flavored custard cream fillings

Exclusively and in limited quantities, ahead of the grand opening of the permanent shop, Pokémon Tokyo Banana first made its debut at 7-Eleven in Tokyo, Chiba, Saitama and Kanagawa prefectures in November, followed by other prefectures. And for long awaited Pokémon and Tokyo Banana fans, on December 10th, the first permanent Pokémon Tokyo Banana cake shop opened inside JR's Tokyo Station. On the south passage, just a short walk before exiting out of Yaesu South Exit, a small stall dedicated to Pokémon Tokyo Banana stands. As if the shop is inside a poke ball, the exterior of the stand is decorated in pokeball with a small screen on the counter showcasing recent products from Pokémon.

In addition to the previously available two-pack bags which were sold at 7-Eleven, the Pokémon Tokyo Banana shop will also be offering a box of eight Pikachu Tokyo Bananas. Each one is individually wrapped in a Poké Ball design like how you would "catch" a Pokémon.

Since the shop is located inside the ticket gate and close by to hop onto the bullet train and other trains, grabbing this cute Pikachu cake to take on your journey as your snack or as a gift to friends in other parts of Japan is highly recommended. Tokyo Banana is already a great souvenir but surely, this new addition to the collection will be the next perfect Tokyo gift.