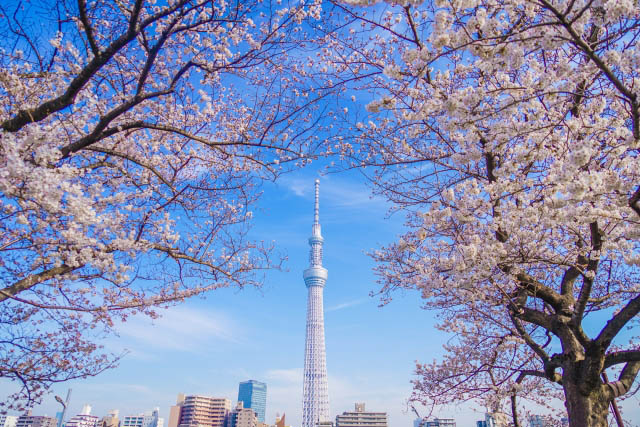 Each year from March to April, Japan ignites in soft pinks and whites when the cherry trees come into bloom.

According to the latest information, the trees will start blossoming in Tokyo from March 19 and will be in full bloom around March 27, which is slightly earlier than usual.

Throughout the season, tourists visit Tokyo from across the globe to experience its cherry blossom viewing spots and participate in the hanami tradition. Particularly popular are the cherry blossom viewing spots around tourist areas, such as the Tokyo Tower, Tokyo Skytree, Tokyo Midtown Hibiya and Shinjuku Golden Gai.

In this article, we'll introduce some of the most impressive viewing locations in Tokyo, as well as whether they permit banquets, food stalls and alcohol.
01

Meguro River Cherry Blossoms "目黒川"

Flowing through Tokyo, the Meguro River is lined with around 800 cherry trees and is one of the city's most popular cherry blossom-viewing destinations. During the season, food stalls dot its 3.8-kilometer path, attracting visitors from early in the morning until late at night. You can view the cherry blossoms during a river cruise or after dark when the trees are beautifully illuminated.

Banquet: not permitted
※rugs × space reservation × alcohol 〇

Access: a three-minute walk from Naka-Meguro Station on the Tokyu Toyoko Line
Nearby food options: gourmet food stalls, convenience stores, plenty of eateries
Toilets: several places nearby and temporary toilets (please check with staff before using toilet facilities at establishments)

Meguro River Cherry Blossoms

Meguro River Cherry Blossoms

Meguro River Cherry Blossoms

Just a stone's throw from the Imperial Palace is Hibiya Park, which is planted with around 60 cherry trees that include Somei-Yoshino, Satozakura and Shidarezakura varieties. Banquets are prohibited, but there are various eateries in Ginza where you can purchase meals and gourmet events are regularly held during the hanami season. Guards patrol the area to ensure noise is kept to a minimum so you can enjoy a peaceful ambiance.

Banquet: not permitted (picnics are allowed)
※rugs × space reservation × alcohol ×

Access: a six-minute walk from Hibiya Station
Nearby food options: convenience stores and restaurants
Toilets: several places around the cherry blossom viewing spot (please check with staff before using toilet facilities at establishments)

Hibiya Park

Hibiya Park

4.0

1111 Reviews

Tokyo Chiyoda-ku Hibiyakouen 1-6

0335016428

Open 24 hours

View All

Located adjacent to the Meiji Shrine, Yoyogi Park is home to around 700 cherry trees, including the early-blooming Kawazuzakura and Somei-Yoshino varieties. While the park can be accessed 24 hours a day, it's recommended that you visit during daylight as the trees aren't illuminated at night.

Banquets with rugs are permitted on the vast grounds, so you can grab food at one of the nearby convenience stores or use Uber Eats.

Banquets: permitted
※rugs 〇 space reservation 〇 (on the day) alcohol 〇

Access: 12 minutes' walk from Meiji Jingu-mae Station on the Tokyo Metro or JR Harajuku Station
Nearby food options: convenience stores and restaurants available nearby
Toilets: around 10 places in the cherry blossom viewing spot (As the site is large and other toilets are far from the cherry blossom viewing area, the toilets around the spot may be crowded)

Yoyogi Park

Yoyogi Park

Tokyo Shibuya-ku Yoyogikamizonochou , Jinnan 2

0334696081

Grounds are open at all time…

View All

04

Shinjuku Gyoen National Park "新宿御苑"

Originally serving as a residence of the Naitō family in the Edo period, Shinjuku Gyoen is one of the most famous hanami spots in Tokyo. Aside from its large lawn, there are also French and Italian gardens, as well as a traditional Japanese garden to explore.

Many different varieties of cherry trees are planted here, with the blossoms ranging from light to dark pink. While banquets are allowed, the consumption of alcohol is not, and pets, speakers and musical instruments are also prohibited.

Banquets: permitted
※rugs 〇 space reservation 〇 (after opening) alcohol ×

Access: eight minutes on foot from Shinjuku Gyoen Station on Tokyo Metro's Marunouchi Line or 13 minutes on foot from Shinjuku Station
Nearby food options: convenience stores, department stores, and restaurants
Toilets: several places in the gardens (As the site is large and other toilets are far from the cherry blossom viewing area, the toilets around the spot may be crowded)

Shinjuku Gyoen National Park

Shinjuku Gyoen National Park

Tokyo Shinjuku-ku Naitoumachi 11

0333500151

[10/1-3/14] 9:00-16:00 (16:3…

View All

Originally part of the Kaneiji Temple, Ueno Park is a sprawling public space that's home to around 800 cherry trees.

There are food stalls set up where you can purchase drinks and food before settling in on a rug for a leisurely banquet.

Alternatively, you can stop in the open-air market of Ameyoko near Ueno Station to grab cheap and delicious gourmet food. If you visit after dark, bonbori lanterns illuminate the cherry blossoms, making it the perfect destination for night-time viewing.

Banquets: permitted
※rugs 〇 space reservation 〇 (after 5 am) alcohol 〇

Access: four minutes on foot from Ueno Station
Nearby food options: Ameyoko open-air market, convenience stores, and restaurants
Toilets: several places around the cherry blossom viewing spot (please check with staff before using toilet facilities at establishments)

Ueno Park

Ueno Park

4.0

504 Reviews

Tokyo Taitou-ku Uenokouen - Ikenohata 3

0338285644

5:00-23:00(Entry prohibited …

View All

Famed for its views of the Tokyo Skytree, Sumida Park centers around the Sumida River and was planted with hundreds of cherry trees by Tokugawa Yoshimune.

Around 340 cherry trees are planted on the Sumida Ward side while around 600 cherry trees are on the Taito Ward side. In the evening, the cherry blossoms are beautifully illuminated and alcoholic drinks can be purchased from stalls during the festival from March to April.

Banquets: permitted
※rugs 〇 space reservation 〇 (on the day) alcohol 〇

Access: nine minutes on foot from Asakusa Station
Nearby food options: convenience stores, food stalls, and restaurants
Toilets: several places around the cherry blossom viewing spot (please check with staff before using toilet facilities at establishments)

Sumida Park

Sumida Park

Sumida Park

07

Inokashira Park "井の頭公園"

Located in Tokyo's west, Inokashira Park features around 500 cherry trees that ignite the gardens each spring.

It centers around the Inokashira Pond, with the surrounding trees appearing as though they are protruding into the water to create a breathtakingly beautiful scene. Aside from the photogenic reflections, the pond water becomes covered with flowers following strong winds. Also nearby is Sankaku Koen (Triangle Park), a secret hanami spot on the side of Inokashira Koen Station.

Banquets: permitted
※rugs 〇 space reservation 〇 (from the previous day) alcohol 〇

Access: 10 minutes on foot from Kichijoji Station
Nearby food options: convenience stores and eateries
Toilets: around 15 spots in Inokashira Park and 7 around Inokashira Pond (As the site is large and other toilets are far from the cherry blossom viewing area, the toilets around the spot may be crowded)

Inokashira Park

Inokashira Park

08

Komazawa Olympic Park "駒沢オリンピック公園"

While Komazawa Olympic Park is famed for its sports activities, in the spring it becomes a popular cherry blossom viewing destination.

Around 190 cherry trees are planted in the vast park, with highlights including Freedom Square, the area around the tennis courts on the south side of the park, and the west side of the baseball field. Aside from undulating walking trails, cycling is also permitted and dogs are allowed. There are several benches where you can eat lunch while enjoying the views, or you can settle in on a rug for a banquet amidst the blooming trees.

Banquets: permitted
rugs 〇 space reservation × alcohol 〇

Access: 15 minutes on foot from Komazawa-daigaku Station on the Den-en-toshi Line
Nearby food options: convenience stores and restaurants
Toilets: around 5 spots in the grounds (As the site is large and other toilets are far from the cherry blossom viewing area, the toilets around the spot may be crowded)

Komazawa Olympic Park

Komazawa Olympic Park

4.0

292 Reviews

Tokyo Setagaya-ku Komazawakouen 1-1

0334216431

Grounds are open at all time…

View All

Situated right next to Tokyo Tower, Shiba Park features a beautifully landscaped garden that's planted with around 150 cherry trees. It's been selected as one of the top 100 cherry blossom viewing sites in Tokyo, with impressive views of Tokyo Tower and illumination evenings throughout the season.

Shiba Park is a popular destination for office workers and can get busy from the early morning, even on weekdays. Keep in mind that the delivery of food is prohibited in the park, so purchase food or drinks before entering.

Banquets: permitted
※rugs 〇 space reservation 〇 (on the day) alcohol 〇

Access: eight minutes on foot from Shibakoen Station on the Toei Mita Line
Nearby food options: gourmet convenience stores and eateries
Toilets: a couple in the park (please check with staff before using toilet facilities at establishments)

Shiba Park

Shiba Park

10

Asukayama Park "飛鳥山公園"

Also created by Tokugawa Yoshimune, Asukayama Park lies on a small hill that's planted with around 600 cherry trees. It's home to several museums and two preserved railway vehicles, as well as unique playground equipment.

During the hanami season, several food stalls are set up inside the park, and the cherry trees are magically illuminated with bonbori lanterns at night. Be aware that there aren't many shops other than convenience stores near the park, so it's recommended that you purchase food around the station or from one of the stalls.

Banquets: permitted
※rugs 〇 space reservation 〇 alcohol 〇

Access: four minutes on foot from Oji Station or five minutes on foot from Asukayama Station on the Toden Arakawa Line
Nearby food options: convenience stores and food stalls
Toilets: several throughout the cherry blossom viewing area (please check with staff before using toilet facilities at establishments)

Asukayama Park

Asukayama Park

4.0

265 Reviews

Tokyo Kita-ku Ouji 1-1-3

0339089275

Open all day (with some clos…

View All

11

Check the blooming forecast

On January 23, 2020, the Japan Meteorological Agency released its 2nd forecast for when the cherry blossoms will start to flower across the country.

It's important to remember that the forecast will change from time to time, depending on the weather conditions, so check periodically before booking your travel dates.

Aside from website such as https://n-kishou.com/corp/news-contents/sakura/?lang=en, you can also take advantage of the Sakura Navi app to monitor the forecast and receive notifications when you are close to a cherry blossom viewing spot.


Related Articles:
・From earliest to latest, follow the blooming flowers of cherry blossom 2020
・Mito Plum Blossom Festival 2020