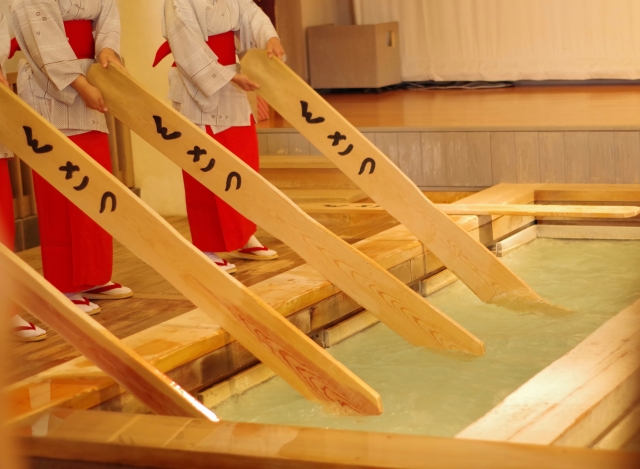 Situated in the northwest of Gunma Prefecture, Kusatsu Onsen is one of the Three Famous Hot Springs of Japan. It's a place offering a wealth of tourist locations and power spots.

The closest train stations are Naganohara-Kusatsuguchi Station or Karuizawa Station, and from there you can take a bus to Kusatsu Onsen Bus Terminal. Or you can head straight over in a car or highway bus. Winters have heavy snowfall, though, so tourists should avoid driving if they don't have experience driving in the snow.

This guide will show you the most convenient public transportation options to get to Kusatsu Onsen.
01

Take the Limited Express Kusatsu from Ueno Station to Naganohara-Kusatsuguchi Station

You can take the Limited Express Kusatsu or the Zairai Line from Ueno Station to Naganohara-Kusatsuguchi Station. From there, hop on the bus to get to Kusatsu Onsen.

Travel Time: ~2.5 hours
Fare: 4,840 yen (Basic fare ticket 3,080 yen + Limited express ticket (non-reserved seat) 1,760 yen))

Limited Express Kusatsu

02

Take local trains to Naganohara-Kusatsuguchi Station

You can get to Naganohara-Kusatsuguchi Station for cheap by riding JR lines all the way there. If you have a JR Pass or JR Kanto Area Pass, then the fare is already included.

Take the JR Takasaki Line to Takasaki Station. (From Shibuya and Shinjuku, you can transfer to the Takasaki Line from the Saikyo Line. From Tokyo and Ueno, take the Keihin-Tohoku Line to Saitama Shintoshin, then transfer to the Takasaki Line.)

Takasaki Station

In Takasaki, ride the JR Joetsu Line to Shibukawa Station. Transfer there to the Agatsuma Line heading to Naganohara-Kusatsuguchi Station.

Travel Time: ~4.5 hours
Fare: 3,020 yen

Agatsuma Line heading to Naganohara-Kusatsuguchi Station

03

Take the Bus from Naganohara-Kusatsuguchi Station to Kusatsu Onsen

You have to take the bus from Naganohara-Kusatsuguchi Station to Kusatsu Onsen, and they only come, at most, twice an hour. But the good news is that bus times are scheduled around the morning Limited Express Kusatsu trains. If you're taking the limited express, then you'll get to skip the long wait times between transfers. Be sure to factor that into your decision on which method of transportation you take.

Travel Time: 25-30 minutes
Fare: 710 yen for adults, 360 yen for children

Bus Stop at Naganohara-Kusatsuguchi Station

Bus Timetable

Bus from Naganohara-Kusatsuguchi Station to Kusatsu Onsen

04

Take the Bullet Train to Karuizawa, then take the bus to Kusatsu Onsen

You can take the bullet train, or Shinkansen, from Tokyo to Karuizawa. Ride the Hakutaka, or the Asama trains on the JR Hokuriku Shinkansen route to reach Karuizawa. Three trains leave from 9 to 10 a.m., but outside of that time there's only about one train an hour. This shinkansen trip is covered by the JR Pass and the Tokyo Wide Pass.

Travel Time: 1-1.3 hours
Fare: 5,180 yen (Basic fare ticket 2,590 yen+ Limited express ticket (non-reserved seat) 2,590 yen))

JR Hokuriku Shinkansen

You'll take the bus from Karuizawa to Kusatsu Onsen. The bus leaves from Bus Stop 2 at the Northern Exit, which is the bus stop immediately to your right when you leave Karuizawa Station. Keep in mind that buses only come once or twice an hour, and service stops altogether in the evening.

Travel Time: ~1.3 hours
Fare: 2,240 yen

05

Take the Bus from Tokyo Station or Shinjuku to Kusatsu Onsen

You can take the highway bus to Kusatsu Onsen for an easy, transfer-free travel experience, too.

List of bus tops: Tokyo Station Yaesu South Exit, Shinjuku Expressway Bus Terminal, Nerima Station, Kamisato Service Area, Shibukawa Station, Ikaho Onsen, Ikaho Stone Steps, Azuma Shisho, Nakanojo Station, Gunma-Haramachi Station, Naganohara-Kusatsuguchi, In front of JR Bus Naganohara Branch, Kusatsu-Onsen Bus Terminal

Travel Time: ~3.5-4 hours (depending on a bus stop)
Fare: 3,060-3,800 yen (depending on season and reservation method)
Book here.(Japan Expressway Bus Net : Tokyo → Gumma)

Shinjuku Expressway Bus Terminal

The Tokyo Station Yaesu South Exit bus only leaves weekdays at 9:10 a.m. and 10:10 a.m. All other times you'll have to leave from the Shinjuku Expressway Bus Terminal (Busta).

Certain buses, called the Joshu Yumeguri Bus, have free Wi-Fi and outlets, plus some have women-only sections.

06

Yubatake (Hot Water Field) Is Just Down the Hill from Kusatsu Bus Terminal

While Yubatake is only a short trip down the hill from the bus terminal, it is very steep. Be careful not to slip on any ice during the winter.

Kusatsu Onsen Bus Terminal

07

[ Japan Route Finder & Calculator:To Kusatsu Onsen]

URL:[ Japan Route Finder & Calculator:To Kusatsu Onsen]