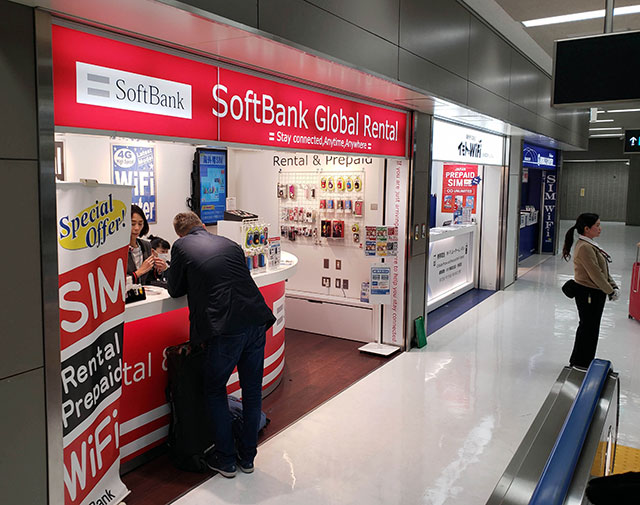 In our fast paced society, it's hard to go even a day without the internet, even when traveling abroad. If you've forgotten to rent yourself a SIM or Wi-Fi device for your trip to Japan, don't worry about it! Although many places recommend that you prepare a SIM or Wi-Fi router before you leave for Japan, there are several services that you can find in Narita Airport that will offer you a Japan SIM card, prepaid SIM or Wi-Fi router without having to reserve one in advance. This article will help you get yourself online in Japan in 2019, whatever situation you find yourself in.

NB: This information is current as of January 2019.
01

Renting a Pocket Wi-Fi

For pocket Wi-Fi, it is probably best to make a reservation before traveling to Japan. It's just all around cheaper and you can usually pay a fee of less than 1000 yen per day and have it delivered to the airport or pick it up at your hotel. Not making a reservation might stick you with a higher day by day cost, but if you need one, there are several pocket Wi-Fi rental shops in the arrival lobby of Narita Airport. Without a reservation, it'll be by inventory so you'll have to hope they have an extra or two waiting in the back for you to rent.

Narita Airp. T2 B1F SoftBank Global Rental/Imoto-no Wifi XCOM GLOBAL/Telecom Square

Imoto-no Wifi XCOM GLOBAL
Japan Wi-Fi rental has a flat rate of 780 yen per day for their device, which is great for anyone looking to keep to budget. It allows for up to five different devices to connect simultaneously and can connect to the internet from anywhere in Japan. They also have discounts if you stay in Japan for longer than one week.
Imoto-no Wifi XCOM GLOBAL

Telecom Square
Telecom Wi-Fi offers two types of Wi-Fi plans. It's "Wide Type" is meant for people who are traveling outside of the cities and cost 1512 yen daily, although you can get a plan for the month for 16,200 yen. Their second Wi-Fi plan is called "City Type" and is meant for people who are sticking closer to the urban areas. This plan costs 1296 yen daily but has some plans that make it a bit cheaper. Their 7-day plan is 5500 yen, 15-day plan is 9720 yen and their monthly plan is 12,960 yen. You can connect to 10 devices on Telecom so they are probably the best for large groups.
Telecom Square

SoftBank Global Rental
SoftBank is a major mobile network provider in Japan and as such their internet connection is fast and reliable. SoftBank has a flat rate for their device of 840 yen per day. It allows for five devices to be connected onto their unlimited 4G LTE network.
SoftBank Global Rental

Renting a Pocket Wi-Fi

if you register in advance, and a bit over 1000 yen if you come into the airport and rent then. Purchasing a SIM Card

Many people prefer getting Wi-Fi routers because of its usefulness when sharing with multiple users, but it does have its pitfalls. For one, losing or forgetting to return it can be extremely expensive, not to mention trying to keep it constantly charged. Or, for lone travelers, it's a bit much for just one person. Thus we come to the purchasing of a SIM Card.

Return Wi-Fi routers

03

Things to keep in mind before buying a SIM card

Not all phones can take SIM cards from different countries. In fact, many phones come regionally 'locked' meaning that you'll have to call your local provider to ask them to unlock your phone for international SIM use. Another thing to keep in mind is the type of SIM card that your phone can take. There are three types Nano, Micro, and Standard. If you purchase online, you'll probably want to search what sort of SIM card your particular model takes.

If you purchase at the counter at Narita Airport, the clerk will probably be able to provide you with the right size for your device.

type of SIMs

04

Making phone calls: Getting a SIM with voice calling and a telephone number at the Airport

Normally, both Wi-Fi routers and SIMs are data only, but you can find two companies that offer voice and text in their prepaid SIMs. These are especially convenient for those who are here on a business trip and need to call or make appointments with local numbers or if you're part of a tour group that needs a local number.
It's probably best if you get this at the airport before heading out into Japan as finding voice and data SIMs outside of the airport can be very difficult if not outright unavailable.

Getting a SIM with voice calling

Both companies have a similar voice and data SIMs plans for the same price for the same data usage.

1GB plan: 5500 yen (plus tax) / 15days
3GB plan: 7500 yen (plus tax) / 15days
Both also have SIM sizes that seem to only come in nanoSIM for its voice and data plans but this shouldn't be a problem as nanoSIM cards can easily be converted to a different size using SIM converters.
Please be aware that you must bring your passport to show at the kiosk before renting. There is no credit card registering when sighing up for a voice and data SIM but please also be aware that you cannot add data to your plan or extend the amount of days that your SIM can be used for.
JAPAN PREPAID SIM powered by TRE mobile
Calls on the Japan Prepaid SIM that are under 10 minutes long are free. If your call is over 10 minutes the call may be cut off. The Japan Prepaid SIM can be found at XCOM GLOBAL kiosks are found in two different places at Narita Airport.
Terminal 1: North Wing 1st floor, Arrivals Lobby
Terminal 2: Basement Level 1, Train Ticket Gates Level
Telecom Square
Before renting, please check with the kiosk about your voice service limitations and how to recharge should you run out of voice calling. Telecom Square kiosks are found in five different places at Narita Airport
Terminal 1: Basement Level 1, in front of Train Ticket Gates
Terminal 1: 1st Floor, Central Exit
Terminal 2: Basement Level 1, Train Ticket Gates Level
Terminal 2: 1st Floor, Central Exit
Terminal 3: 2nd Floor, near food court

Getting a SIM with voice calling

In the past, buying a SIM from the airport was considered more expensive than other places but that isn't true anymore. You can get unlimited data SIMs from the airport for about the same price as anywhere else. However, unlimited data plans do have their downfalls, such as speed after a set amount of data is consumed so please check with the staff about this before buying.

You can get unlimited data SIMs from various kiosks in Narita Airport such as Telecom Square, Imoto-no WiFi XCOM GLOBAL, SoftBank Global Rental & AnyFone, JAL ABC, 7-Eleven, etc.

7-Eleven

Unari-kun by JAL ABC
The cheapest of these would be the "Unari-kun" SIM plan offered by JAL ABC. There are three time length plans, all with unlimited data. They come in nanoSIM and microSIM card sizes although if you need a standard sized SIM there are adapters so you don't have to worry. The prices are as such:
7 days - 4000 yen
15 days - 5500 yen
30 days - 6500 yen

JAL ABC Counter

06

Affordable but not unlimited: AnyFone JAPAN

The prepaid data SIM issued by AnyFone JAPAN provides 5 or 10 apps unlimited data. Apps include facebook, wechat, whatsapp, kakaotalk, LINE, Google Maps, Instagram, and more. For those who use these applications, the price is probably better than getting unlimited data plans. Prepaid data SIMs cannot be reloaded with more data, however, so you'll probably want to be cautious outside of the aforementioned apps.

AnyFone SIM

5 Apps:
1GB/7 days 3800 yen
2GB/30 days 6000 yen
3GB/30 days 7000 yen
5GB/30 days 8000 yen

10 Apps:
1GB/7 days 4800 yen
2GB/14 days 6500 yen
You can grab an AnyFone JAPAN SIM from the following kiosks in Narita Airport.
SoftBank Global Rental and AnyFone JAPAN Rental:
Terminal 1, 1st floor, central entrance
Terminal 2, Basement Level 1, near railway area
Terminal 2, 1st floor, International Arrivals Gate A
Terminal 2, 1st floor, International Arrivals Gate B

AnyFone Japan

07

JAPAN TRAVEL SIM and Prepaid SIM for Travel

For those who are looking for something cheaper or isn't sure how much internet they'll need, there's the Japan Travel SIM by Air BIC CAMERA and the Prepaid SIM for Travel by SoftBank. They are on sale at the Air BIC CAMERA kiosk on the 4th floor of Terminal 2, at the Lawsons in Terminal 3 or at any 7-Eleen in Narita Airport.
These SIMs are rechargeable so their initial fee is pretty low considering. And these travel SIMs can also be bought in town should you not get one at the airport.

Air BIC CAMERA

Air BIC CAMERA

The price of the Japan Travel SIM is as follows:
Base Price: 1.5GB for 30 days – 1850 yen
Recharging: 2GB for 3000 yen, 500MB for 1500 yen
You can't add more days for this SIM and must purchase a new SIM once the time is used.
The Prepaid SIM for Travel is a bit more expensive but has as campaign that gives you two more gigabites per each SIM you purchase so it might be cheaper depending on how much you intend to use.
Base Price: 1GB for 31 days (Changed to 3GB for campaign running since March 2018) – 2480 yen
Recharging: 500MB for 1620 and adds 31 more days to your SIM

You've probably heard that you can find almost anything in Japanese vending machines and SIMs are no exception. There is a vending machine that sells u-mobile SIMs. They sell three types of SIMs.
2GB for 7 days – 2500 yen
3.5GB for 7 days – 4000 yen
Unlimited for 7 days – 5000 yen

Vending Machine SIMs

Kiosks at the airport can be highly inconvenient because of opening hours usually being from 7am to 9pm and if you arrive before or after those hours you might have to skip out on internet. However the vending machines are open 24/7 so you don't have to worry about your arrival times as you'll always have access to some sort of SIM.

If you register in advance, you can get a free 20 day SIM called "Japan Welcome SIM" for 0 yen from the "Docomo world counter" in the airport. With high-speed internet capacity and access to 100,000 Wi-Fi, all you'll have to do for your free SIM is browse some advertisements, download some applications and watch some videos. If you don't want to go through the hassle, they do have additional purchases as well. It's great for those on a super low budget!
Japan Welcome SIM

NTT Docomo World Counter

WAmazing for travelers from Taiwan and Hong Kong
Although they are mostly targeting travelers from Taiwan and Hong Kong, take advantage of "WAmazing", a free SIM that provides 500MB of data for 15 days. You can charge your SIM through the convenient WAmazing app that you'll probably need to download before you get to Japan, and you are able to pick up a WAmazing SIM at any of four free vending machines set up in all three of Narita Airport terminals. As with the Japan Welcome SIM, you can top up your data for an additional price that you pay through your WAmazing app.

WAmazing

Narita airport has so many ways to get you connected. Even if you forget to register for a SIM or Wi-Fi before you come to Japan, there isn't a need to worry as you'll definitely be able to grab something from the numerous options above.