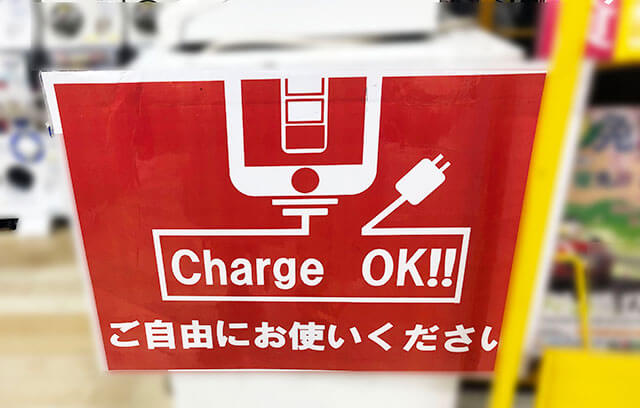 As one of the world's most high-tech cities, Tokyo is well equipped when it comes to smartphones.
Rather than bringing your own charger, there are plenty of spots around the city where you can charge your mobile phone when you need to, either for a small fee or completely free.
These useful services include portable charging devices and solar-powered stations, as well as rental batteries and cables if you don't have your own.
So if you're looking for handy places to power-up, here are some of our top recommended locations.
01

Spots : You can Charge your Smartphone Without your own Cable

02

― Consumer Electronics Retailers

Bic Camera

Charging Box  100 JPY for 30 minutes

Stores such as Bic Camera, Yodobashi Camera and Don Quijote offer charging stations where you can quickly charge your device when you need.
There are usually stores around train stations that are easy to find, with rapid chargers that will recover your battery to around 70% in a hurry.
While Don Quijote has a free charging box, Bic Camera and Yodobashi Camera both charge 100 JPY for 30 minutes.

Don Quijote  Free charging box

Docomo Shop

Free Charging Box

Most shops that sell mobile phone services will also provide a free charging box where users are welcome to power their devices.
Look for Docomo, au or Softbank cellular shops if you're in need of a charging station and pick up any batteries or cell phone accessories while you're there.
The only downside is that these stores are not found in abundance, so you have to know where to look.

Big Echo

If you're into karaoke, most karaoke rooms will also lend out multi-plug chargers that you can use while you're there.
Just ask for a complimentary charger on arrival and you can take advantage of the store's Wi-Fi on your smartphone while you wait for your turn.
Look for Big Echo and Joysound karaoke rooms, both of which offer complimentary chargers to visitors.

Jiyu Kukan 自遊空間

Internet Café

Internet Cafes such as Jiyu Kukan 自遊空間 , Media Café POPEYE and Manboo are another useful place where you can recharge your phone for free if you're using their services.
These cafes are usually open 24 hours a day, with free smartphone chargers lent out when booking in for an internet session.
You can enjoy reading Japanese comics while you wait (as well as have a free drink) but you will need to pay a usage fee of around 200 JPY per 30 minutes or sometimes membership fee for membership.

Hotels

Most Tokyo hotels will lend out mobile phone chargers at the reception desk or will even provide a charger in the room for free.
This is one of the most convenient ways of recharging your phone when traveling in Japan, with the option to power up overnight while you're asleep.
While hotel chargers are available for use throughout the duration of your stay,
you won't be able to access them unless you have a room booked.

City Charger

City Charger

Tokyo now has solar charging stations, city chargers, scattered around the city where you can charge your phone using the power of the sun.
But there aren't too many solar charging stations as yet.
Look for the high-tech station at Tokyo Tower, while they're free to use and useful if you can find it.

Tokyo Tower

Among the above choices, we recommend recharging for free at a mobile shop as these can easily be found in all neighborhoods.

08

Spots : You can Charge your Smartphone with your own Cable

Starbucks Coffee

Tully's Coffee

Many cafes have power outlets where you can plug in your smartphone while enjoying a drink or something to eat.
Chain stores such as Starbucks, Pronto and Tully's are always good options, as they can be found in almost every Tokyo neighbourhood.
Counter seats usually offer the most convenient access to power outlets but these can get very crowded on weekends and, depending on the store, you might not always find a power outlet to use.

10

― Fast Food Restaurants

McDonald's

Fast-food chain restaurants like McDonald's, Burger King, KFC and Mos Burger are also easy to find and will have power outlets that you can use to charge your phone.
But as with cafes, you'll need to purchase something and there are no guarantees that there will be a power outlet available.
If you are heading to a fast food joint to power your phone, make sure you bring a cable!

Airport

Both of Tokyo's main airports - Narita and Haneda - offering multiple places to charge your smartphone, including cafes, such as Starbucks and Tully's , as well as mobile shops owned by Docomo and au.
But you can also find 24-hour charging poles located throughout the terminal buildings where you can plug your phone in.
Keep in mind that during busy periods, the charging outlets can get crowded and there are no guarantees you will be able to find a spot.

Airport

12

― Shinkansen (Bullet Trains)

Shinkansen (Bullet Trains)

Shinkansen (Bullet Trains)

Japan's Shinkansen (bullet trains) offer another convenient way to charge your mobile phone, allowing you to take advantage of your commuting time.
Most window seats (A and E) will have charging outlets, as will some seats in the front and last rows of each carriage.
Newer Shinkansen will have outlets available in all seats, so it just depends on the train you get!

So provided you bring a smartphone cable with you, there are plenty of places you can recharge your phone while out and about in Tokyo that are relatively easy to find.
If you're stopping to eat or traveling by train, you can also take advantage of the opportunity to power up.

13

Spots : Mobile Battery Rentals and Charger Purchasing

Lawson

If you want to rent a smartphone charger for an hour or a couple of days, head to one of the many Lawson convenience stores that are found throughout Tokyo.
You'll need to register as a member through their dedicated app, Charge SPOT, and pay a deposit of 2,139 JPY to access their mobile battery lending service.

Prices range from 108 JPY for an hour up to 216 JPY for 48 hours, with the deposit of 2,139 JPY refunded when you return the charger.
If you exceed the 48-hour limit, you don't need to return the charger but you won't get your deposit back.

Charge SPOT

Charge SPOT

Charge SPOT

This is a convenient option as Lawson has many stores and you can return the charger to a different shop from the one you rented it from.
The same app can also be used at Shibuya 109, Tower Records Shibuya, and the Tsutaya Book Apartment in Shinjuku.

Seven-Eleven

Dry Battery-type Charger

If you want to purchase a smartphone charger to use in Japan, most convenience stores sell chargers, mobile batteries and smartphone cables.
Look out for Lawson, Family Mart and Seven-Eleven convenience stores where you can pick up a dry battery-type charger for around 2,000 JPY that is ready to use.
They're a convenient option because they're found everywhere and usually open 24 hours but they offer a limited range of chargers when compared with consumer electronics stores.

16

― Consumer Electronics Retailers

Bic Camera

Mobile Phone Batteries

For a more extensive choice of smartphone chargers, head to Bic Camera, Yodobashi Camera or Don Quijote, which have an abundance of options.

In addition to chargers, you can also pick up mobile phone batteries and smartphone cables, as well as a range of other phone accessories, such as cases and screen protectors.
Mobile phone batteries tend to be more expensive than at convenience stores (around 5,000 JPY) but are often better quality.

17

― 100 Yen Shops (Daiso ダイソー)

100 Yen Shops (Daiso ダイソー)

Powered Mobile Battery, Cable and Dry Batteries  Only 300 JPY in Total

If you just want a cheap phone charger to use during your holiday, look for Daiso 100 yen stores where you can find mobile batteries for 500 JPY and battery powered mobile batteries for 100 JPY.
The cheapest way is to buy a powered mobile battery, cable and dry batteries, with all three items available for only 300 JPY in total.

Aside from Daiso, most 100 yen shops don't sell mobile batteries, so please keep this in mind.

So when you want to charge immediately, a convenience store "dry battery-type charger" is recommended.
But if you just want the cheapest one, consider a "battery-type mobile battery" that you can buy at Daiso 100 yen stores.