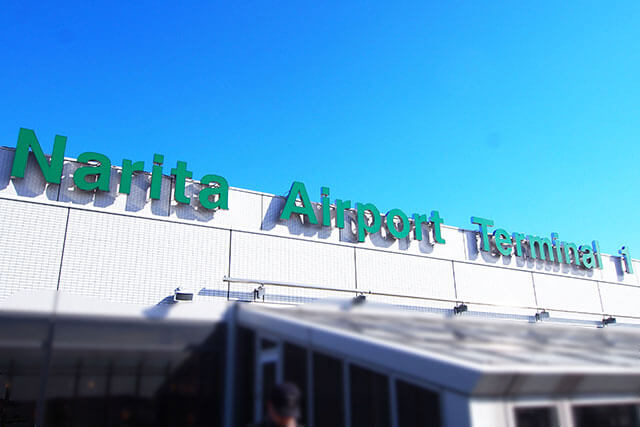 One of the largest airports in Japan, Narita International Airport is the main gateway for many visitors to the country.
It's divided into three terminals, each of which has their own services and facilities. These include baggage storage and courier delivery services, as well as shuttle buses and tourist information centers.
To help you negotiate this sprawling airport, we've put together a guide of recommended shops, restaurants and services (including prices and fares) so you can plan your visit and pass your transit time effectively.
02

Tokyo Shokuhinkan Omotasedokoro 東京食賓館 おもたせ処 (Terminal 1, 4F)

Tokyo Shokuhinkan Omotasedokoro

If you want to stock up on Japanese-style confectionery, head to popular souvenir shop ,Tokyo Shokuhinkan Omotasedokoro, on level 4F.
It sells a range of KitKat flavors that are unique to the airport, including hakuto,melon&mascarpone, with 10-pack boxes costing 1,620 JPY.
Alternatively, grab a souvenir pack of ramen that can easily be cooked when you return home, with instructions in English, Chinese and Korean.
Boxes contain six serves of ramen and cost 1,080 JPY.

Opening hours: 7:30 - 20:30

Hakuto,melon&mascarpone flavored KitKat

Souvenir pack of ramen

03

Tokyo2020 Official Shop (Terminal 1, 4F)

Tokyo2020 Official Shop

Also on level 4F of Terminal 1 is an Olympicsofficial shop for the Tokyo 2020 where you can find a range of limited-edition and official merchandise.
Shop for caps, t-shirts and other Olympic-themed souvenirs, with this store the first one of its kind inside the Narita International Airport.

Opening hours: 9:00 - 17:00

04

MUJI to Go Mujirushiryohin 無印良品 (Terminal 1, 4F)

MUJI to Go

If you're after functional travel items, such as neck cushions, stationary or a passport case, head to the MUJI to GO store on the fourth floor of both Terminal 1 and Terminal 2.
They sell a range of daily necessities like travel toiletry bottles and useful travel gadgets that are designed to make life that little bit easier, all with a simple Japanese aesthetic.

Opening hours: 7:00 - 20:00

MUJI to Go

05

Observation Deck (Terminal 1, 5F)

Observation Deck

The fifth floor of Narita International Airport's Terminal 1 is home to the Observation Deck, which offers incredible views across the 4,000-meter-long runway.
Watch the airplanes taking off and landing right in front of you or capture all the action through an opening that enables easy photography.

Opening time: 6:30 - 21:00 (from 7:00 October to March)

Observation Deck

06

Yoshinoya 吉野家 (Terminal 2, 2F)

Yoshinoya

If you've got a late-night flight, consider eating at Yoshinoya - a 24-hour restaurant that's renowned for its beef bowls.
It's located on the 2nd floor of Terminal 2 and is also a popular breakfast option, with a traditional menu of rice, miso soup and a side dish. Yoshinoya's beef bowls cost 420 JPY for a medium serve and there's an English menu to help with ordering dishes and drinks.

Opening hours: 24 hours

07

Pokemon Store (Terminal 2, 4F)

Pokemon Store

Also on the 4th floor is an official Pokemon Store where you can browse a range of official merchandise from this much-loved Japanese animation.
Shop for children's souvenirs or limited-edition Pikachu goods, including plush cabin attendant toys and Pilot Pikachus with NRT stitched onto their coats. Badges, bags, mugs and handkerchiefs are also for sale, with sample Pokemon cookies sometimes available to try.

Opening hours: 8:00 - 20:00

08

Cafe & Dining N's Court (Terminal 2, 4F)

Cafe & Dining N's Court

Feeling hungry? Head to this large food court,N's Court, that has seating for over 200 people where you can dine on traditional Japanese dishes or cuisine from around the globe.
It's divided into a dining area with tables, counter stools and a relaxed lounge so you can find the space you need to refuel.
And there are power outlets that you can use to charge your phone.

Opening hours: 6:45 - 21:30

Cafe & Dining N's Court

09

Air BicCamera (Terminal 2, 4F)

Air BicCamera

Situated on the 4th floor of Terminal 2, this appliance store, Air BicCamera,sells a wide range of electronic products if you need a last-minute device.
Pick up smartphone cables or mobile batteries, as well as SIM cards, audio systems and hair styling appliances.
Whatever you might need when traveling, BicCamera has you covered.

Opening hours: 7:30 - 21:00

Air BicCamera

10

Tokyo Tonkotsu Base Made by Ippudo (Terminal 2, 4F)

Tokyo Tonkotsu Base Made by Ippudo

This ramen restaurant on the 4th floor is straight out of Tokyo, with delicious noodle dishes produced by the popular ramen shop Hakata Ippudo.
Tonkotsu refers to a style of ramen that's made using pork stock, with a large variety of noodle dishes (such as miso and soy sauce) to select from.
Stop in to try their Hakata-style thin noodles in a richly-flavored soup, with a bowl of ramen costing between 700-800 JPY.

Opening hours: 7:30 - 21:00

11

Tatsu Sushi (Terminal 3, 2F)

Tatsu Sushi

For authentic Edo mae sushi, this restaurant on the 2nd floor of Terminal 3, Tatsu Sushi ,is the place to head.
It forms part of the sprawling food court, which is the largest at the Narita International Airport, and its California roll (918 JPY) is particularly popular among foreign tourists.
You can opt to eat at the counter or grab-and-go if you're after a snack for your flight.

Opening hours: 5:30 - 22:30

Food court

12

Miyatake Sanuki Udon 宮武讃岐うどん (Terminal 3, 2F)

Miyatake Sanuki Udon

Another popular option in the Terminal 3 food court is Miyatake Sanuki Udon, which uses noodles from the long-established factory in Sanuki - the home of udon noodles.
Sanuki noodles are renowned for their texture and made using only the best wheat, with a dashi stock that's made from dried sardines caught in the waters of the Seto Inland Sea.
Browse their delicious menu and select your favorite tempura item as a topping.

Opening hours: 4:00 - 21:00

Miyatake Sanuki Udon

13

■Near Narita International Airport

Shisui Premium Outlet

Shisui Premium Outlet mall is just 20 minutes' drive from the Narita International Airport if you want to do some shopping while waiting for your flight.
Buses depart from the 1st floor of Terminal 1 and Terminal 2 throughout the day, with tickets costing 350 JPY and bought on board.
If you buy a round-trip ticket, you'll get a discount coupon to use at the outlet mall. Keep in mind that it can get busy on weekends but it's usually quiet on weekdays.

Opening hours: 10:00 - 20:00 (until 19:00 on weekdays during February)

Shisui Premium Outlet

Aeon Mall Narita

Also near the airport is the Aeon Mall Narita - another shopping destination that you can access during layovers.
A short walk from the mall is a Mega Don Quijote, a discount store that sells a whole range of products.
Be aware that buses only run from the airport to Aeon Mall Narita around once an hour, so always check the schedule to make sure you don't miss your flight.
Bus tickets cost 250 JPY one way and they depart from the 1st floor of Terminals 1 and 2, with the journey taking around 25 minutes.

Opening hours: 10:00 - 22:00

17

Visitor Service Center

Visitor Service Center

On the 1st floor of Terminal 1 is Visitor Service Center ,the largest service center at airports in Japan catering to foreign tourists.
They can arrange everything from hotel bookings to theme park tickets and transportation services, as well as offering a wealth of information about sightseeing in Japan with services in Japanese, English and Chinese.
If you're transiting between flights, they can also arrange a transit tour.

Location: Terminal 1, 4F
Opening hours: 8:00 - 20:00

Transit tour

18

JR East Travel Service Center

JR East Travel Service Center

If you're planning on traveling around Japan by rail, then the JR East Travel Service Center on B1F is the place to go.
Not only can you purchase tickets for JR trains in Honshu but you can also chat with their friendly staff about the best rail pass for you if you're traveling beyond Tokyo. If you've already purchased a Japanese rail pass online, then the JR East Travel Service Center is the place to redeem your order and pick up your pass.
There's also plenty of information about popular tourist spots available in a variety of different languages to help you plan your trip.
In addition to their service center at Terminal 1, there's an additional office serving Terminals 2 and 3.

Location: Terminal 1, B1F
Opening hours: 8:15 - 19:00

JR East Travel Service Center

9h nine hours

9h nine hours

This capsule hotel, 9h nine hours, on B1F in Terminal 2 is a great option if you're looking for a night's rest, without having to leave the Narita International Airport. It's both accessible and reasonably priced at around 4,900 JPY per night, with separate rooms for men and women.
If you're just after a short nap, you can book in for a few hours or pay to use just the shower facilities (towels and toiletries are available) if you want to freshen up.

Keep in mind that the capsule hotel does book out during busy periods, so an advance reservation is recommended.
You can book online or by telephone for accommodation, however, the shower facilities must be paid for in person using cash or by credit card and used within an hour.

Location: Terminal 2 B1F, Multistory Car Park P-2
Access difficult to understand,so please check the 9h nine hours official site.
Opening hours: 24-hour reception

Baggage Storage

There are various different agencies that offer a baggage storage service at Narita International Airport, including GPA, JALABC and QL liner.
Each has counters in Terminal 1 (1F and 4F) and Terminal 2 (1F and 3F) where you can deposit your luggage and pay a fee depending on its size.
A small bag is around 300 JPY per day and a medium bag around 500 JPY while large luggage is around 800 JPY.
Travelers should be aware that there is no baggage storage service at Terminal 3 but there are coin lockers available or you can use the counters in Terminal 2.

Location: Terminal 1 1F , 4F
Terminal 2 1F , 3F
Opening hours: Each counter has its own hours.

21

Baggage Delivery Service

Baggage Delivery Service

If you're departing from the Narita International Airport but want to send your luggage direct from a hotel or sightseeing destination, you can take advantage of the baggage delivery service.
It's also available on arrival if you want to send baggage directly to a particular destination and not have to transport it yourself.
They use professional shipping companies that will handle your baggage lightly and ensure it arrives in good condition.

There are sending counters on the arrival floors of Terminals 1 and 2, as well as receiving counters on the departure floors.
If you're flying into Terminal 3, please use the counters in Terminal 2.

You can send your luggage directly from the Tokyo SkyTree, Tokyo Station and the Disney Hotels in the morning and have it arrive after 4 pm on the same day at the airport counters.
Alternatively, you can send it from a Seven Eleven, FamilyMartor Lawson convenience store in the Kanto area two days before your departure (if dropped off by 5 pm) and receive it after 7 am at the airport counters on your day of departure.

Different stores and sightseeing spots use different shipping companies and the prices vary depending on the size of baggage and distance it will travel.
A suitcase around 140 centimeters in length will cost around 2,000 JPY to be couriered in the Kanto area.
You can also send your luggage to destinations outside of Tokyo but always check at the counter to ensure the service is offered in your preferred area.

Location:
Sending counters Terminal 1, 1F / Terminal 2, 1F
Receiving counters Terminal 1, 4F /Terminal 2, 3F
Opening hours: Each counter has its own hours

Wi-Fi Rental Service

There are numerous places throughout the Narita International Airport where you can rent a Wi-Fi service or purchase a SIM card to use in your mobile phone while traveling abroad.
Wi-Fi rental services are available without reservation, provided they still have stock available. Counters are found in Terminal 1 (B1F, 1F and 4F) and Terminal 2 (B1F, 1F and 3F) in the area before passing through security.
For more on Wi-Fi rental service, please see our guide here: Narita Airport : Best Wi-Fi and Prepaid SIMs in Japan

Location: Terminal 1 B1F,1F,4F/Terminal 2 B1F,1F, 3F
Opening hours: Each counter has its own hours.

Narita International Airport

Terminal 1
Terminal 1 can be accessed from the Narita Airport Station, which is located between the terminal building and is shared between East Japan Railway Company (JR East) and the private railway operator Keisei Electric Railway.
Free shuttle buses connect each of the terminals at the airport and are the best way of getting around.
Shuttle buses depart from Terminal 1's bus stop 6 on level 1F every 10 minutes for Terminal 2 and Terminal 3, and you should allow around 10 minutes for the journey.

Terminal 2
Terminal 2 can be accessed from the Narita Airport Terminal 2 Station, with free shuttle buses connecting to Terminal 1.
Shuttle buses depart from the 1F bus stop 8 and 18 every 10 minutes and you should allow around 10 minutes for the journey.
Shuttle buses also connect to Terminal 3 every five minutes and the journey takes around three minutes.
Alternatively, you can walk between Terminals 2 and 3 in around 10 minutes.

Terminal 3
Terminal 3 is also accessed from the Narita Airport Terminal 2 Station, with free shuttle buses connecting to Terminal 1 from level 1F and taking around 10 minutes. Shuttle buses also connect to Terminal 2 every five minutes and the journey takes around three minutes.
Alternatively, you can walk between Terminals 2 and 3 in around 10 minutes.

The shuttle bus is free and runs every 5 to 10 minutes, making it the best way for moving between terminals!

Free shuttle buses