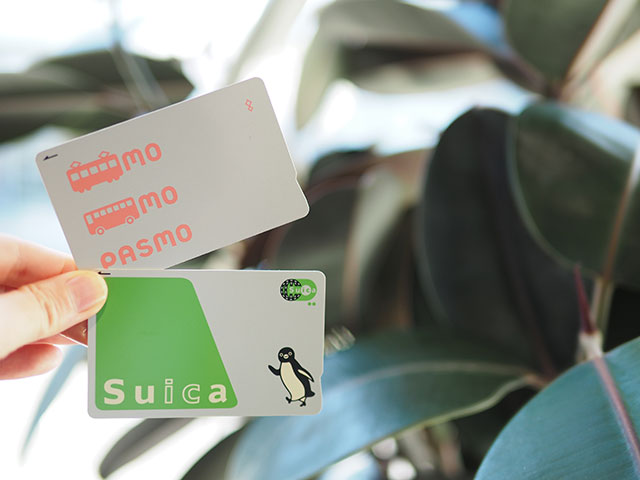 Oyster, Opal and T-money, just to name a few. We're all living in a world where using prepaid public transportation passes are the norm. However, in Japan, one's transportation pass can do much more than save you from carrying extra coins in your pocket or the chance of losing your ticket. From convenience stores to taxis, you can use Suica and Pasmo in many places all over the country. Because they're so convenient to have, we suggest getting one when you arrive.
There are numerous types of IC cards in Japan that vary depending on where you purchase them in. In Tokyo, there are Suica and Pasmo cards. Suica are for the JR rail system and Pasmo cards are for the metro. However, they are not exclusive to these systems and are, in fact, interchangeable, so you only really need to buy one of them.
There are two types of Suica and Pasmo cards. One is "Blank" and the other is "Named". A "Blank" IC card is preferable if you are only staying for a few days. But if you are planning to stay for a while, will be returning to Japan or want to put a large amount on the card, a "Named" Suica or Pasmo is a safer bet as you will be able to get it back if you lose it.

02

Usage Range of Suica and Pasmo

Both cards are excellent for anyone who wants to travel throughout Japan as they can be used across the country and are interchangeable with other IC cards as well. Although Osaka and Hokkaido have their own versions of IC cards, you can use your Suica or Pasmo there if you've already purchased it in Tokyo. If you happen to land in Osaka or Hokkaido, you can get the ICOCA in Osaka or the Kitaka in Hokkaido. The ICOCA and the Kitaka are useable wherever the Suica and Pasmo cards are, so don't worry if you don't pick one up in Tokyo.

You can buy Suica cards at any major JR EAST station using the ticket vending machines or at JR ticket offices (called Midori no Madoguchi in Japanese), as well as at travel service centers.

Midori no Madoguchi (みどりの窓口)

If you buy a Suica card from a JR ticket office, you will be required to show your passport. If you're using a ticket vending machine, please use one that is bordered in black as they are able to issue new Suica cards. The regular, green bordered vending machines are used for charging and will not be able to issue you a new Suica.

Black vending machine

Black vending machine

If the machines aren't working (or you would rather just talk to someone) and can't find a ticket office or a travel center, you can also ask at a station convenience store (called Kiosk or NewDays) for one. Tell the staff "Suika wo kudasai" and someone will help you get one.

Kiosk

NewDays

Each Suica costs 500 yen, which is refundable and can only be purchased with cash. If you purchase one through a convenience store, you will usually pay 2000 yen, which is the base cost of 500 yen plus 1500 yen automatically charged so you can use it immediately.

Fares are unnecessary for children under the age of 6 years. However, if your child is over the age of 6 (but under the age of 12), you will have to get them a child's Suica, which can only be purchased at Midori no Madoguchi offices (JR ticket offices). These Suica make a different sound than the ones that adults use. If you have three or more children, please be aware that for every third child, you must pay for one child's fare.

Children on Suica

05

Topping up your IC card

Suica and Pasmo cards can be topped up at ticket vending machines in the stations or you can also charge them at conveniences stores, such as NEWDAYS (a station convenience store) or Suica/Pasmo partners, such as 7-11, Lawson, Family Mart or Aeon.

Topping up your IC card

There are many shops that accept Suica and Pasmo card payments. Look for the "Suica" mark on vending machines, at convenience stores or in restaurants where you can use your Suica to pay. You may also be able to use them at Yoshinoyas and Starbucks, although these may be limited to those in JR train stations.

Using Suica in shops

Although many taxis and buses do accept Suica and Pasmo cards for payment, please make sure before getting on as there are a few that don't use the system. Always make sure you have cash on you for these occurrences.

If you're leaving the country for good or just want to get your money back, you can easily get a refund for the money on your card, as well as the 500 yen deposit you made. You go to the ticketing office, Midori no Madoguchi.
If you have any money left on your card, a 220 yen fee will be deducted at the time of refund. If you have less than 220 yen, you will not get any money back, except your deposit. So we recommend trying to get your card down to as close to 0 yen as possible.
Article: How to Refund E-money Cards

Don't forget to refund your Suica

Please be reminded that you cannot refund your Suica cards at Haneda Airport, as you must get a refund from the issuing company (a JR office for Suica). There is no JR office at Haneda Airport, so please get your card refunded at Shinagawa, Hamamatsucho or Shimbashi before you leave.