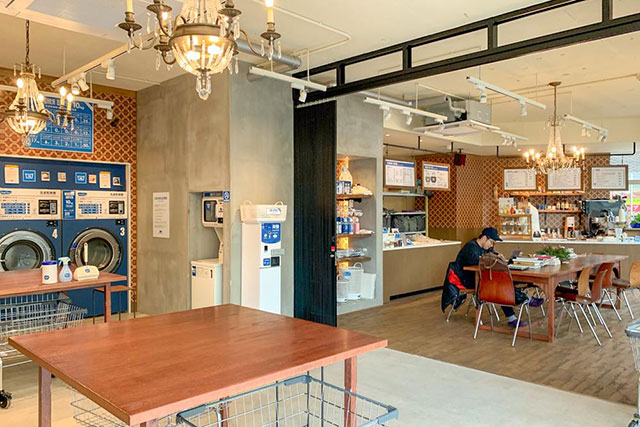 As famously clean as Japan is, your clothing is going to pick up some grime eventually. And then there's the sweat that accompanies Japan's humid summers. Hotel laundry fees soon stack up, or your accommodation may lack such facilities. So where to get your garments clean, and maintain some dignity in this land that places high value on personal hygiene?
How and where to clean your clothes

Conveniently Japan has a culture of the self-service laundromat, known as the 'coin laundry'. Though not as ubiquitous as vending machines or combini, it doesn't take long to stumble across one. A Google Maps search (keyword: coin laundry) will quickly sort you out. Signage may be all-Japanese, but banks of washers and dryers will let you know you're in the right place.

How and where to clean your clothes

Freddie Rec Wash Salon Tokyo

Tokyo Meguro-ku Chuouchou 1-3-13

03-6412-8671

View All

Japanese toilets, it's been remarked, consist of bare-bones basic at one end of the spectrum and indulgently high-end at the other, with little in between. The coin laundry follows the same premise. Functional low-end is the more common of the two extremes, but even in the most modest joints facilities often include chairs, a selection of manga to flick through, and (incongruously!) ashtrays.

How and where to clean your clothes

A lot of old-school coin laundries are ingeniously situated next to a traditional sento bath, such as Jakotsuyu in Asakusa and Atami-yu in Kagurazaka, where you can soak while waiting for your spin cycle to complete.

Jakotsuyu

Tokyo Taitou-ku Asakusa 1-11-11

03-3841-8645

View All

One advantage of the more basic kind of coin laundry is that it is accessible 24 hours. Note also that coin laundries are unstaffed.

How and where to clean your clothes

At the other extreme, a wave of 'gentrified' coin laundries is popping up in Tokyo and other major cities. Wash & Fold is a chain of sleek laundries designed by the team behind certain Issey Miyake boutiques. The branch in Tokyo's hip Nakameguro is replete with greenery and a high-end sound system, and also houses a dedicated sneaker cleaning machine.

Kissa Laundry, south of Tokyo's sumo capital Ryogoku, combines a coin laundry with a designer-style lounge; study and work area; and even a kitchen serving freshly-made light bites and drinks.

Tokyo Meguro-ku Kami-meguro 2-45-14 Under elevated 78

0363033811

View All

How and where to clean your clothes

Whichever kind you take advantage of, both high and low-end are easily understood by foreigners even in the absence of English-language instructions. Some coin laundries are equipped with vending machines dispensing detergent powder (or sell it at the counter), but many are not, and so the first step after loading up your bag is to buy some powder at a supermarket or convenience store (the latter usually offer washing powder in conveniently sized small sachets).

How and where to clean your clothes

While you're at the shop, ensure you have a supply of the necessary 100 yen coins, since not all coin laundries have a change machine. Should you forget to prepare coinage beforehand, you'll almost certainly find a vending machine close by the laundry where you can get change.

How and where to clean your clothes

Inside the laundry you'll need to be able to tell washers from dryers: the former will usually be top-loading machines; the latter front-loaders often stacked into tiers. Almost all washing machines use cold water only, and are usually found in two sizes: 4.5kg machines complete a wash in about 35 mins at a typical cost of 200 yen, with 7kg capacity units charged at around 300 yen and taking slightly longer. After dropping in your payment, simply pour the detergent in on top of your clothes as the machine starts automatically (there are no wash cycle options to choose from).

How and where to clean your clothes

Dryers typically get a load dry in 20 to 30 minutes, costing 100 yen per ten minutes, and again start automatically as you pop in your coins. Should you find no washers or dryers available but machines sitting idle with completed loads, it's entirely acceptable to remove somebody's clothes and place neatly into the provided baskets.

The process is that simple. With Japan's comparatively low crime rate, many people choose to head off somewhere else rather than wait on the premises, but with coin laundries being self-service the only drag here is that you have to pop back midway to transfer your clothes from washer to dryer.