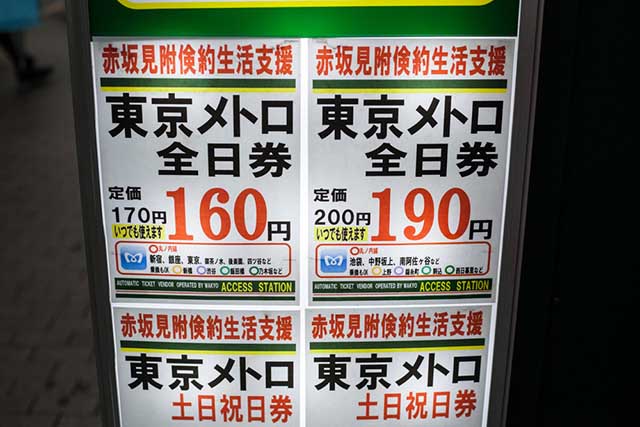 The impression of Tokyo as an expensive city to travel in is probably a holdover from the glory days of the economic bubble that burst over a decade ago. While a trip to London or Singapore will vacuum the currency out of your wallet, it's not impossible, with a bit of care and planning, to escape bankruptcy in Tokyo. A tighter budgets lets you put more money towards the things you'd like to do in the city.
01

Try the discount ticket booths

Try the discount ticket booths

At the city's plentiful discount ticket booths and kiosks, passes to popular attractions and events are often available at a markdown. These booths are particularly ubiquitous in areas that travelers transit through, like Shinjuku and Ueno. Although the regular admission price is usually listed alongside the discounted price, it doesn't hurt to check with the venue before you shop for a cheaper price.

Watch your timing

Happy hour is a universal concept but it makes for a particularly good deal in Tokyo, a city where it can be expensive to prop up a bar. The timed deal concept applies elsewhere, though. It's standard operating procedure for clubs to offer a discount to those that enter before 11pm or midnight. Many restaurants in Tokyo will even set aside one of their slower days of the week to offer half price or heavily discounted deals on the entire menu.

03

Eat and drink like a salaryman (or OL)

Eat and drink like a salaryman (or OL)

The life of the Japanese office drone is one of quiet desperation. For salarymen and OLs (standing for "office ladies," an example of Japan's less than PC work culture), a cheap meal on the go is often the only option. Put yourself in the shoes of the men and women that keep Japan's fax machines humming and duck into one of the city's innumerable standing restaurants. Apart from convenient locations including, quite often, on subway platforms the prices are unbeatable: a bowl of soba or udon can be had for the change in your pocket. For a slightly more relaxed option, local chains like Matsuya and Yoshinoya offer substantial options that won't break the bank.

Hit the conbini

In Tokyo, it is unlikely that you will ever find yourself less than a few minutes' walk from one of the major chain convenience stores, or conbini in Japanese. It's almost a cliché at this point: convenience food in Japanese is pretty darn good. The selection ranges from onigiri to sandwiches and impressive microwaveable takes on mabo tofu, pasta and grilled salmon. The conbini is also a great option for daily essentials. Need an undershirt, a necktie and an umbrella? The conbini has it. Stop by for an inexpensive pit stop as you make your way around the city.

Buy it tax free

Avoiding the hated sales tax is a perk exclusive to foreign tourists. Whether you're picking up handmade beeswax candles in Koenji, a Yohji Yamamoto jacket in Ginza, or a stocking up on yuzu toothpaste at a drugstore, the tax free option is widely available. Sometimes a separate cashier is tasked with dealing with the complete tax free transaction, or visiting the customer service desk is required watch for signs and save the tax!

Don't be shy to shop around for a great deal. Tokyo is a city that rewards those that pay attention to the details.