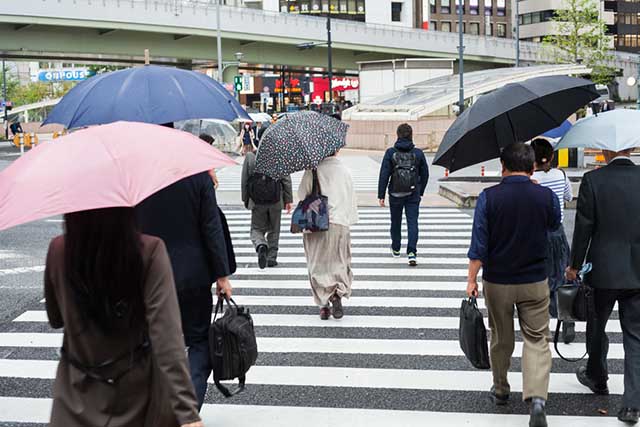 Did you know that the average annual amount of rainy days in Tokyo is 117? That means it beats out London (106 rainy days a year), and puts it within striking distance of truly wet cities like Vancouver (161 rainy days a year) and Taipei (165). Most of the rain falls in prime travel season, between April and October, making the question of staying dry a pressing one.
01

Duck into a conbini for umbrellas, raincoats, and a bottle of hot coffee

Duck into a conbini for umbrellas, raincoats, and a bottle of hot coffee

The ubiquitous conbini of Japan (the big three are Lawson, 7-11 and Family Mart) are a lifesaver in the event of a sudden downpour. An added bonus: at the front of the store, where raincoats and umbrellas are stocked, keep an eye out for the small glass cabinet stocked with bottles of warm coffee and tea. If you happen to step in a puddle, the conbini also stock a change of socks.

02

Stride with pride with your umbrella but keep it to yourself

Stride with pride with your umbrella but keep it to yourself

In other rainy capitals, the standard operating procedure is to grin and bear it, or toss on a raincoat. Japan, though, is a nation of umbrella bearers. One of the symbols of the country might as well be the cheap transparent umbrellas available at any convenience store. At the merest hint of rain, umbrellas sprout like mushrooms on the sidewalks of Tokyo, which can make navigating the already busy city quite tough. Watch out for errant umbrellas and keep track of your own.

Stash it and go

When entering any shop or business in the country, an umbrella stand will usually be stationed out front. (Failing that, a plastic sheath with a reservoir tip is offered to roll over your umbrella and avoid soaking the floor.) The ubiquity of the transparent conbini umbrella can make it tough to reclaim your own particular umbrella, and nearly always unintentional umbrella theft is a fact of life.

Head for cover

If you don't have the heart to face the rain, duck into one of the city's plentiful shopping malls, covered arcades, or underground passageways. Major centers like Shinjuku, Ikebukuro and Ueno are warrens of commercial space and subterranean walkways that can offer dry passage or hours of distraction. Shinjuku Station is a great example: a maze of above and below ground corridors that you could intentionally or unintentionally spend all day in!

Taxi!

The city's taxis are always easy to spot, even in more distant quarters of Tokyo. If you don't fancy a soaking trudge back to home base, a taxi makes a great option. Not as inexpensive as a subway trip, taxis are still fairly inexpensive compared to other cities. At busier centers, find the taxi rotary or stand outside of subway station complexes, or simply hail one with a wave.

Tokyo's heaviest rainfall comes in the warmer months, so a sudden downpour is not as unbearable as it would be in colder climes. Should you be caught off guard, a quick visit to a conbini for an umbrella and a hot coffee will put you back on track.