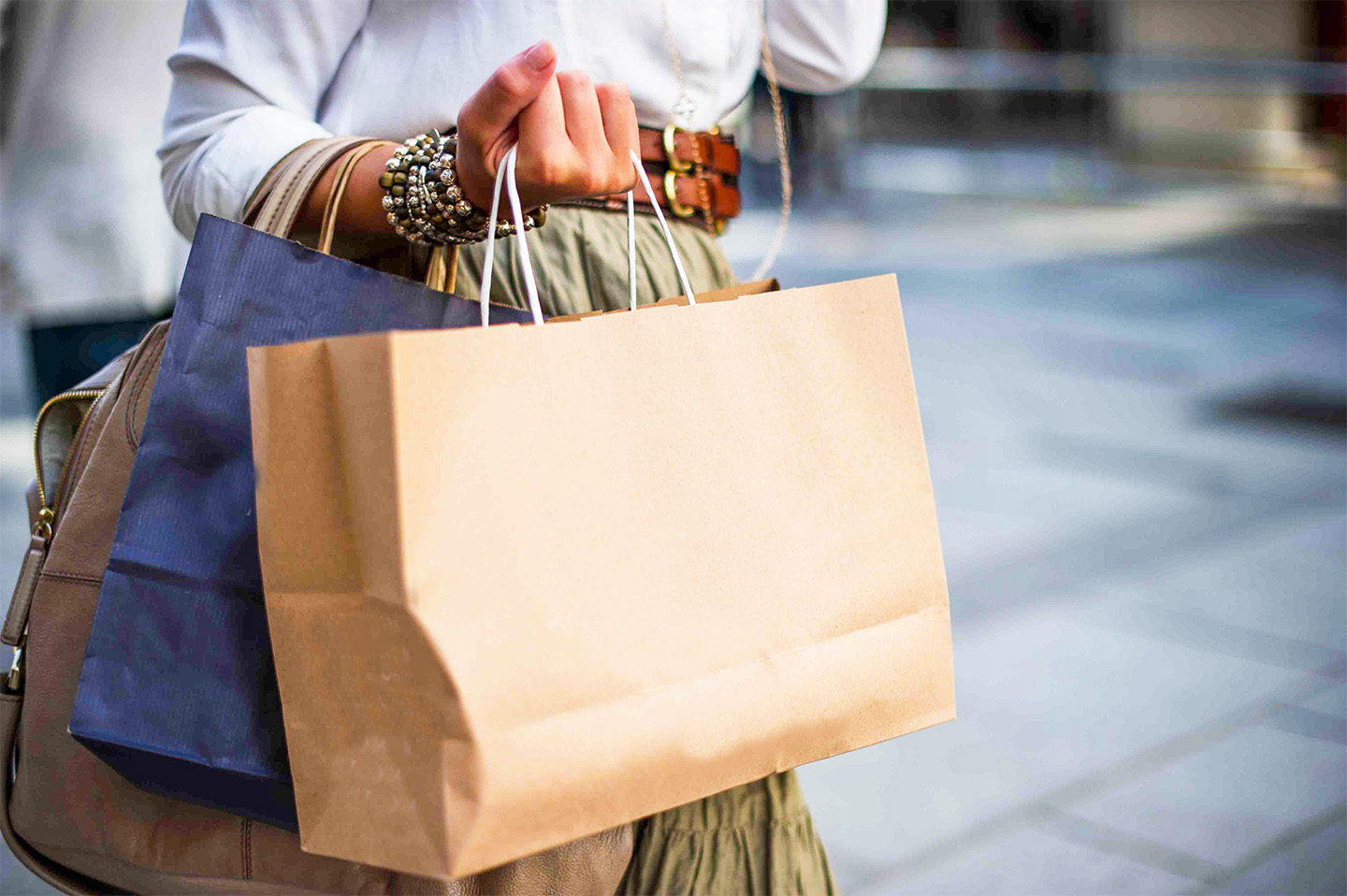 Do you know which Tokyo shopping malls you shouldn't miss? As the country's shopping district, there are dozens of giant department stores in Tokyo. These tall skyscrapers show a balance between modern - contemporary and traditional Japanese architecture. In this shopping guide, we'll take you on a tour of the best areas to shop in Japan's major capital.

The city is both a reflection of the past and a glimpse of the future. You will find handcrafted souvenirs, classy-vintage shops, modern luxury boutiques, and depachika or gourmet food halls located in the basement. You will also find street food stalls here and there. So, check out our Top 10 Recommendation on how to shop your way around Tokyo:
01

Shibuya Sky/Shibuya Scramble

Shibuya Scramble Square is the highest building in Shibuya with the height of 229 meters.
Having having more than 200 stores, it also comes with an observation facility "Shibuya Sky" on the 46th floor that comes with a 360-degree panoramic view of Tokyo.

Tokyo Shibuya-ku Shibuya 2-24-12

0342214280

[SHIBUYA SCRAMBLE SQUARE Sho…

View All

02

Shibuya New Miyashita Park

Located between Shibuya and Harajuku, a new cultural hot spot, Miyashita Park reopened as a three-story, multi-purpose complex on July 28th 2020. Aside from 90 eclectic stores, ideal for shopping, the complex includes new playground space on its rooftop, as well as equipped with commercial areas, parking lots, and lodging spaces all within the same compound.

The iconic Shibuya 109 shopping mall, nicknamed "marukyu," lies at the heart of Shibuya's fashion culture. This place is ideal for young women who is interested in Japanese fashion. Over the 10 floors, there are wide variety of styles to choose from.

4.0

602 Reviews

Tokyo Shibuya-ku Dougenzaka 2-29-1

0334775111

[Shopping] 10:00-21:00[cafe …

View All

"With Harajuku"is a three basement floors and nine above-ground levels shopping complex housing restaurants, co-working spaces, shops and an event hall with a capacity for 300 people. The building was designed to be a 'hangout space for the future', where people can eat, shop, work and convene. Floors 4 through 9 are set aside as residential apartments.

Right across the street from JR Harajuku Station, this shopping complex not only have indoor shops like IKEA and Uniqlo, but also have an expansive terrace called 'With Harajuku Park', where the public can enjoy fresh air while taking in the greenery of Meiji Jingu and Yoyogi Park, which are just across the road.

Takeshita Street is about 400 meters street filled with shops and cafés appealing to young locals and tourists. The shops in Takeshita Street are mainly offering trendy streetwear, over-the-top outfits, cosplay items, vintage apparel and the like. And if you go on a weekend, you'll most likely see young men and women dressed up in true Harajuku style!

Cat Street is an alley in the backstreets of Harajuku filled with latest shops, restaurants, and cafes. Off the beaten path from the city center, Cat Street is the best place to stroll between Shibuya and Harajuku and see the latest styles and youth culture. Despite its name, the street has nothing to do with cats.

Cat Street

Tokyo Shibuya-ku Jingumae

View All

Isetan Shinjuku is one of those big malls that is strategically organized. The shopping center is made up of two buildings, one focused on men's fashion, while the other is for female shoppers containing several big names in the fashion industry like Gucci, Issey Miyake, and Bottega Veneta. This is also a good place to get traditional Japanese souvenirs as they have a section for fancy Japanese dolls, folding fans, kimonos, and other locally crafted products.

08

Takashimaya Shinjuku Times Square

Takashimaya is one of the oldest department-store companies in Japan offering luxuary fashion clothes and items to wedding dresses and other apparel to electronics and flatware. If you are looking for an extra "touch" on the souvenirs you are taking home, head on over to Tokyu Hands which is a renowned Japanese DIY and hobby shop located inside Takashimaya in Shinjuku. Here you can pick up materials to create your DIY projects, choose over different character collections like plushies, ceramic vases, and even cypress wood storage boxes.

09

Sunroad Shotengai (shopping street)

Sunroad Shotengai (shopping street) in Kichijoji is a great go-to place for those who are into the Japanese retro vibe. Although not the most accessible, it is worth a trip as it is in a university belt area, so endless trendy shops are lining up the Shotengai. You can also find authentic Japanese snacks, Izakayas, groceries, and cafes here as well as traditional souvenir shops.

10

Vintage Shopping in Shimokitazawa

Traveling on a budget? You can still shop here in Shimokitazawa. Unlike main fashion districts like Harajuku and Shibuya, Shimokitazawa is a lot more chill, and a little old school too. This Shotengai is lined with wooden shops and vintage clothing stores. It is also a good place to learn about Japanese Music as there's a lot of lively bars and theaters in the area.

Where the Yebisu Beer Brewery was born back in 1890 now rises Shibuya's commercial facility Yebisu Garden Place. The mega-complex contains museums, cinema, luxury hotel, department store and several dining places, one of which is Michelin 3-starred.

4.0

477 Reviews

Tokyo Shibuya-ku Ebisu 4-20

0354237111

Depends on establishment

View All

Roppongi Hills is every shopaholic's idea of paradise. What with international runway labels like Gucci, Balenciaga, Louis Vuitton, and many others, anyone would go gaga. Roppongi Hills takes pride in having locally and internationally recognized luxury boutique shops in one big shopping complex. There are also several gourmet dining options and entertainment options like the Maman sculpture and the carefully curated Mori Art Museum.

Tokyo Minato-ku Roppongi 6-10-11

0364066000

[Shop] 11:00-21:00[Restauran…

View All

Tokyo Midtown Roppongi

There are two Tokyo Midtown, one in Roppongi and the other in Hibiya. Tokyo Midtown Roppongi is one of Tokyo's busiest mega-complexes. It has a residential area, office floors, high-end shops, fine dining restaurants, an art museum, lush spacious gardens, and a luxury hotel. If you want to go shopping, this is the best place to go as it has a handful of boutiques like Jacob Cohen, BEAMS HOUSE, STRASBURGO and Uniqlo. The Midtown Garden, adjacent to the complex is popular in early spring for its cherry blossom trees.

Famous cherry blossom photo spot at Tokyo Midtown Roppongi

On the other, Tokyo Midtown Hibiya has a perfect balance of elegance and serenity. From its luxurious shops who look like they have jumped out of a magazine spread, to its picture-perfect views of the surrounding city from the serene garden.

Tokyo Midtown Hibiya surely has tricks under its sleeves, it has a sprawling Hibiya Food Hall filled with deli shops, trendy cafés and sake bars too, it also has Hibiya Central Market that showcases old school Japanese shopping lifestyles and the Toho Cinemas Hibiya which is its main entertainment establishment.

Tokyo Minato-ku Akasaka 9-7-1 others

0334753100

[Shop] 11:00-21:00 [Restaur…

View All

GINZA SIX(G Six) is an upscale shopping complex that is sure to satisfy even the heavy shoppers. G Six has more than 200 deluxe brands and flagship stores offering everything from fashion, housewares, accessories, beauty products to modern art. You can easily spend a whole day here without seeing the same store twice, so be sure to bring extra money.

4.0

419 Reviews

Tokyo Chuo-ku Ginza 6-10-1

0368913390

[Shop/Cafe] 10:30-20:30 [Re…

View All

15

Coredo Muromachi Terrace

Unlike other department stores, Coredo Muromachi Terrace has just changed the whole luxury retail shopping experience. Instead of the usual boutique-style layout found in every other shopping center, Coredo Muromachi Terrace arranged the shops to have the look and feel of a gallery exhibit with long corridors of carefully arranged displays of crafts from designers and artists across Japan. From beautifully crafted jewelry to quirky ceramics, you're bound to find something charmingly different that you wouldn't usually find in the more typical department stores around Tokyo.

Solamachi is a commercial center that is impossible to miss as it is located right at the foot of the legendary Tokyo Skytree. Shoppers are in for a treat as they step into the complex as it has endless dining, shopping and entertainment options. There are several character shops like Hello Kitty, Anpanman, Disney, and even STRICT-G with Gundam T-shirts. Among the most visited is The Skytree Shop itself where visitors can take a piece of the iconic landmark home.

Solamachi at the foot of Sky Tree

Tokyo Sumida-ku Oshiage 1-1-2

0570550102

[Whole building] 10:00-21:00…

View All

Kitte Marunouchi used to be Tokyo's central post office, thus the name "Kitte" meaning "postage stamp". Originally built back in 1931 and renovated to its current state last 2013, Kitte is now a posh shopping center with a rooftop overlooking Tokyo Station. It has a wide array of shops, cafes, and restaurants serving the needs of travelers and visitors alike.

18

Shin-Marunouchi Building

Café in the building overlooking the Tokyo Station Building

Shin-Marunouchi Building is one of the city's most important landmark. It is a favorite shopping stopover because of its proximity to busy Tokyo Station. It houses some casual high-end brands targeting working adults that either work in or pass by the area. Marunouchi also has good food choices, especially on the 35th and 36th floors where you can dine and chill while taking in the view of Tokyo Station.

4.0

354 Reviews

Tokyo Chiyoda-ku Marunouchi 1-5-1

0352185100

[Shop] 11:00-21:00 (Sunday P…

View All

19

Nijubashi Square in Marunouchi

Nijubashi Square may not have as many deluxe shops as its neighbors Kitte Marunouchi and the Marunouchi Building but it makes up with several foodie hidden gems. Among the favorites are: Hakata Uosuke Marunouchi serving fresh seafood and tasty sake from Fukuoka, Soba-dokoro Souhachi, an izakaya serving handmade buckwheat noodles at an affordable price, and Made in Pierre Hermé Marunouchi which is a globally renowned patisserie. The Marunouchi branch is a half shop-half cafe concept store.

20

Diver City Tokyo (Odaiba)

One of the first things you'll notice here is the oversized Unicorn Gundam model outside Diver City Tokyo Plaza that is worth the travel in itself. The installation is also illuminated at night making the experience more magical.

The plaza offers a lot of "diversity" to its visitors as it has everything one would look for in a Tokyo shopping complex. Diver City has various restaurants serving local and international cuisine; entertainment options such as the Round 1 Stadium which has a bowling alley, arcade games, karaoke and other activities; but wait, there's more – you'll find Adidas, Bershka, Coach and other popular brands as well as traditional Japanese shops selling unique souvenirs here. There's also a Hello Kitty gift shop and café that is frequented by fans of the Kawaii feline icon.

5.0

2 Reviews

Tokyo Koutou-ku Aomi 1-1-10

0363807800

[Sales of goods store] [Wee…

View All

Aqua City Odaiba is famous for a lot of things, and with good reason. The futuristic shopping center is eye candy for the curious. One of its most popular features is the AI Robot named Chihira Junco, made by global electronics company Toshiba, Junco is designed as a multi-lingual concierge to assist visitors in Japanese, Chinese, and English. There's also the Sony Explora Science experience hall that can be enjoyed by kids and adults alike.

More importantly, the complex has a lot of shopping options, from trendy Japanese brands like Shimamura to big global brands such as Lacoste and Coach. Aqua City even has a spacious Daiso and Flying Tiger Copenhagen where you can cop quirky souvenirs and random novelty items.

4.0

481 Reviews

Tokyo Minato-ku Daiba 1-7-1

0335994700

[Sales of goods store] 11:00…

View All

22

Venus Fort/Pallet Town (Odaiba)

Iconic statue of a venus at Venus Fort

Pallet Town offers the best way to see Odaiba on a different level. Like, literally. Its main attraction is a soaring Ferris wheel called "Daikanransha" that can give you magnificent views of the Rainbow Bridge, Tokyo Tower, Sky Tree and more.

Other than the theme park, this mega-complex also has a diverse selection of restaurants, shops, and cafés. But what makes Pallete Town stand out, is the Venus Fort – it's very own shopping center. Its main piece of art is a giant fountain being held by Greco-Roman Goddesses that gives you the ultimate Instagram shot. The shopping center is family-friendly with shops and establishments appealing to any age. It houses several global brands' outlet shops.

VenusFort

Tokyo Koutou-ku Aomi 1-3-15

0335990700

View All

Giant Sky Wheel in palette town

Tokyo Koutou-ku Aomi 1-3-10 pallet town

0355002655

View All

23

Decks Tokyo Beach (Odaiba)

Decks Tokyo Beach looks like a parked cruise ship from afar, especially with the stunning Tokyo Bay in its background.

There's Madame Tussauds, LEGOLand Discovery Center, Tokyo Trick Eye Museum and its indoor amusement park, Tokyo Joypolis. Decks is a huge shopping center and it doesn't disappoint in that aspect either. It has numerous luxury and budget-friendly boutiques, where you can get casual wear, trendy apparel and most importantly – swimwear.

They even have SanQ where you can rent a Kimono or Yukata during the summer. The mall is also lined with scenic cafés overlooking the bay, food kiosks, and highly rated restaurants such as Gompachi, which is known for being in the Quentin Tarantino movie, Kill Bill.

4.0

208 Reviews

Tokyo Minato-ku Daiba 1-6-1

0335996500

Depends on establishment (se…

View All

24

Anime/Manga Shopping in Nakano

Nakano is probably every foreign Otaku's dream destination. Stepping into Nakano Sun Mall feels like entering a vintage Anime world, with food stalls, various local arcades, and retail shops left and right. At the end of the Shotengai you'll be at the door of Nakano Broadway, the actual Otaku haven. It is an old school shopping center where you can get Manga, Anime, cosplay, and toys.