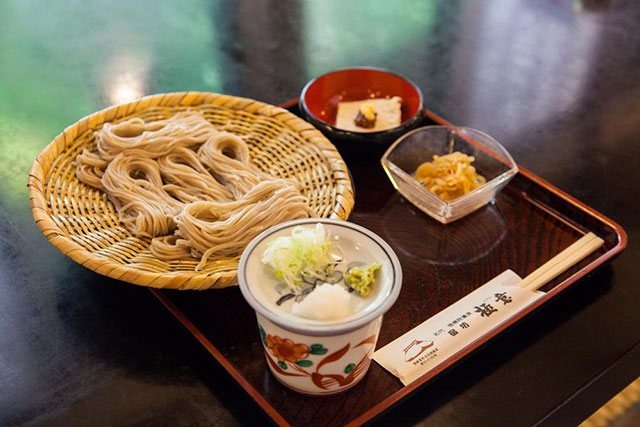 Soba, the humble and thin buckwheat noodle, is rarely heard of outside of Japan. A shame, since soba is known to be one of the dishes representing Japan. A plate of soba serves as a blank canvas to be twisted and created into a whole new dish. The best soba is not found in just one city, it is found all throughout the country.
Tea Soba in Uji

Just a short train ride from Kyoto, Uji is famous for providing the former capital city's famous green tea. Uji is a small town with plenty of tea farms. All of the food has a green tea twist, from ice cream to takoyaki. Tea Soba, soba infused with green tea, is the perfect way to try Uji's famous tea and indulge in a light meal at the same time.

02

Make Botan Soba in Onjuku

Make Botan Soba in Onjuku

Onjuku, a small beach town on the Boso Peninsula, is home to Kiwami Soba, a soba shop famous for the rare botan soba. Not only can diners indulge in the soba, they can also try and make it themselves. Both beginners and advanced cooks can take classes with the owner. Be sure to make reservations in advance.

03

Fumotoya Soba on Yamadera

Fumotoya Soba on Yamadera

Located on the bottom of Yamadera, a holy mountain filled with shrines, Fumotoya Soba is the perfect restaurant to grab lunch post hike. The soba is as traditional as the restaurant itself. The restaurant prides itself on their fresh noodles and original, strong taste of buckwheat. Yamagata is a famous prefecture for their soba and Yamadera boasts some of the best small restaurants in town.

Uango in Takehara

Takehara is a town with a preserved Edo-era street in Hiroshima. Also known as Little Kyoto, Takehara hosts small gift shops and traditional restaurants, just like the former capital. For an off the beaten path lunch spot, be sure to look for Uango, a soba shop located in a small house. Enjoy the hand-made noodles on offer and have a chat with the friendly owner.

05

Kawara Soba at Choshuya Yuda Shop in Yamaguchi

Kawara Soba at Choshuya Yuda Shop in Yamaguchi

For a unique twist on the noodle and soup set, check out the broth-less green tea noodles topped with meat served at Choshuya Yuda Shop. A Yamaguchi creation, these noodles are a served dry and on a sizzling platter with a lemon seasoning. The dish is perfect for two people to split. The noodles can be found all around Yamaguchi but Choshuya Yuda is one of the most famous, due to their large portions.

06

Togakushi Soba at Gokui in Togakushi, Nagano

Togakushi Soba at Gokui in Togakushi, Nagano

Be sure to arrive early to Gokui before their popular, handmade noodles run out for the day. Gokui specializes in Togakushi soba, cold noodles served on a bamboo plate in five bundles, representing the Togakushi shrine's five gods. The noodles were originally eaten by pilgrims who once visited these five shrines. Gokui is located in a refurbished lodging home used for pilgrims, so diners can have the full experience.

07

Azumaya Wanko Soba in Morika, Iwate

Azumaya Wanko Soba in Morika, Iwate

Iwate's soba dish is wanko soba, which has become associated with the one hundred bowl challenge. Wanko soba is served in small bowls, or wanko, and is repeatedly refilled until the diner has had enough. The dining experience is like a game, when the noodles are finished the server will quickly refill unless the lid is covering the bowl. Azumaya specializes in all you can eat wanko and serves sides such as meat, fish or vegetables to help flavor the noodles.

08

Kanda Matsuya in Tokyo

Kanda Matsuya in Tokyo

Located in eastern Tokyo, Kanda Matsuya is one of the most famous handcrafted soba restaurants in the city. The restaurant opened in 1884 and still retains the traditional, wooden aesthetic inside. The portions are served either hot or cold and can be ordered with a side of crispy tempura.

09

Kame Soba in Irabu, Miyakojima

Kame Soba in Irabu, Miyakojima

Although technically not considered soba by a mainlander, as the noodles are made from wheat as opposed to buckwheat (buckwheat soba in Okinawa is called Nihon soba), we would be amiss to ignore Okinawa soba in this list. This restaurant in Miyakojima is small and cozy, and located in a house. All of the ingredients are local and the noodles and tofu are handmade. The soup is also topped with juicy pork. Kame can get crowded during lunch, as it's one of the more popular noodle shops on the island.