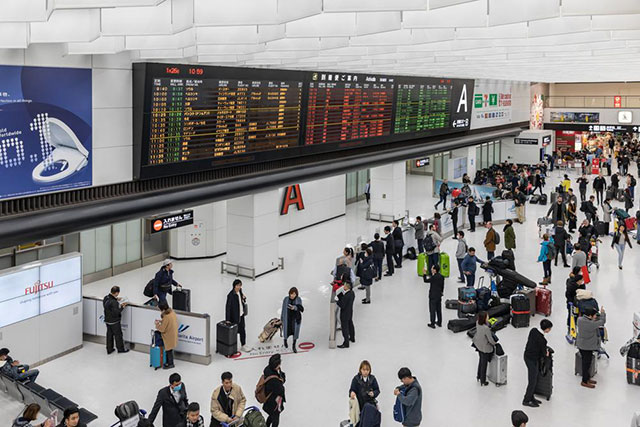 Preparing for a trip to Japan is no small feat.

Tickets, accommodation, itinerary planning, last minute language study cramming, by the time you're ready for the holiday it'll feel like you need a second holiday! With your bags packed, you're ready to go–but you've still got a few lingering questions before your flight to Japan.

Though the internet is rife with last-minute travel advice, first-time visitors often overlook some easily missed, but essential items. Why not skim through our checklist to make sure you're ready to touch down in the land of the rising sun?
Your final destination may be a bit of a trip from the airport (e.g. Tokyo's not-so-nearby Narita), so think about what time you're arriving–or, if you haven't already purchased your ticket, what time you want to arrive.

Are you the kind of person that can sleep on the plane? Will your touch-down be in time to take the express transit from the airport (e.g. the Narita Express, which runs from 7:45 a.m. until 9:45 p.m.)? Will your arrival coincide with the business hours of major shops so that you can buy the contact solution you left on the dresser?

Finally, depending on where you're flying from, you might be dealing with a serious timezone adjustment; getting to your destination too early in the morning will mean you have to stay up an entire day before bedtime in Japan (don't you dare commit the jet-lag-inducing faux pas of a first-day nap).

Article: Narita Airport :Transportation Options for Traveling into Tokyo

Plan to get connected

In ancient times, people used to navigate Tokyo without GPS-enabled smartphones.

We can't imagine how this was accomplished, and thankfully, neither will you–that is, if you've arranged to pick up a pocket wifi device upon your arrival. Plenty of providers available and most allow you to reserve this lifesaving gadget whilst overseas and arrange for either airport pickup or quick delivery to your accommodations.

Though wifi is becoming increasingly available in Japan, login portals can make it time-consuming to connect to–and with almost 900 rail stations in metro Tokyo, it's (un)surprisingly easy to get lost.

Article: Narita Airport : Best Wi-Fi and Prepaid SIMs in Japan

03

Should you pass on a JR Pass?

Should you pass on a JR Pass?

If you plan on traveling outside of Tokyo, consider buying a Japan Rail (JR) pass. Fortunately, it's no longer necessary to buy it before you come to Japan, but domestic purchases are more expensive than those made overseas and availability is limited.

If you've got the chance, crunch the numbers and decide whether or not to buy a rail pass before you take off.

Article: How to Use the Japan Rail Pass

Don't get stranded

While we're talking about trains, think about curfews: Japan's neon signs may buzz all night, but their trains don't.

The last trains on most lines in Tokyo come shortly after midnight, and crossing the metropolis by cab can get über expensive: even going four or five stations can set you back 5000 yen.

That's money better spent on the next day's onigiri, so keep an eye on your watch–or pull an all-nighter and catch the first train at dawn.

Article: Tokyo Taxi: A perfect guide to using a taxi in Tokyo

Cash isn't king, but…

In the days of Apple pay and credit cards, physical cash may seem a little archaic, but Japanese stores still use cash a lot.

Of course, major retail outlets like major supermarkets and department stores will offer a variety of payment options. But if you're straying from the main tourist drags, or are hoping to grab dinner at a cosy local eatery, don't be surprised if it's cash only.

In a bid to cater to card-carrying tourists, many ATMs now accept international debit cards (though you'd be wise to check with your bank in advance), so it's likely unnecessary to exchange big stacks of currency in advance of your visit.

Just make sure you always have cash in your pocket and know where to get more when things get tight.

Bring a coin purse

Following on from the cash tip, a coin purse will come in very handy.

Japan has one, five, 10, 50, 100, and 500 yen coins. Bills don't start until 1,000 yen (roughly $10 USD) value, so before you know it, you'll be lugging around a lot of metal.

You can offload a large number of these at any of the ubiquitous vending machines, but be warned, they won't take one or five yen coins.

07

A little bit of Japanese goes a long way

A little bit of Japanese goes a long way

English education is an enormous industry in Japan, but many Japanese people still struggle to communicate in anything other than their mother tongue.

If you don't speak much Japanese, don't assume you'll be understood. There's a slew of smartphone apps to help you get by–and most restaurants include plastic models or photos of food that allow you to point at what you're after–but make sure you have an alternative communication strategy planned in advance.

Of course, nothing beats some old-fashioned studying, and even a few polite words can help to get a stranger on your side. If you have to use English, speak simply and slowly–and don't be afraid to use lots of gestures.

08

Don't plan all of your destinations…

Don't plan all of your destinations…

Japan is accommodating to guests, but first-time visitors may be surprised by how much various logistical challenges can slow them down.

On the other hand, hidden treasures on every side street mean you won't want to rush, and ambitious itineraries quickly become unrealistic. Basically, while it's a good idea to decide on some of what you want to see, don't tie yourself to a demanding schedule.

Look at the bright side: if you can't fit it all in this time, you have the perfect excuse to come back for a second trip.

09

… but make sure you have the name and address of your first hotel in both Japanese and in English

Japanese addresses can cause quite the confusion.

Most streets don't have names, the building number order is hard to decipher, and neighborhoods are often broken up into different 'chome' or mini-regions. As well as that, many of the major cities are littered with maze-like one-way streets.

For the first-timers, being able to direct a taxi driver to your accommodation is near impossible. To save the hassle, have the address of your Tokyo hotel in Japanese and in English on a piece of paper to hand over your driver can punch it into their GPS and be on their way. You will also be required to write this address on your arrival form and present it when passing through immigration.

10

…but plan your toiletries

…but plan your toiletries

Medicine and toiletries tend to be a bit gentler in Japan–and some normally over-the-counter items will require a prescription.

As a general rule, anything whose strength you depend on–like aspirin or deodorant–might be best to bring from home. Just make sure you check which items and quantities are permitted by customs.

You know what they say: nothing puts a damper on a vacation like an accidental drug-smuggling conviction.

11

Bring thermals in winter

Bring thermals in winter

Japan experiences all the seasonal extremes, and winter is definitely no exception. The winters are surprisingly harsh, dry and bitter.

If you're wanting to make the most exploring outside, whether it be city slicking or going country you should really pack a few thermals to layer up. You won't regret it.

12

And bring (or buy) a little hand towel in summer

Just as winter is harsh, mid-summer in Japan can be equally as extreme.

If you're from a nation whose summers are typically dry, you'll be in for a bit of a shock as Japan is incredibly humid. If you're no good with the heat, just be prepared to sweat as you've never sweated before.

A little tip is to keep a small cloth or towel handy, to help with perspiration. If you forget you can always pick up a tenugui, a multi-purpose Japanese towel, made from cotton.

Bring a power board

Often overlooked, but incredibly practical, if you have it, bring a power board from home.

If your adaptors are different to those in Japan, and you don't want to deal with lugging around a whole collection of them, you can always purchase one and plug all your devices into the power board.

Also, this can come in handy if you are staying in more traditional style accommodations which may only have one or two powerpoints per room.

14

And show your gratitude

And show your gratitude

If you're relying on the hospitality of someone–and you likely will be at some point during your stay–give them something that you brought from home. Japanese culture is huge on gift-giving, and even small and inexpensive tokens are a good way to show appreciation for any size gesture.

All right, you're as ready as you'll ever be! Now it's time for you to get a good night's rest. After all, it doesn't matter how much you prepare if you oversleep and miss your flight.