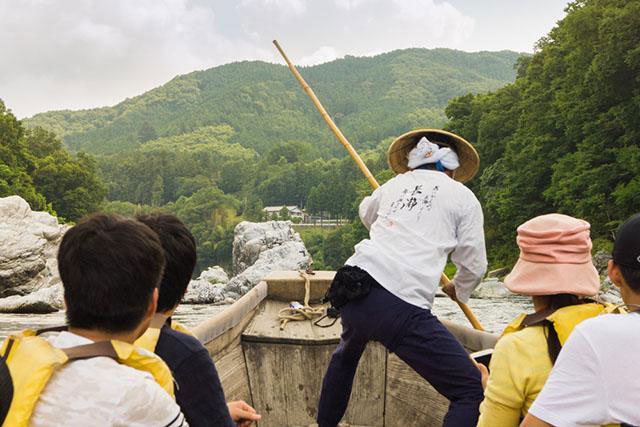 A volcanic island nation with plenty of untouched rugged, unique landscapes, Japan beyond the major cities is an adventurer's delight. Exploring the country by foot, car or bike is always a great way to get around, but for a different perspective, try hopping aboard one of the country's many cruises.
01

Fukuoka Itoshima Keya no Oto

Fukuoka Itoshima Keya no Oto

Running along the northwest coast of Kyushu Island is where you'll find Itoshima city, a chilled out beach town boasting picture-perfect coastline and friendly, laid-back locals. An excellent day trip from Fukoaka, there are plenty of ways to soak up the beauty of the area, but for a different perspective consider hopping aboard one of the boat tours that run from the coast out to Keya no Oto. An almost otherworldly scene Keya no Oto is a towering piece of basalt rock that juts out of the ocean standing 200 feet high. A tour from the shore out to Keya no Oto takes about takes about twenty-five minutes but will leave you with memories to last a lifetime.

Mogami River

Mogami River is known as the 'mother river' of Yamagata Prefecture, so a visit to the area without paying respects to Mother Mogami isn't a proper Yamagata experience at all. To really immerse yourself in the beauty of the waterway, hop aboard a riverboat cruise departing from the base of the Goten Bridge, along Prefectural Route 294. Disembarking at Nagashima Bridge, this 50-minute journey down one of the area's most important canals is a great way to really understand the powerful beauty of this underrated prefecture.

03

Kashikojima Espana Cruise Mie

Kashikojima Espana Cruise Mie

If you're in Mie Prefecture and are wanting to try something a little different, then you can't look past the Spanish themed Kashikojima Espana Cruise. It's a 50-minute sightseeing cruise around Ago Bay that showcases some of the area's most impressive coastal views, best admired from atop the boat's open deck. For something authentically Mie, the tour also stops off at a cultured pearl factory where you can witness the making of area's famous pearls.

Mie Pref. Shimashi Agochoushinmei 747-17 (Kashijima Station)

0599460570

Free visit

View All

04

Nagatoro River White Water Rafting

Nagatoro River White Water Rafting

If cruising is too slow for you, then maybe you might want to consider signing up for a little white water rafting just outside of Tokyo. Nagatoro is a rugged hub of natural beauty positioned just northwest of Saitama Prefecture and is a place famous for its abundant boating opportunities. Head on over to the Iwadatami Riverside where you'll find boatmen dressed in traditional garb, ready to take more casual guests on a scenic cruise as well as inflatable rapid-ready whitewater rafts for those more adventurous types.

05

Oboke and Koboke Gorges

Oboke and Koboke Gorges

Shikoku's largest, and arguably one of Japan's most stunning rivers the Yoshino River, is flanked on either side by incredible lush green foliage that transforms with the passing seasons. It boasts colors so vibrant they could only be outdone by the deep emerald greens and bright blues of the water below. The best way to enjoy the area is to take the Oboke Ravine Pleasure Boat (Oboke Yuransen) cruise, it's a 30-minute journey past some of the river's popular landmarks like the Komori ('bat') Rock and Shishi ('lion') Rock and offers excellent photo-taking opportunities.