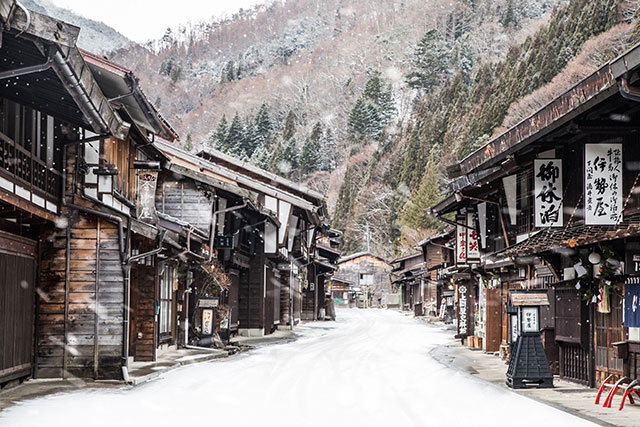 The Kiso Valley which runs almost vertically south (or north, depending which way you traverse it) through the southern part of Nagano is an ancient trade route that served as an important means of commerce in the area since before the Edo period.
The route became saw a sharp increase in usage during the Edo period, when it formed part of the Nakasendo – a 500km road that connected the cities of Kyoto and Edo (modern day Tokyo). Warriors and tradesmen would often make the arduous journey along the Nakasendo to the capital city by foot, stopping at "post-towns" that served as a place for travelers to rest their weary feet and stock up on food for the long journey ahead.

Along the Kiso Valley, a few of these post-towns have been meticulously preserved to look like they did during the Edo period, when they served hordes of travelers navigating the Nakasendo. Of particular note are the towns of Magome, Tsumago and Narai (in order of popularity).

Visiting today allows you to experience traditional Japanese buildings from a bygone era and feel an atmosphere of old Japan that is hard to come by in most other areas.
Many of the buildings still serve as guesthouses, while others have been preserved as museums showing how life was during the Edo period. There are plenty of places to stay along the Kiso Valley, allowing you to explore the old towns at your own pace.
01

Why explore the Kiso Valley in Winter?

The Kiso Valley is open to travelers throughout the year, with spring and summer being the most popular times to visit. Popularity during spring is of course because of the cherry blossom, and the summer because the climate is a lot cooler than other major places like Tokyo and Kyoto. Our favorite time of year to explore the Kiso Valley though, is in fact during winter, when the crowds are almost non-existent. This allows for a much more authentic experience, it's just you and the beautiful surroundings of old Japan – no groups of tourists being herded from location to location, no selfie stick wielding teenagers looking for the ultimate selfie spot and very few families, as the kids are all at school!
Not only that, but if you're lucky enough to catch some fresh snowfall during your visit you will witness breathtaking scenes that make for some of the best photography on any trip to Japan. With that being said, in the article we will introduce you to the towns of Narai, Tsumago and Magome (traveling north to south), and show you what you can expect during a winter trip to the area.

NOTE: Yes, this is a mountainous area and Nagano is generally considered one of the best regions in Japan for snowfall, but the Kiso Valley is fairly far south in the prefecture and can sometimes go entire winters with only one or two days of snowfall. Having said that, on average there's a fairly good chance of snowfall during the months of December, January and February.

The town of Narai marked the halfway point between Kyoto and Tokyo for travelers along the Nakasendo Route. It was a town of great prosperity, crammed with a large number of rest houses and local merchant's quarters. The long walk down Narai's main strip will allow you to see a number of very well restored houses, as well as a handful of souvenir shops, restaurants and a total of five temples and shrines. There are also a couple of buildings that have been turned into low-key museums showing how life was inside a typical residence in Narai during the Edo period.

The main road through Narai is almost completely deserted during the winter months, compared to the summer when it is filled with tourists, shoppers and families

A wholesaler in Narai that has managed to maintain an atmosphere of Edo period Japan while continuing to do business in the 21st century

A wholesaler in Narai that has managed to maintain an atmosphere of Edo period Japan while continuing to do business in the 21st century

Small restaurants line this street corner without ruining the aesthetic of the town

The main road through Narai after a recent snowfall

The forested mountains behind the town of Narai looking particularly good with a dusting of new snow

A local shop that looks as if it is belongs on the set of a Kurosawa movie

The main road through Narai after a recent snowfall

Nagano Pref. Shiojirishi Narai

0264343160

9:00-17:00

https://tokimeguri.jp/spot/1247.php

View All

Tsumago is known today as one of the best-preserved towns in all of Japan. Its residents and local authorities have gone to great lengths to ensure the atmosphere and buildings closely resemble how the town looked during the Edo period, when the Nakasendo was at its busiest. Cars are restricted along the main street and power cables have been hidden underground, leaving little sign of modern life on display while wondering through the town.
The two main Inns during the Edo period, the Honjin and Wakihonjin, have both been carefully preserved as well allowing you to see where government officials and other people of status would have stayed while traversing the Nakasendo on foot.
The Wakihonjin in particular is a great place to visit during the winter months, when the sun sits low in the sky and floods the main room with its rays during the middle of the day, creating a majestic atmosphere that stuns anybody you witnesses it.

Looking down on Tsumago's main street on a cold January morning

The wooden signpost of a traditional Japanese inn in the town of Tsumago

The wooden signpost of a traditional Japanese inn in the town of Tsumago

New-years decorations are displayed outside residences, inns and shops throughout January, injecting a nice element of colour and detail into the town. Another great reason to visit during the winter months

A local shop in Tsumago with no advertising and little signage, a far cry from the scenes you witness in Tokyo and almost every other town up and down Japan

Tsumago night scene

Nagano Pref. Kisogunnagisomachi Aduma 2159-2

0264572727

Open 24 hours

http://tumago.jp/english/

View All

Wakihonjin, the inn that served people of importance during the Edo period is a beautiful building well worth visiting throughout the year, but it really comes to life during the winter months when the midday sun floods the main room with powerful sun beams that mix with the smoke from the hearth to create magical scenes

Tending to the hearth

A sight to behold

Nagano Pref. Kisogunnagisomachi Aduma 2190

0264573322

See South Thursday Somachi M…

http://tumago.jp/english/

View All

08

Tsumago to Magome Hike

Our final destination along the Kiso Vally is the post town of Magome, which is located roughly 8 kilometers from Tsumago. There are buses that connect the two towns, but we highly recommend opting to hike between the two using the old Nakasendo route, which has been well maintained and makes for a great activity. It takes around 2-3 hours to complete and has various things along the way to see including (more) traditional inns, a teahouse and a couple of waterfalls.

The hike from Tsumago to Magome takes you through a series of forested areas, bamboo groves and along beautiful scenic pathways

The total route is approximately 8 kilometers

There are traditional inns dotted sporadically along the route, most of them are closer to the Tsumago end

A waterfall along the hiking route

This tea house is located roughly halfway between the two towns, they offer a place to sit and relax around an open fire with free tea and snacks. Donations are gratefully accepted

Inside the tea house

Nagano Pref. Kisogunnagisomachi Aduma 2190

0264573322

See South Thursday Somachi M…

http://tumago.jp/english/

View All

Our final destination is the town of Magome, which is technically in Gifu Prefecture, not Nagano, as it sits just a stones throw across the border.
Magome has been beautifully restored with a lovely stone walkway that runs through the entirety of the town. Both sides of the walkway are lined with a number of shops, eateries and of course traditional Japanese inns. The preservation efforts have been masterfully executed, with serious attention having been paid to the smallest of details, giving Magome a cleaner and more polished ambience compared to the neighboring town of Tsumago.
A backdrop of Japan's Southern Alps in the greater Gifu area add another layer of beauty to the town and also allow for some lovely photographing from the higher vantage points, especially if they are snowcapped in the winter.

A well maintained stone path leads you through the town of Magome

The buildings throughout the town have been beautifully preserved

Magome has many more commercial businesses than Tsumago and Narai, but has managed to keep a pleasant atmosphere of old Japan without much of a commercial feel

The views from Magome across the Southern Alps make for a lovely backdrop to the town

The town of Magome

Looking up the main street in Magome

The main street is lined with an assortment of trees and flowers that make for interesting frames during winter and then spring to life during the warmer months

The main strip in the town of Magome, deserted during the winter months allows for a great place to peacefully stroll and take in the atmosphere of the Kiso Valley

Gifu Pref. Nakatsugawashi Magome 4300-1

0573692336

Free walking

http://www.kiso-magome.com/kankou.html

View All