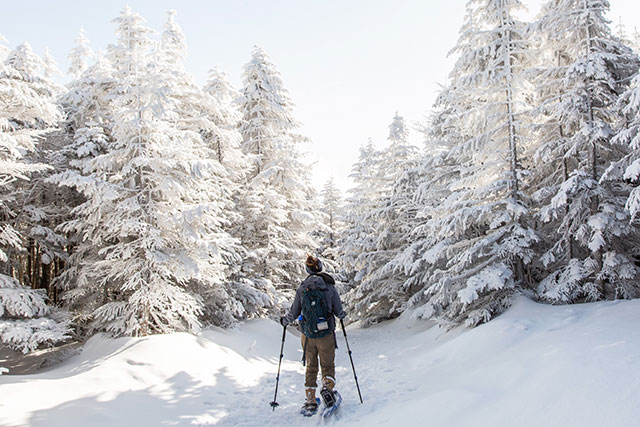 Nagano, and indeed Japan, is steadily gaining international recognition for its large quantities of light powdery snow that lends itself to some of the best ski and snowboard conditions in the world. The secret is out, and winter-sports enthusiasts travel from far and wide to sample what is considered by many as the perfect conditions for any ski holiday.
With roughly 70% of Japan covered in mountains there are plenty of places to try snowshoe hiking.

With roughly 70% of Japan being covered by mountains, there are an abundance of resorts to visit, allowing ample opportunity to test your skills, while exploring some of the country's most breathtaking scenery, a million miles away from the neon clad streets of Tokyo.

Another way to enjoy this side of Japan is the increasingly popular activity of snowshoe hiking – a relatively easy and accommodating activity suitable for people of all ages and ability levels. It isn't as focused on the adrenaline rushes one gets when hurtling down steep slopes on a set of skis, nor is it as strenuous as a day popping tricks on a snowboard. Snowshoe hiking is about exploring your surroundings at a pace that suits the individual and gaining access to scenes and terrain that come take on a whole new life during the winter months when they are blanketed in a thick layer of brilliant white snow.
Snowshoe hiking is a brilliant way to get outside, explore new places and keep fit! All you need are a set of snowshoes, some ski poles and sensible outdoor wear that is warm, water-proof and lightweight (similar to what you would wear when skiing or snowboarding).

Snowshoe hiking in Nagano

Snowshoes can be a costly investment depending on the quality of show you go for, they typically start at around 10,000 yen for a basic set, and can go up to 30,000 yen plus, for more advanced ones. Snowshoes can be rented from many outdoor or ski shops, as can the ski poles.

Snowshoe hiking offers the opportunity to explore a range of places that are otherwise difficult to access during the winter months.

With that being said, in this article we will introduce some of our favorite places in Nagano for a spot of snowshoe hiking. Starting with a nice easy course at Togakushi, close to Nagano City. Then with two slightly tougher courses located next to ski resorts. Then we will finish with a hike over in eastern Nagano at Takabochi Kogen.

04

Togakushi, Nagano City

Togakushi Shrine is a shrine complex spread over a large area in the forested mountains northwest of Nagano City. There are 5 shrines in total, 3 of which are connected by hiking trails up relatively easy forested slopes. You can start your hike at any of the shrines which can be accessed by road via either car or local bus (buses from Nagano Station towards Togakushi).
From December through March the hiking trails are often covered in snow making for a great place to try snowshoe hiking. The course is along a gradual incline but is fairly easy for anybody who has a reasonable level of fitness.
The hiking trail will take you past all three of the shrine's main buildings, under large "torii" gates, and through a forest of sacred trees that are roughly 800 years old!
From all of the locations mentioned in this article, this place gets the least amount of snow, meaning it's a great place to try snowshoe hiking for the first time, although we recommend checking local weather forecasts to guarantee snow on the ground.

The hiking courses at Togakushi are suitable for most levels of hiking, with nothing too difficult involved.

The course takes you through several large wooden gates as you approach the top shrine

The course takes you through several large wooden gates as you approach the top shrine

The path also cuts straight through the middle of a forest of trees that tower high above your head.

The top shrine at Togakushi

Once you are done at Togakushi, if you have some time to spare, the surrounding area has some nice detours that take you around ponds that are completely frozen during winter. These ponds are clearly signposted and should be avoided as they can be dangerous but hiking around them is safe and offers some amazing views! Maps to the ponds can be found along the trail to the main shrine at Togakushi.

The approach to Kagami Pond near Togakushi offers beautiful views of the surrounding scenery

随神門(戸隠神社)

長野県長野市戸隠

0262542001

https://www.togakushi-jinja.jp/

View All

Mt. Yatsugatake is a mountain range on the border of Nagano and Yamanashi Prefectures. They have large areas of forested hiking trails situated above the ski resort that allow for amazing snowshoe hiking experiences in the north of the range at Kita Yatsugatake (approx 2000m), with various options for hiking courses including both easy and challenging routes.

Access to the trail head is via a cable car from the Pilatus Tateshina Ski Resort car park, and they also have equipment available to rent at the base of the cable car (snowshoes, poles).
There are several hiking trails from the top of the cable car, averaging 4-5 hours each. The trails take you through forests, around frozen ponds and allow stunning views of the Southern Alps on a clear day. Maps are provided at the start of the course.

Access to Kita Yatsugatake is easy via car, straight to the ski resort. Or via local bus from Chino Station, which can be accessed from Shinjuku station in Tokyo on JR Azusa Chuo-Line limited Express train bound for Matsumoto.

The Kita Yatsugatake Cable Car

Views from the hiking trails at Kita Yatsugatake

Snowshoe Hiking at Kita Yatsugatake

Kita Yatsugatake

Snowshoe Hiking at Kita Yatsugatake

Rocky terrain at Kita Yatsugatake

4.0

66 Reviews

Nagano Pref. Chinoshi Kitayama 4035-2541

0266672009

9:00-16:00

https://www.pilatus.jp/

View All

The name may suggest this place is close to Mt. Fuji in Yamanashi, but it is in fact also in Nagano, in the town of Fujimi. Similar to Yatsugatake it is situated above a ski resort (Fuji Panoramic Ski Resort also known as Fujipara) which is accessible via cable car.
The hike route takes you through forests and across open plains to the summit of Mt. Nyukasa (1995m). It goes past a rest house which is warm and welcoming, great for a cup of hot tea and a snack. They also offer overnight stays, but reservations are essential.

Access to Fuji Panoramic Ski Resort is via shuttle bus from Fujimi Station on the Chuo Honsen Line. Fujimi Station can be accessed by local train from Suzurannosato Station, also on the Chuo Honsen Line, which can be accessed from Tokyo by Shinkansen Bullet Train.

The hiking course at Fuji Panoramic can be steep at times meaning it can be challenging for those with little snowshoe hiking experience.

Fuji Panoramic Hiking Course

Fuji Panoramic Hiking Course

The rest house at Fuji Panoramic doesn't look like much from the outside but it offers warmth, company and hot drinks!

The summit of Nyukasa

Nagano Pref. Suwagunfujimimachi Fujimi 6666-703

0266625666

[The summer season (Weekday)…

https://www.fujimipanorama.com/snow/

View All

10

Takabochi Kogen (Takabochi Highlands)

Our final snowshoe hike is to Takabochi Kogen, located close to Shiojiri and Suwa. A fairly long, and at times grueling hike through a thick forest (approx. two hours) will spit you out on the wide open plains of Takabochi Highlands, offering stunning 360 degree views across the area, allowing you to look down on Lake Suwa. And if you're lucky with the weather, also affording you a stunning view of Mt. Fuji in the distance.
Takabochi Kogen is a popular hiking spot during the summer months and is also home to a horse racing event in August. The road that takes hikers to the top is closed to motor vehicles during winter meaning the only way to access the top is to hike through the forest.

This hike has no official start point, has no infrastructure, no signposts and no rental facilities close by. It is recommended you study the area first online and establish a course that you are confident you can follow. There are no immediate dangers along the way, but it is always advisable you pre-plan before setting out.

Access to Takabochi Kogen is via car only, there are several places you can park to start the hike, including close to an onsen hotel, which is also a great way to finish the hike (soaking in the onsen!).

Few people visit Takabochi Kogen in mid winter due to the road being closed to motor vehicles, this means one can enjoy excellent views across the Southern Alps with very little distraction

Scenes from Takabochi Kogen

The open plains of Takabochi Kogen

The views from the top of Takabochi Kogen are beautiful

…perhaps the best view is that of Mt. Fuji on a clear day

NOTE: Hiking in snowy mountains always poses a certain degree of risk, whether that be from slipping and injuring yourself, getting caught in adverse weather conditions or simply losing your way. It is essential to embark on any snowshoe hike having done all you can to ensure your own safety and learn about the course you are going to take.
Always hike in groups of at least two people, always let somebody else know where you are hiking and take with you enough food and drink to see you through the day. Dress appropriately in warm, breathable and waterproof clothes. Always take a mobile phone with you, and when possible take a map too.

Once you have prepared yourself for a safe hike you are free to enjoy the hike and have a lot of fun! Happy hiking!