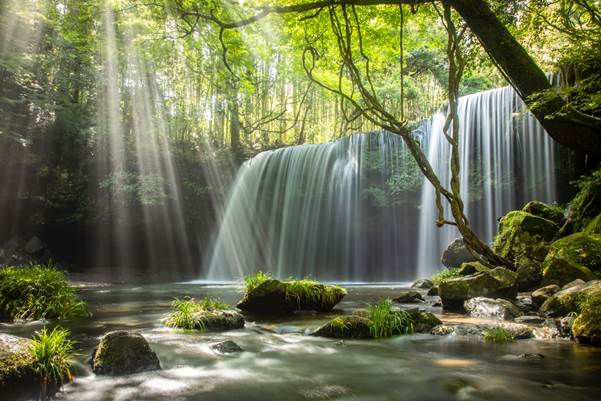 One of the joys of exploring Japan are the countless photo opportunities the country affords, of which there are ample. From the stereotypical over-saturated shots of Tokyo's neo-clad backstreets, to the lesser-trodden paths of Tohoku's mountains, there is so much to explore, appreciate and photograph here.
What's more, each and every prefecture in Japan offers a slightly different aesthetic and local flavor, meaning you are constantly presented with something new and interesting to discover as you move from one region to the next.

With that being said, today we will focus on the prefecture of Kumamoto, located on Japan's southern island of Kyushu. It has a wide range of interesting terrain including rugged coastal lines to the west of the prefecture and rolling hills that surround one of Japan's biggest active volcanoes to the east.
Photo courtesy of Michael Gakuran

My name is Ben, a freelance photographer based in Japan for over a decade now, working for a number of international and domestic travel companies, helping them get the images they need of Japan, its culture and its communities, for their publications.
Today I will be sharing with you some of the locations I visited during a recent two-day trip to Kumamoto. As well as posting the images I made during this trip, I will also be detailing the exact locations, as well as giving a brief overview of the kit I used for each shot.
The aim of this piece is help any budding photographers with plans to visit Kumamoto to discover a few of the photogenic gems it has to offer.

NOTE: I did this trip using a rental car as most of the locations are far from major towns and have poor public transport links. You may find, with a bit of research, that you can reach some of them via train or bus, although if you have the means and ability I highly recommend visiting them by car.

We will start in the very north part of Kumamoto Prefecture around the Aso-Kuju National Park area, where the majority of locations are. We will then work our way south via the Amakusa region for a couple more locations.

Limited to just two days this is no way near a complete guide to photography in Kumamoto, it covers just a few of the photogenic spots this fascinating prefecture has to offer, places that piqued my interest during the research stages of the trip.

For exact locations of each place featured please see the very bottom of the page.

All images on this page were photographed with a Canon 5d Mk III DSLR with a combination of 28mm, 50mm, 100mm and 24-105mm lenses. I also used an ND16 filter, a Manfroto 190T tripod and standard cable release.
I also used a DJI Mavic 2 Pro drone for a few of the shots, also equipped with an ND16 filter.

First up is Nabegataki Falls, a stunningly beautiful waterfall located in the town of Oguni, that sits on the border of Kumamoto and Oita Prefectures. The falls are located inside a small park called Nabegataki Koen. There is a small fee of 200 yen payable to enter the park, for its upkeep, and it is open from 9am to 5pm. The park is reasonably quiet, allowing you to photograph the falls with few people in your frame, although they do have parking space for up to 45 cars, so it may get busier during peak travel times (weekends, school holidays).

Nabegataki Falls as seen from the approach to the falls when you enter the park

The great thing about Nabegataki Falls is that it looks great from all angles

I arrived at 9am on the dot on a weekday and practically had the place to myself. The cover image of this article was taken at 9:50am as the sun rose above the thick forest allowing its rays to filter through any gaps, creating this beautiful scene – this seems to be the shot most people aim for, whether or not the weather is on your side on the day is simply down to fate. All three of these images involved me wading (shin deep) in the flow of water to get the angles I wanted, so sensible waterproof shoes with decent grip is advised here.

Next up, and located roughly 45 minutes drive from Nabegatki Falls is Kikuchi Keikoku, a 4km long gorge situated just within the north-western limits of the Aso Kuju National Park. There is a small fee of 100 yen to enter.

Water cascading down the rocky terrain at Kikuchi Keikoku

Once inside you follow a walking path that takes you around the perimeter of the gushing waters that divide the two sides of the gorge. There are a few spots that allow you to photograph the water as it flows over various rock formations, good for some long exposure experiments, although frankly speaking having just come from Nabegataki Falls, I felt a little underwhelmed by these spots.
Having chatted with a couple of locals here I understand this place looks particularly good during the autumn season when the leaves are turning colour, so it's definitely a place I will consider a return trip to during that time of year.

Turquoise blue waters at Kikuchi Keikoku

Kikuchi Keikoku is also a great place for bird-watching and photographing flora, so if either of those are up your alley, be sure to make this a stop on your journey through Kumamoto!

06

Mt. Aso and its Surroundings

The main attraction at the Aso-Kuju National Park is without a doubt the active Mt. Aso volcano. It is a large volcano with a circumference of more than 100km, making it not only one of the largest in Japan, but also in the world. It regularly spews clouds of ash high up into the air, and is often closed to hikers and tourists due to its high levels of volcanic gases.

Multiple gigantic eruptions in the distant past have helped create a massive caldera, supported by an array of interesting rock formations and rolling, grassy plains. This place is an absolute pleasure to explore and photograph with something interesting and picturesque to see at almost every new turn. Some of the classic shots to be found here include:

Mt. Aso billowing smoke and ash high into the air

Detail shot of the rugged base of Mt. Aso

A lone cow grazing in the plains that surround Mt. Aso

Mt. Eboshi, one of Aso's non-active peaks sits beyond the open plains of Kusasenri

For me though, perhaps the biggest and best surprises in this area were those that crept up on me unexpectedly as I made my way down the winding mountains roads of the park. It seems as if every few meters one is presented with beautiful scenes of stunning natural beauty, these aren't places that have names necessarily, they're just part of the awesome drive that takes you from the top of the park, down to the bottom.

A lone tree in a sea of green

Rice fields sit between craters near the summit of Mt. Aso

A cow in a field of its own, at the base of Mt. Aso

A winding coutry road slices through the grassy plains of Aso-Kuju National Park

Three torii gates and a tree

Birds eye view, a car driving through the wide expanse of the Aso-Kuju National Park

The last three images posted were taken using my drone, these images were on the outer perimeter of the park, but some other parts of the Aso-Kuju National Park are in fact no-fly zones. These areas are clearly marked with signs like the one below. Please be careful and extra vigilant if you plan to fly a drone in this park, and if you see these signs don't even think about taking off. If you are caught flying your drone in an area that clearly states it is a no-fly zone the police will be called without hesitation.

Pay attention to regulations regarding the usage of drones

07

Kamishikimikumanoimasu Shrine

Not the easiest of names to pronounce, but a spectacular place to explore with your camera, especially in the early morning, as the sun pokes through the surrounding forest creating some stunningly beautiful rays of light! Kamishikimikumanoimasu Shrine is located in the south-eastern corner of the Aso-Kuju National Park, and will be our last location in this area.

Shooting here in the early morning posed a few challenges due to the heavy contrast between the shaded areas and those the light managed to infiltrate, but it was also these conditions that allowed for some truly stunning scenes.

Early morning rays flood the forest with light

The harsh contrast inside the shrine in the early morning allows for some great photographing

The main building at Kamishikimikumanoimasu Shrine

Tip: If you hike up the mountain behind the shrine, through the forest you will find ample opportunities to photograph the sunrays flooding the gaps in the trees. At the top of the trail, which takes no more than fifteen minutes is a large rock with a cave-like entrance.

Over on the west side of the prefecture is Amakusa, a series of islands that sit just below the Nagasaki peninsula, the biggest of which is Shimoshima. A fair bit of driving is involved to explore the islands properly, but there are some great photo opportunities waiting for those who take the time to navigate this area. You can expect to find quiet fishing towns, huddles of small islands off the coast and the Instagram-popular gate to Eino Shrine, which sits in the ocean, flanked on both sides by stone lanterns.

Sakitsu is home to a large Catholic Church, an unusual sight in Japan

A fishing boat harbored in the town of Sakitsu as a storm brews overhead

We shall start in the far south of the main island of Shimoshima in the town of Sakitsu, which is famous for its large Catholic church, a sight which is unusual in Japan. What's nice about this place is how it seamlessly mixes elements of Catholicism, Buddhism and Shintoism. There are scenes that represent each of the religions, sitting alongside each other in a fairly small area. The surrounding town is that of a fishing community, which also adds a nice touch to the feel of the place.

Elements of Catholicism and traditional Japanese aesthetics share the same space in the church yard

The church itself has some nice detail, also worth exploring

Also, while you're in the area it's worth finding the local shrine where you can buy a "Gashuin" for the shrine, the temple and the church! Quite a rarity in Japan!

As you head up the coast towards the northern part of the island, you are surrounded on both sides by beautiful coastlines that offer an array of nice places to shoot. This area offers some particularly nice views over the ocean if you can get up high, one example of such a place is the look-out at Amakusa Matsushima.

The stunningly beautiful coastline of Amakusa offers ample opportunity for great photographing

The look-out at Amakusa Matsushima

11

The Torii Gate of Eino Shrine

The real treat here, however, is the stone gate that acts as an entrance to Eino Shrine, in the north-eastern tip of the Amakusa. It sits in the ocean, with two large stone lanterns, and can be photographed from the not-so-scenic shoreline that is littered with large concrete tetrapods, that act as a defense mechanism against large waves caused by typhoons or tsunamis. I arrived here as the sun was setting and was graced with some beautiful scenes, as the skies turned from a miserable grey colour to a fantastic show of pinks and purples as the sun set for the evening.

The stone gate to Eino Shrine, flanked on both sides by stone lanterns

As the sun started to set, the sky transformed into the most beautiful of colours

One thing many photographers don't think to do at this location is move about and find angles that allow you to shoot the gate without the stone lanterns in frame. I was lucky to have an uninvited guest arrive as I pressed the shutter for this particular shot!

Back on the mainland of Kumamoto now, and we head south towards Mizushima, a small island off the coast of Yatsushiro City. The island is made up of just one building, a small shrine that takes up the entire island. It is accessible via an elevated walkway that traverses the sea. Next to the island is another small island, used for docking a single boat. Both of these islands offer simple but nice photographing. Honestly speaking though, there isn't much else around here to photograph, other than perhaps some shots of the surrounding rice fields, which can great depending on what stage of harvest they are at.

The lone shrine on Mizushima

The rice fields close to Mizushima can also offer some interesting photographing opportunities

We finish our photographic tour of Kumamoto in the town of Misato Machi, which is approximately 45 minutes by car from Mizushima. Misato Machi is a fairly typical rural Japanese town, that has a nice river and a smattering of Japanese style houses. As far as photography goes, the view from Shaka-in Temple is pretty spectacular, it looks out across the prefecture as far as the ocean, and if the weather and light are on your side will afford some spectacular views. Accessing the viewpoint however is not an easy task! It involves either scaling the longest set of stone steps in all of Japan (3,333 steps total), which can take anywhere between 1 – 2 hours depending on your level of fitness, or driving up, along a network of tight mountain roads, which isn't much faster frankly speaking!
The view however from the top is just fantastic! And while you're there you can check out the temple too, which dates back over a thousand years!

A freak rain storm at the end of a hot sunny day created fantastic scenes from the top od Shaka-in in Misato Machi

The main temple at Shaka-in

I couldn't resist coming back for one last shot of the view across Kumamoto Prefecture out towards the ocean, and what a view it is!

Exact locations for all of the spots mentioned in this article are detailed below. I'm sure there's a lot more to photograph in Kumamoto Prefecture, as mentioned before this is just a taste of what the prefecture has to offer. Good luck finding them for yourself and a lot more!

LOCATION DETAILS HERE!

Kumamoto Pref. Asogunogunimachi Kurobuchi

0967462113

9:00-17:00(Last entry16:30)

View All

Kumamoto Pref. Asoguntakamorimachi Kamishikimi 2619

0967622913

Free worship

View All

Kumamoto Shimomashiki-gun Misatomachi Sakamoto

0964462111

View All