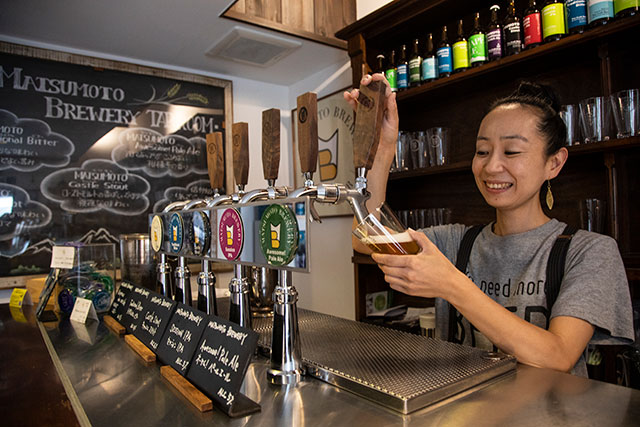 The picturesque city of Matsumoto is best known for its castle, pictured above, which is one of Japan's most beautiful and complete original castles, that dates back to the early 1600's.
Matsumoto is also considered a useful hub for those looking to explore the more rural parts of Nagano Prefecture like the Northern Alps region and the Kiso Valley.

Anybody passing through the area though should make a point of checking out Matsumoto City itself. With a vibrant and artistic community offering a range of interesting options for food, drink and relaxation it's a great place to break up any longer Nagano-based road trip. Here we will introduce a few of our favorite hang-outs in and around the city.
Owner and Manager of shioribi, Kikuchi-san

Meet Kikuchi-san, the owner and manager of sioribi, a centrally located café and chill spot close to Matsumoto City Art Museum. Kikuchi-san converted an old electrical appliance shop into the cozy, hip and artistic space that is it now, back in 2016. He wanted to create not only a friendly place for people to be able to catch up over a cup of coffee, but also an inspiring hub of creativity and expression free for all to use.

The second floor of shioribi

They have a selection of Japanese and English magazines and books to read while you relax

The second floor offers exactly that, with a nice, open space filled with a collection of books and magazines – some for sale, others free to be picked up and browsed through

The atmosphere is a mix of retro Japanese and mid-to-late 20th century European, with a selection of antique chairs and ornaments gathered from various corners of the world. With a selection of modern touches thrown in here and there, including a range of stylish stationary and notebooks for sale as well as messenger bags and locally made crafts, it definitely checks all the right boxes as far as hipster establishments go!

Various items for sale on the second floor

The first floor is predominantly a café/restaurant that serves a selection of hot and cold drinks, sweet and savory snacks and simple yet delicious hot meals. It also doubles up as a great place to sit back and watch the world go by from the large open-window shop front. The café also sells a selection of coffee beans to go, locally grown vegetables, jams, honeys and other seasonal goods.

Home cooked Curry and Rice at shioribi

The main café and first floor of shioribi

Just a few meters down the road shioribi also operate a small guesthouse for those looking for a place to spend a night or two. Space is limited so pre-bookings are almost always essential, these can made through their website at https://sioribi.jp/

02

Matsumoto Brewery Tap Room

The Tap Room, operated by the local Matsumoto Brewery

Hongo-san, who runs the Tap Room

The Matsumoto Brewery Tap Room is a small and cozy bar located just off Nakamachi-dori, operated by the local craft beer brewery – Matsumoto Brewery.
As the name suggests, they have a range of local beers on tap as well as a selection of bottled beers and also various soft drinks including locally made apple and grape juices.

The Tap Room is run by Hongo-san, a lively and energetic woman with an infectious smile! She has an excellent knowledge of craft beer and is happy to help you find the perfect beer for your mood and palette.

Bottled Craft Beer, made locally in Matsumoto

They offer a selection of craft beers on tap too!

The Tap Room is spread over two floors, the first consists of a standing bar which can accommodate up to just five guests at any one time, but there is eating for a further twelve people on the second floor. As you can imagine, on a busy weekend night the place gets pretty busy pretty fast, but don't let this put you off, it is well worth popping down to try and get a seat, and to sample the local goods!

A fresh Matsumoto Brewery beer!

Unfortunately, the Tap Room doesn't have a website of its own, but the Matsumoto Brewery does, and although it is mainly in Japanese you can easily navigate to the location of the Tap Room on their About Us page, it also hasn't information about their other bar and activities. Check it out here https://matsu-brew.com/

Nagano Pref. Matsumotoshi Chuou 3-4-21

0263310081

13:00-19:00

View All

Miura-san, owner and manager at Marumo Coffee

Meet Miura-san, owner and manager of Marumo Coffee, a typical sixties style Japanese "kissaten" coffee shop situated between Nakamachi dori and Nawate Street (also known as Frog Street), on the north side of the city towards Matsumoto Castle.

Kissaten, are a type of coffee shop that became hugely popular across Japan, especially in the cities, in the sixties, seventies and eighties. They were a place where guests could sit in comfortable chairs while sipping good coffee, while listening to the preferred music (often jazz or classical) of the shop Master, while enjoying a smoke. Yup, they certainly were a sign of the times - those places were very smoky!

Décor inside Marumo

Any Kissaten that have survived until today typically have fading sixties décor, and are still playing the same vinyl they were always playing, sometimes on the very same record player! They are slowly disappearing though as several new waves of coffee shop have become popular over the past decade or so, with a different focus.

Marumo Coffee, Matsumoto

Marumo, which has been a family run business since the mid 1950s, is still going strong today. It is very much a no-frills coffee shop, that serves a decent cup of coffee as well as a few snacks – that's it! The atmosphere however, is like a trip down Memory Lane. It feels as if very little has changed inside, ever! This makes it popular with those who experienced kissaten at the height of their popularity and those from the younger generation who are curious about life in Japan in times-gone-by.
The family also run a small ryokan (traditional Japanese inn), which is situated next door.

Black Coffee at Marumo

Décor inside Marumo

Marumo offer free WiFi for customers, and have decided to go completely smoke-free as well, meaning you can enjoy the taste of your coffee the way it should be!

The menu has basic English explanations too. The website however is in Japanese only, you can see that here http://www.avis.ne.jp/~marumo/index-j.html

Nagano Pref. Matsumotoshi Chuou 3-3-10

0263320115

9:00-16:00(L.O.15:30)

View All