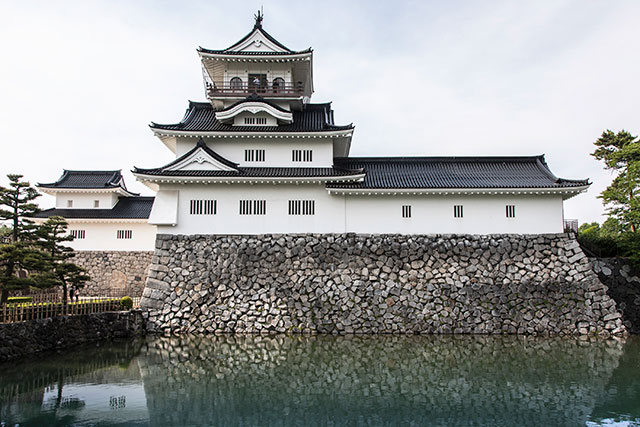 In the days of Feudal Japan Toyama was an important castle town along the Sea of Japan coast.

The original castle, which was also known as Azumi Castle, was built in the mid 16th century, and controlled by the Maeda Clan, who were second in wealth only to the Shogun at the time.

The castle was attacked and destroyed toward the end of the 16th century but rebuilt just a few decades later. It suffered further damage in the coming decades from both fires and earthquakes and was finally dismantled in 1871 during the Meiji Restoration.

It was rebuilt in the same spot almost 100 years later in the 1950s. Some of the original walls and moats remain.
Toyama Castle as seen from the Entrance to Toyama Castle Park

Today Toyama Castle and its surroundings are known as Toyama Castle Park, and they are a nice addition to the city.

The park includes a Japanese garden, traditional tea houses, the Sato Memorial Art Museum, and the Toyama Municipal Folk Museum in the castle building itself. The Folk Museum has a collection of artefacts that recount the castle's history and an observation deck that looks out across the park.

Although most of the information in the museum is in Japanese, they do have free leaflet in multiple languages for visitors.

A view across the Japanese Garden at Toyama Castle Park

A Tea House inside the grounds of Toyama Castle Park

A Bridge that leads into Toyama Castle Park

Historic Artefact from the Toyama Municipal Folk Museum

03

Toyama and its Water Ways

What remains of the moats around the castle make for a nice scenic place to sit and relax, especially during cherry blossom season when the locals line the banks for a spot of "hanami" – picnicking and drinking beneath the falling blossom.

Another way to enjoy the waterways in this part of the city is to take a boat cruise, allowing a different view of the Castle Park and the surrounding area. River Cruises can be Purchase in the small café that is situated at the edge of Toyama Castle Park closest to the main train station.

Although some locals eagerly refer to Toyama as the "Venice of Japan", it is best if you get that image out of your head and approach the river cruise with an open mind, in reality it is nothing like Venice, but very pretty none-the-less and well worth seeing for yourself. The rivers look especially good as spring draws to an end and the trees overhead grow thick with green leaves, creating a sort of tunnel you can pass through in the boats.

Toyama Castle and part of the Original Moat

River Cruising along the moat and canals in Toyama

River Cruising along the moat and canals in Toyama

River Cruises can be booked and started from this small Café

Situated just a stone's throw from the River Cruise Café is a small but very well-equipped Tourist Information center with a host of practical information on the city and indeed the wider area of Toyama Prefecture.

The staff are ready to answer your questions in English and help you plan a detailed itinerary with suggestions of various things to do during your stay. They also offer a fairly unique experience which sees guests dress up in authentic Samurai armor and stroll around the castle grounds in full Fuedal-Era Japan get-up.

There are several Samurai Experiences on offer ranging from simple photo opportunities in Samurai gear that last just a few minutes to longer experiences that involve horse riding in Samurai gear around the Castle Park.

The longer experiences will run you up to 3500 yen per person, but you are guaranteed to come away with an interesting and unique set of photos to remember your trip to Toyama by!

The Tourist Information in Toyama Castle Park

Preparing for a "Samurai Experience"

Fully Dressed and Ready for the Photo Shoot!

Toyama Castle – the Perfect Backdrop for some Samurai Photo Shooting!

Horse Riding is also part of the Samurai Experience

Whether you pop by for the Museum, the Japanese Garden or the Samurai Experience, adding Toyama Castle Park to any trip through Toyama City will leave you with not only great photos but also a host of unique memories.

Information on all of the above can be found at the Tourist Information situated by the Castle Park, mentioned above.

3.5

58 Reviews

Toyama Pref. Toyamashi Honmaru 1-62

0764327911

9:00-17:00(Last entry16:30)

View All

4.0

31 Reviews

Toyama Pref. Toyamashi Honmaru 1-34

0764258440

10:00-17:00(Depending on the…

View All