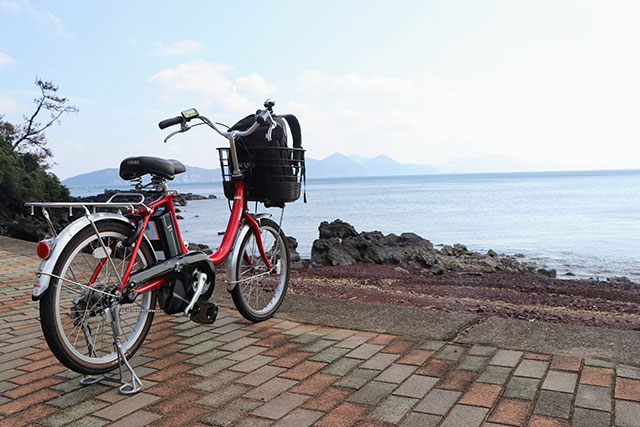 Ojika is an island idyll best explored by bike and with hidden connections to Noto's history. Part of the Saikai National Park, the Ojika area has a population of just 2500 people, spread across seven of its seventeen islands. The main island of Ojika is a laid-back and unusual town, with small cafes, restored kominka to stay in and beautiful scenery. Nearby, the unin-habited Nozaki island is a perfect day-trip or an unusual overnight-stay. An ideal start for those looking to explore the Goto Islands or a simple mini-break from Kyushu, the Ojika Islands have plenty to explore.
Stepping off the ferry and into the Ojika Ferry Terminal, one of the first things you'll notice are the neatly stacked, brightly-colored bikes. Available to rent for a half or full-day, these bikes are available from the local tourism board. Since Ojika Island has a circumference of only 34km, you can easily explore the top sights in a day.

While the island doesn't have towering mountains or steep hills, you may want to consider renting one of the electric bicycles. Helping with slopes, the additional assistance can take away the tiring aspect of exploring and leave you with plenty of energy at each stop. The regular bikes cost 500 yen for five hours or 1000 yen for a full day, while electric bikes cost 1000 yen for six hours.

Selected as one of the most beautiful towns in Japan due to its laidback lifestyle, traditional homes and picturesque scenery, Ojika is a joy to explore. Highlights include the town's small coffee shops, Choujou Temple, the folklore museum, Jinokojima Shrine and the unusual red sands of Akahama beach. Gaining its unusual coloring from the iron in the volcanic earth, the beach is only a 20-minute cycle from the port. Be sure to stop by the island's many restau-rants and cafes as you go, keeping up your energy and taking the chance to chat with the locals.

Address: Fuefukigo, Ojika, Kitamatsuura District, Nagasaki Prefecture 857-4701
Access: The Tourist Information Center is located in the Ferry Terminal at Ojika Port.
Hours: From 6.30 am to 6pm
Booking: Bicycles cannot be reserved in advance and are available on a first-come-first-served basis.
Website: http://ojikajima.jp/travel/tips/642.html(Japanese only)

02

Visit Neighboring Nozaki Island

Only 2km from Ojika, Nozaki is one of the 17 islands that form the extended Ojika area. The island is now deserted, with a single care-taker who visits each day, watching over the land and its animal inhabitants. That isn't to say that the island is empty, however. Daily ferries run between the two shores and it is a popular place for hikers, fishermen and even students on school trips. Thanks to the deserted feel of the island, visitors can feel as if they are truly exploring a forgotten land, with abandoned villages and shrines to see.

The island's abandoned villages and church have been registered as one of the 12 assets of the area by the UNESCO World Heritage Committee and are an important cultural landscape of the country. Along with golden beaches, unusual stone mon-uments and the impressive Nokubi Church, the island has plenty to explore.

03

Admire the Former Nokubi Church

The Former Nokubi Church stands strong against the ocean winds, its red bricks visible from the island's hills. The church stands on the site of the house of Choka-ta, the former hidden Christian's leader. Built in 1907 the church originally served 17 families, who saved between them to replace their wooden church with a sturdi-er and more impressive version. It was the first brick church of architect Yosuke Tet-sukawa, who also designed Egami Catholic Church on Naru Island. Inspired by churches he had seen and using carpentry skills inherited from his shrine-building parents, he built nearly 40 churches across the Goto islands.

While there are no longer worshipers at the church, it is maintained by the Ojika government, and visitors can enter to admire the beautiful interior. Using tricks and techniques from his years in construction, Tetsukawa used cheaper wood painted in a convincing design to imitate the darker, more expensive wood, which you can see if you look closely at the beams of the church.

As impressive as the building itself, however, are the views from its doorstep. Look-ing out across the ocean, you can admire the now wild hillsides, dotted with re-minders of the previous residents. Dry stone walls mark out old fields while tumble-down houses are visible, although only frequented by deer. The island is home to over 400 deer and countless wild birds and butterflies - all adding to the sense of exploration.

04

Spend a Night at the Nozaki Nature School

Below the church, an old elementary and Junior High School lies quietly, a host for visitors wishing to stay on the island. Closed in 1985, the school is maintained to host excursions and school trips, with camping and indoor sleeping spaces. There are cooking facilities, hot showers and bathrooms - all making your island stay a lit-tle more comfortable than you might expect.

While often used for school trips, they also accept reservations for small groups, with futons and cooking utensils provided. Ideal for those looking to truly escape everyday life, a night on the island allows you to fish, stargaze and hike to your heart's content. The overnight prices are surprisingly low, even for small groups, starting at 3,500 yen per night for up to 12 people. Reservations are required seven days in advance, and there are opportunities to rent fishing rods and BBQs too. The fees go towards the island's maintenance, so as well as an overnight adventure, you can support the island's ongoing work.

Address: n/a
Access: The Nozaki Nature School is a 20-minute walk from Nozaki Port.
Booking: Reservations for the Nature School are required at least seven days in advance. They can be made here online here: http://ojikajima.jp/contact/199.html or over the phone: 0959-56-2646
Website: http://ojikajima.jp/gakujyuku (Japanese only)

05

Getting to Nozaki Island

There are daily municipal ferries from Ojika Island to Nozaki Island, but they do vary depending on the season and the day of the week. From Mondays - Saturdays, there is a morning boat at 7.25 am and an afternoon boat at 2.30 pm. These boats also serve as return boats, however, meaning your only opportunities to return to Ojika are at 8.25 am and 3.30 pm. There is an extra late-morning boat on peak dates but few if any boats on Sundays, so be sure to plan accordingly. The journey takes 35-minutes and costs 510 yen for adults and 260 yen for children.
Website: http://ojikajima.jp/nozakijima/nozaki_access (Japanese only)

06

Transport on Ojika Island

As a small island, Ojika is easily explored by bike, with plenty of rental options - in-cluding electric-assisted bikes, available from the tourist information center. Unless you are an avid cyclist, we suggest you try the electric bikes as they make the slopes and hills of the island much easier to ascend. Located in the port ferry termi-nal, Ojika Tourism offers regular bicycles for either 500 yen for five hours or 1000 yen for the day. If you would like to rent an electric bicycle it costs 1000 yen for six hours. While it is not possible to reserve these bikes in advance, there are many to choose from. Please see the Ojika Cycle Tour section for more details.

Rental Cars are also available on the island, but numbers are limited so reserva-tions are recommended. Reservations can be made over the phone: 0959-56-2464.
Website: http://ojikajima.jp/travel/tips/644.html(Japanese only)

07

Getting to Ojika Island

Ojika Island is easily accessible from both Sasebo Port in Nagasaki prefecture and Fukuo-ka's Hakata Port.

From Hakata Port, you can catch the Taiko overnight Ferry which visits Ojika as well as Fu-kue island. Visitors to Ojika would arrive at 4.40 am in Ojika and 8.15 am in Fukue. The jour-ney costs 4,370 yen to Ojika and 4,930 yen to Fukue. There are plenty of options for rooms onboard the boat, ranging from twin and family-size tatami rooms to western-style suites. The boat is equipped with hot showers, a shop, vending machines and a variety of lounges and relaxation rooms, meaning the journey feels like the start of your vacation.
Website: http://www.nomo.co.jp/en/

From Sasebo, there are generally two ferries to Ojika each day, with a reduced service for most of November. The journey takes approximately three hours and costs between 3000 and 5000 yen depending on the cabin choice. The ferry leaves at 10.30 am and 5 pm, with return journeys leaving Ojika at 7.00 am and 1.55pm.

There are also high-speed boats that take 2 hours and run 1-3 times a day, depending on the season. The journey costs 5,000 yen one way with reduced rates for children as well as be-tween the islands. Be aware that due to the smaller size of the high-speed boats, they are more likely to be affected by weather, so be sure to check the services are running in ad-vance.
Website: https://kyusho.co.jp/en/publics/index/111/

From Tokyo
If you are traveling from Tokyo, there are regular and affordable direct flights to Fukuoka run by a host of airlines including Jetstar, Peach and Skymark. From Fukuoka, you can catch the train (two hours) to Sasebo, or catch the overnight ferry from Hakata Port, which is a short metro and bus ride from the airport.

From Osaka
If you are traveling from Osaka, you can choose between flying or catching the train. Flights take just over an hour and are available through Peach, Jetstar and ANA among others. Al-ternatively, if you are traveling by bullet train, the journey from Osaka to Fukuoka's Hakata Station takes two and a half hours and is covered on the JR Pass.