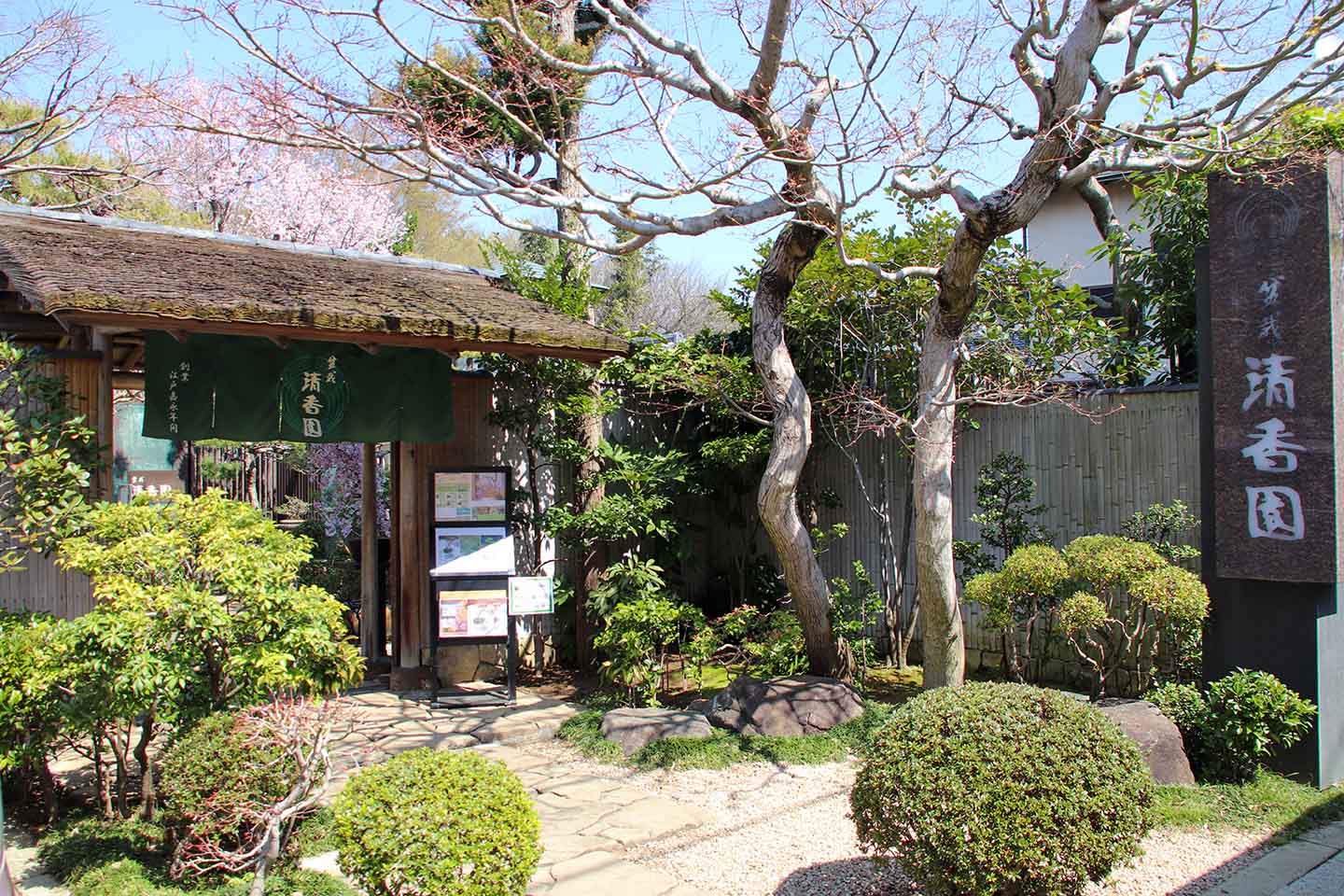 Bonsai is a traditional Japanese art form that has been loved worldwide. In recent years, it has gained momentum and many foreign tourists are visiting Japan to see Japanese bonsai. In particular, the Omiya Bonsai Village, a mecca of bonsai gardens in Japan, is a place that foreign bonsai enthusiasts long to visit. In this village, tucked away in a quiet residential area and at one of the most prestigious gardens, Seikouen, the garden has been actively accepting people of all ages, in Japan and abroad in hope to spread bonsai more globally. As part of that mission they've started offering classes in English both online and at their garden. Taught by a bonsai artist/concierge, Mr. Ishihara, who can speak English, this refined and elegant Seikouen bonsai garden is the next must visit garden at Omiya Bonsai Village.
Being one of the oldest bonsai gardens with a history of over 160 years, Seikoen was first established in Taito Ward in the late Edo period. After escaping the devastation of the war, it was relocated to Omiya and has been handing down the Edo style of bonsai to the present. Here at this historical garden, there are a wide variety of bonsai, from traditional Japanese bonsai that have been passed down from generation to generation, to small bonsai that can be incorporated into today's lifestyle and others that are popular among women. There are traditional masterpieces as well as modern miniature bonsai that can be purchased from a few thousand yen. Those who reside in Japan can rent it monthly too. This is a place where bonsai culture can satisfy everyone, not only experts who know bonsai well, but also young people, visitors from abroad, and of course beginners.

Unlike the other 5 gardens in the Omiya Bonsai Village, Seikoen is especially popular among westerners because of having its great reputation not just for its bonsai but also for its language support. As a new attempt, the garden has begun offering English lessons online where anyone from anywhere in the world can reserve classes from their webpage. A sneak preview of their classes can be found here. These classes are taught by experienced bonsai artist and a bonsai concierge, Mr. Ishihara who gives his students a hands-on lesson at all levels. Unfortunately, due to different laws and regulations, the materials can not be shipped before the classes so a student must prepare them in their own country. (Except for Singapore and Hong Kong). However, those residing in Japan can come in person and attend a class at Seikoen or their branch in Tokyo's Nihonbashi, or pick up the things you need to later attend online classes. The garden is typically open from 9 am to 6 pm, with slight changes depending on the seasons. Bonsai is not just fascinating and fun to learn but it's also pleasing to the eye. Although photography is not around inside Seikoen, just by strolling through this historical garden, it's already enough to enjoy the peaceful atmosphere with all the seasonal bonsai.

Mr. Ishihara shared his visions during the interview as "The key here is to make it look "natural". The mainstream of bonsai is to keep the tips of the branches neatly trimmed to make a nice triangular shape. However, our garden values capturing the subject based on naturalism and love of nature. So I would like to keep the concept of "naturalism" and imitate nature when I make my bonsai. For example, when I would like to make a bonsai that looks like a large natural tree, I wouldn't shape my bonsai symmetrical, because, in nature, no branches and leaves are truly symmetrical. Furthermore, in keeping the basic concept of naturalism, I would also like to find something that fits the modern world." While there are no distinct schools to bonsai, each bonsai garden or the master has its unique characteristics when taking care of the bonsai. Using a wide variety of plants, the skill and aesthetic sense of the bonsai artist makes each pot a unique bonsai. By analyzing and understanding these individual characteristics can make a person view bonsai in a different way, not just as beautifully tailored plants in a pot that look all the same to every garden, but as a work of art unique to each garden.

"I think it's important to get people interested in the traditional way of displaying the bonsai for public viewing to develop it as an art form. I would like to spread this form of art without destroying the basic principles" Mr. Ishihara further elaborated on his idea during the interview. Some may wonder if adhering to the formal rules governing traditional Japanese bonsai display may need years of practice and skills. However, with or without the tokonoma (alcove), with a proper balance, proportion, and relevance, anyone will be able to maintain the basic principles when displaying the bonsai. The best way to learn the principles necessary for a proper presentation is to place the elements correctly in the tokonoma. Tokonoma was an important part of a type of architecture called shoin-zukuri which is an architectural style influenced by Zen temples. The tradition was said to have begun around the 16th century among upper-class families. During the Edo period (1603-1868), the concept of tokonoma gradually spread to the homes of ordinary people, and after the Meiji period (1868-1912), it became a common feature in Japanese homes.

Mr. Ishihara explained that "In the case of this cascade (kengai) style, there are three things which create the tokonoma into one piece of art. To harmonize and compliment that primary focal element (bonsai), a small accent piece or plant called "tenpai" is placed. Depending on the shape and color of the tenpai placed, it can give a sense of the season or create a more scenic effect. Just like a background painting, a scroll painting is added in the composition, but like the tenpai, the scroll must harmonize and complement the focal element." From a Japanese standard point of view, one may think that assembling these pieces in a Japanese style is difficult if residing outside Japan. Therefore, the Western approach to the tokonoma style is completely different. However, Mr. Ishihara denied this fact and said that it is the Westerners who prefer to faithfully reproduce that of a traditional style than the Japanese. With more Japanese living in apartments, there are lesser chances of having a house with such a traditional tokonoma. And because of these changes in lifestyles, ironically, it is the Japanese who are breaking the tradition and turning bonsai into a style that fits in with the Western lifestyle.

The conventional Japanese tokonoma is usually located just inside the entrance to the home or in a special room specifically set aside to view the objects displayed. Since the viewer appreciates the work kneeling or seated on the tatami mat (floor), these tokonomas are usually constructed low to make it the correct viewing height. Needless to say, the austerity of the tokonoma's interior is similar, however, its size and dimensions vary greatly for the Western version of the tokonoma. They are usually constructed at a height of a person standing or sitting in a chair and less built to be integrated into the decor of the room. Some are styled like a "box" where one person can assemble or disassemble for transport to a bonsai exhibition.

Knowing the cultural background and the differences makes the world of bonsai even more interesting. Aside from all the basics to bits of advice on displaying the bonsai in different ways including the tokonoma style, Mr. Ishihara will guide the students through Japanese culture connected to seasons as well. While the online classes have just recently begun and there is no strict curriculum, students can ask Mr. Ishihara what they would like to learn. The classes might focus on seasonal trees like pine or plum in spring while in autumn, concentrating on how to bring out the best foliage to winter on how to prune and trim, there are endless possibilities to gain knowledge from the bonsai artist at this historical garden.