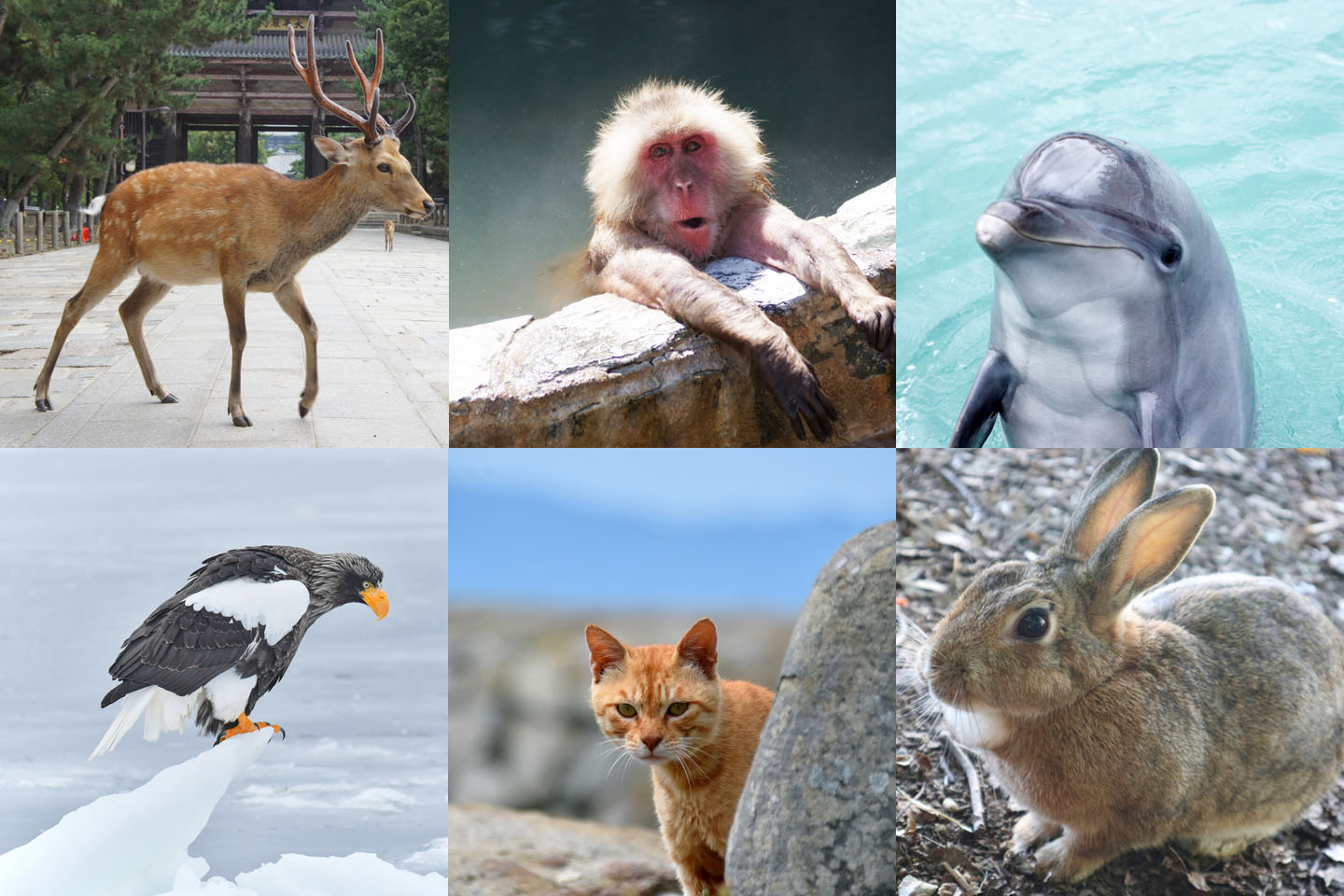 Japan has plenty of destinations boasting a wealth of wildlife which some have various organised tours in different languages aside from a number of zoos across the country. Looking from the geographical perspectives, the northern tip of the country, Hokkaido which is close to Russia's icy east, is home to Steller's sea eagle during the harsh winter months, while the southernmost islands reach almost to the tropics with various marine lifes and so on. It's not so surprising to figure that Japan has a great diversity of wildlife left as they are and visitors can even take a trip to see their natural habitats. Here are some of the places to see such wild animals in Japan aside from taking a visit to the zoo.
Perhaps the most famous place to go see wild monkeys in Japan is Jigokudani Monkey Park in Nagano prefecture where the photos of Japanese Macaques bathing in natural hot springs are all over the internet. Located in the Japanese Alps town of Yamanouchi, it is the only place in the world where this spectacle can be marveled at. Surrounded by forest and especially captivating when snow-capped from December through March, the park was created in the macaques' natural habitat of a dormant volcanic region (Jigokudani literally means 'Hell Valley'), with the inhabitants free to come and go as they please.

However, across Japan, there are various zoo like parks to see them from Osarunoyama Monkey Park in the historic city of Nikko to Awajishima Monkey Center to Choshikei Monkey Park on Shodoshima Island to Iwatayama Monkey Park (Kyoto) to as far south as the Mount Takasaki Monkey Park in Oita prefecture.

READ MORE

The Snow Monkeys of Nagano

Animal Encounters

READ MORE

6 of the best places to see wild monkeys in Japan

Animal Encounters

4.5

2696 Reviews

Nagano Pref. Shimotakaigunyamanouchimachi Hirao 6845

0269334379

[Apr.- Oct.] 8:30-17:00[Nov.…

View All

Okunoshima is a small island in the Seto Inland Sea with a circumference of about 4 km off the coast of Hiroshima Prefecture. The island is designated as a national park and is known for its large number of wild rabbits, estimated to be over 700. They come in a variety of species and colors, including those with long hair and those with droopy ears. They live in burrows dug here and there on the island. Looking at these cute rabbits jumping around and nibbling on their food is so adorable that it attracts many visitors annually. The island is also popular as a recreational spot, where visitors can stay overnight, enjoy hot springs, camping, cycling, and swimming.

READ MORE

Rabbit Island in Okunoshima Hiroshima

Animal Encounters

Hiroshima Pref. Takeharashi Tadanoumichou

0846260321

[Hours that can come and go …

View All

1-Day Guided Tour of Okunoshima Rabbit Island & Takehara

¥5,000

Update date:2023/06/09

Nara City, which covers a vast area of 4km east to west and 2km north to south is home to a huge number of wild deers. Within the Nara park grounds, visitors will find the famous Todaiji Temple, Kasuga Taisha Shrine (a World Heritage Site), Kasuga Okuyama (a primeval forest), and other representative spots of Nara along with free wandering deers.
As many as 1,200 deers are said to live in the park, but they are not bred in the park, but rather are wild animals designated as a national natural monument. Deer have been cherished as messengers of the gods since the Nara period (710-794), and are loved as a symbol of Nara. Deer food is sold in the park, and visitors can try feeding them too.

READ MORE

Nara's Deer Friends

Animal Encounters

4.5

69 Reviews

Nara Pref. Narashi Zoushichou · Kasugano Town, Noborioji Town, Takahata-machi other

0742220375

Admission freedom

View All

Miyajima Island has many places worth exploring, making this island a great day trip destination from Hiroshima filled with plenty of wonders with one of the greatest Japanese shrines called "Itsukushima Shrine" and its magnificent floating red torii gate. Deer are often associated with the image of being fed with deer crackers like those in Nara, but the deer of Miyajima are not allowed to be fed. The deer have been living in harmony with humans for a long time and have forgotten how to live in the wild. As a result, they are no longer able to go into the mountains to find food on their own. In order to remedy this situation and restore the ecosystem to its normal state, feeding them has been banned.

READ MORE

Where to Go Miyajima

Best Things to Do

Stray cats can be found in many of the places in Japan and it's hard to distinguish which area is really considered as a "cat island". However, relatively known to those in the know, there are about 10 islands considered as a "cat island". The closest "cat island" for tourists and city residents coming to Tokyo is located in Kanagawa Prefecture, south of the capital city. Enoshima is a walking distance from Katase Enoshima Station, and can be reached by crossing the bridge at the end of the passage in front of the station. It is very famous for the shrine in the cave and the legend of the Tennyo and the five dragons associated with Enoshima. The nearby beach is popular during summer for surfers, sunbathers, and festival-goers.

Aoshima in Ozu City, Ehime prefecture is a "cat paradise" and this is a very small island with a circumference of only 4.2 km. And surprisingly to know, for every 16 residents, there are more than 100 cats. To get to the island, visitors can take a regular boat twice a day from Nagahama Port, about a minute's walk from JR Iyo Nagahama Station, which basically gives priority to islanders. The island is small and not a tourist destination, so there are no guest houses, stores, or vending machines.

Not all cat islands are located by the sea. Okishima floats in the middle of Lake Biwa, which holds the largest volume of fresh water in Japan. Only 350 people live in the small fishing town on the island, and the main means of transportation on the island is by bicycle. The cats living here have no fear of being run over by cars.

Sanagi Island, a remote island in the Seto Inland Sea which belongs to Kagawa Prefecture, is only 4 km in circumference. And has a population of less than a hundred. This island got popular due to photos of cats flying over a break in the embankment which went viral on social media. Since then, many visitors take a trip here to grab a shot of the cats flying.

Muzukijima Island is one of the islands of the Kutsuna Islands in the Seto Inland Sea.
The Kutsuna Islands are made up of more than 30 islands, including uninhabited islands, with the main island being Nakajima (the main island). Unlike other islands where the fishing industry is thriving and attracts cats, this Muzukijima Island is famous for its citrus cultivation including mandarin oranges and iyokans. Coincidence or not, the island has many "orangish" colored cats.

Manabeshima Island is a small island in the Seto Inland Sea in Okayama Prefecture about 8 kilometers in circumference. The island has a reputation for having more stray cats than islanders. In addition to the cats, the island has been used as a set location for many movies and the guest houses there offer dishes made from fresh seafood from the surrounding seas are popular among many visitors.

Shukushima is a heart-shaped island with a circumference of 12 km in the Seto Inland Sea, belonging to Yamaguchi Prefecture.The topography of the island is such that the mountains close in on the sea, and the houses are concentrated on the narrow flat land to form villages. The main industries are fishing, agriculture, and tourism and there are inns, guest houses, and restaurants on the island.

Ainoshima Island located in Kokurakita-ku, Kitakyushu City, is a small island northwest of the Kanmon Strait. The island is rich in nature and used to be a place where agriculture was practiced in the old days, but nowadays, fishing is the main industry. The number of residents on this island is about 250 and famous for its cats, which are as numerous as the residents. On weekdays and weekends, many people visit the island to see the cute cats as the island is a quick and easy 35minute ferry ride from Kokura port.

Aijima, located in Kitakyushu, is a place where time flows very slowly and tranquilly and is one of the world's top six cat spots plus a popular tourist destination for people from all over Japan and the world. The island is very small, with a circumference of about 13 km, and is made up of only a few islanders, about 100 households and a population of less than 300. The island is also known for having as many cats as its population. In recent years, the island has become popular among cat lovers, and the number of tourists has increased rapidly along with its popularity.

Genkai Island is one of the islands in Nishi-ku, Fukuoka Prefecture, and is also very famous as a cat island. The island is rich in nature, has delicious seafoods, and is easily accessible from Fukuoka City. Surrounded by the sea, Genkai Island is also known as one of the best fishing spots in Fukuoka City, and you can see cats waiting for fishermen to give them away.

Mikurajima is located in Mikurajima Village, Tokyo, and is about 200 km from the center of Tokyo but belongs to part of the Izu Islands. The surrounding waters are home to around 160 southern bottlenose dolphins and is popular for dolphin watching, eco-tourism, and other activities that bring visitors into contact with nature. By using the overnight ferry that departs from Takeshiba Pier next to Takeshiba Station on the Yurikamome line, visitors can directly go to the island.

Rausu is a port town on the southern end of the Shiretoko Peninsula and during the harsh wintertime brings Steller's sea eagle with drift ice. Between February and March there are many tours taking visitors to see these and are particularly favored by many bird watchers.

Hateruma Island is located in Okinawa Prefecture and is one of the remote islands in the Yaeyama Islands. The island is known as the southernmost island in Japan that can be visited by civilians. On this island, goats can be seen everywhere. Some of these goats are wild, while others are as pets.

Not necessary in the wildlife but, at Zao Fox Village, more than 100 foxes are freely running around welcoming visitors from all over the country and around the world to see and interact with these adorable foxes.