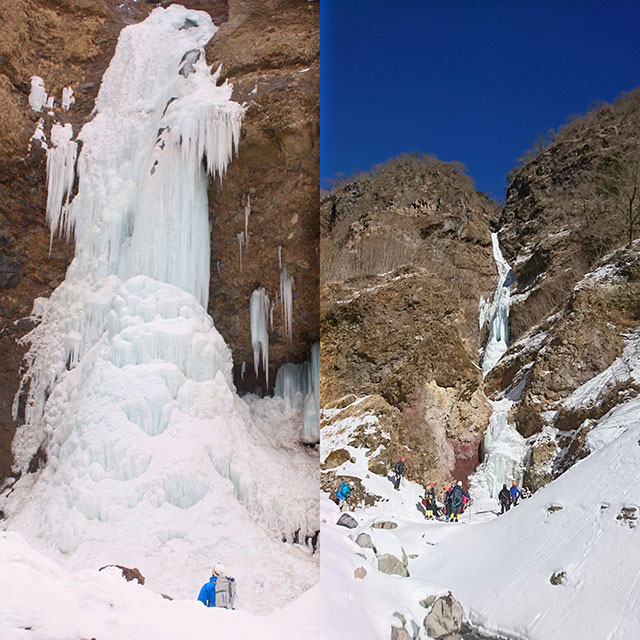 Nikko is not all about World Heritage Site like Nikko Toshogu Shrine! It is also home to a vast park across Tochigi, Fukushima and Gunma prefectures with a total area of 114,908 hectares including mountains, waterfalls, marshlands and forests. Out of the many falls in Nikko, there is a hidden narrow ravine, the Unryu Keikoku or the "Cloud Dragon Valley" which lies in the depth of the mountains of Nikko where its rare icefalls can only be seen for few weeks in winter. Its spectacular view of 100 meter wide ice wall and as high as 10 meter icicles are a true beauty of nature that can only be reached by hiking.
01

Unryu Keikoku "Cloud Dragon Valley"

Unryu Keikoku is a generic name of the ravine that starts halfway up Mt. Nyhohozan, one of the three main mountains in northern part of Nikko. It is on the headwater of Inari river hidden in the depths of the ravine in the unexplored area and to get there, there are no clear hiking trails.

Entrance to the "unknown" world of the hidden Unryu Keikoku

Many of us might have heard of Kegon no Taki (Kegon Waterfall) one of the most famous Nikko's falls located at Nikko National Park.
However, did you know that there is a breathtaking waterfall in the hidden depths of Unryu Keikoku with spectacular view when it's frozen in winter?It's a winter wonderland with multiple frozen waterfalls creating thousands of hanging icicles and wide ice walls enough to do ice climb, attracting many experienced hikers and ice climbing enthusiasts.

Frozen meets flowing, going over the river to head to the falls©NaturePlanet

Ice climbing over the icefalls©NaturePlanet

Unlike Kegon Waterfall where there is only a single fall, Unryu Keikoku has various forms of falls and each one is different and unique in its appearance in winter. In the deepest area of the ravine lies the main waterfall, Unryu waterfall (Unryu-baku) which looks like a dragon going up into the sky.

Close up of the Unryu waterfall (Unryu-baku) and its view from a distance©NaturePlanet

Once entering the ravine, Tomoshirazu waterfall will come into the sight. This is literally translated as "I can't be bothered about my friends" in the sense that its trail is narrow and dangerous that you have to mind your own business and couldn't be bothered to help your friends.

Tomoshirazu waterfall©NaturePlanet

Tsubame Iwa (sparrow rock) with giant icicles in the arena

With the increased number of hikers, the mountain trails have been paved a lot but there is no "correct" way to get to the icefalls. Therefore, at your own risk, hikers can hike up in anyways like taking a detour by going up the hill instead of taking the winding icy trail.

12point crampons, better to have more points to keep you safe and easier to tackle the steep valley walls

Winterwonderland hike

Icicles and the river flowing beneath it

Its trailhead is located about 20-minute drive from Nikko Station and is entirely covered with ice and snow. Therefore, all hikers must bring three types of sacred artifacts: crampons, helmets and trekking poles, for safety reasons. Overall hiking is about 10km, between 5 to 6 hours, with approximately 400m of elevation gained and lost during the hike.The icefalls are hidden in the depth of the ravine and as you get closer to the falls, the trail will get even more icy so putting on crampons is a must. There are many places to take photos with the falls, however, watch out for sudden fall of rocks and icicles from above. Ofcourse, there are no toilets and convenience store to pick up food and drinks in between the hike, so don't forget to pack well.

There are two ways to go hiking, one is going alone and the other is to go on a tour.
Like going "into the unknown", the icefalls are in the depth of the ravine in the hidden region. Unless you are familiar with the area and are experienced hiker with all the appropriate gears, we recommend you to take the tour.
There are a couple of tours that specialize in this icefalls. Say hello to these two wonderful guys, Korosuke and Koudai.

Korosuke (left) Kodai (right)

They specialize in outdoor activities in Nikko and the nearby regions all year round, from hiking to kayaking to many more. These two experts will take you to the fall safely. Depending on the levels of the participants, the route may change, however, if you a good hiker with strong legs, they will take a detour by going up steep snowy hills. If you join their tour, participants can rent crampons, helmets, and trekking pole for free, so all you need is to wear warm, waterproof hiking clothes and good hiking shoes with backpacks filled with lunch and water. Sneakers and jeans are prohibited.
If you want to know more about the tour, contact them at http://www.nature-planet.com/
If you are ready to join this adventure, book directly through here https://en.activityjapan.com/publish/plan/1584

Korosuke in the front followed by his tour guests

4.0

1 Reviews

Tochigi Pref. Nikkoushi Kawajionsentakahara 42

0288781177

9:00-17:00

http://www.nature-planet.com/

View All

Waterproof hiking shoes, water, lunch, sunscreen, warm clothing layers, warm hat, rain wear, a backpack
Helmet, crampons and trekking pole is a must (if you go on a tour, they have rentals)

The only way to access the trailhead from Nikko station or Tobu Nikko station is unfortunately by cars only. If you are planning to go alone, ask the taxi driver to take you.

From Tokyo, there are several ways to go to Nikko and Tobu Nikko station by train.

①From Tokyo Station
Note of caution, there is no bullet train (shinkansen) that goes directly to Nikko. So you will need to change trains. And Nikko station and Tobu Nikko station is only 5 minute walk apart.

From Tokyo station to Utsunomiya Station, take the bullet train (Hokuriku Shinkansen). Change to Nikko Line to go to Nikko station.
※bullet train price
5,470 yen (unreserved seat) 5,800 yen (reserved seat)
※770 yen from Utsunomiya station to Nikko station via Nikko line

There is one more way to go to Nikko from Tokyo station but this route requires to change train twice. Unless familiar with the trains, it's best to take the other way.

Take the bullet train, Tohoku Shinkansen from Tokyo station to Koyama station. Change to JR Ryomo line to Tochigi Station. Finally, take Tobu Nikko line to Tobu Nikko Station.
※bullet train price
4,580 yen(unreserved seat) 4,910 yen (reserved seat)
※1,660 yen from Koyama station to Tochigi station
※650 yen from Tochigi station to Tobu Nikko station

②From Shinjuku Station
The limited express Spacia will directly take you from Shinjuku station to Tobu Nikko station, but it's only 4 trains per day.
Please see the train schedule from the following link
https://www.tobu.co.jp/foreign/en/using/timetable.html

③From Asakusa Station
Limited express Revaty (Kegon) will directly take you from Asakusa station to Tobu Nikko station.
This station has the most number of direct trains that go to Tobu Nikko station without having trouble of changing lines. Some even have a plug to charge your phone for free.
Please see the train schedule from the following link
https://www.tobu.co.jp/foreign/en/using/timetable.html

※If you are joining the icefall hiking tour, you must get on the 6:30 am train from Asakusa in order for you to get in time. This is the only train that will take you to Tobu Nikko station on time for the tour. The tour usually leaves Tobu Nikko station at 8:30am.