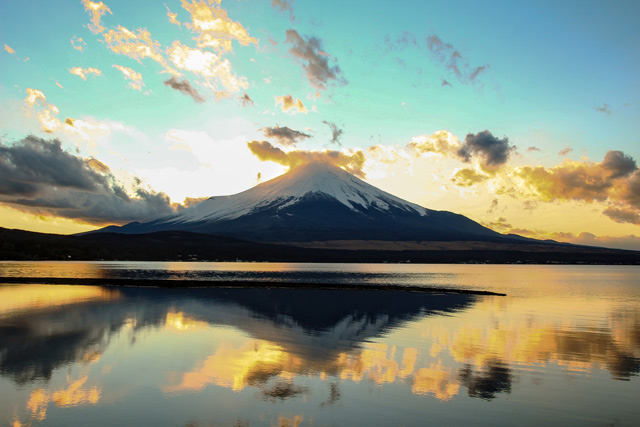 Mount Fuji is arguably one of the most famous symbols of Japan, appearing on the 1,000 yen note and the ukiyo-e prints of Hokusai and Hiroshige.

This conical Japanese icon and its surrounding areas are rich with tourist attractions and owing to their proximity and easy access from the Tokyo area, they have become highly sought-after destinations.

Depending on your vantage point, the mountains of Yamanashi and Shizuoka prefecture look very different. Have a look at our list of the best activities and spots around Mount Fuji and get ready for your Mount Fuji trip!
01

General information about Mount Fuji

Situated between Yamanashi and Shizuoka prefectures, Mount Fuji and its surrounds were registered as a World Heritage Site for their cultural significance in 2013.

The Fuji Five Lakes area, located at the northern base of Mount Fuji, consisting of five lakes (Lake Kawaguchi, Lake Yamanakako, Lake Saiko, Lake Shojiko, and Lake Motosuko), which formed after the eruption of the volcanic mountain.

These lakes are among the best spots to admire Mount Fuji up close and feature various tourist attractions, including hot springs, camping sites, fishing sites, boat cruises, ropeways, restaurants and hotels.

Visitors who plan to spend one to three days in the Mount Fuji area should look for the Mount Fuji Pass. This pass is available to foreign tourists and offers special deals at various facilities, such as the Fuji-Q Highland Amusement Park, Mount Fuji Panoramic Ropeway at Lake Kawaguchiko, train and bus rides around the area, and even discounts at 12 other facilities.

02

Climb Mount Fuji for a once-in-a-lifetime experience

At 3,776 meters in height, Mount Fuji is the tallest and most famous mountain in Japan, attracting more than 200,000 climbers from inside and outside of Japan every year. Early July to mid-September is the official climbing season for Mount Fuji, with the peak season starting around late July, which is the end of the rainy season.

There are four trails - the Yoshida trail, Subashiri trail, Gotemba trail, and Fujinomiya trail. The Yoshida trail is the most popular one and can be accessed directly from Shinjuku Station by bus. The highlight of hiking to the summit of Mount Fuji is definitely the sunrise, which can be observed from all of these trails.

Read more:
・How to Mount Fuji

03

Enjoy the panoramic views of Mount Fuji from popular tourist spots

In addition to the five lakes around Mount Fuji, there are a few more spots that offer spectacular views of the cone-shaped volcano.

Located on the slopes of Mount Arakura in Fujiyoshida City, Arakurayama Sengen Park is best visited in spring when visitors can enjoy the beautiful combination of cherry blossom trees and Mount Fuji in the background. The site even appeared on the cover of the Michelin Green Guide Japan in 2015.

Yamanakako Hananomiyako Park near Lake Yamanakako is a spacious park where colorful, seasonal flowers add a charming accent to the enduring symbol of Japan.

Lake Kawaguchiko Tenjoyama Park's observatory also provides a great view of Mount Fuji, as well as Lake Kawaguchiko, which is the second largest of the Fuji Five Lakes. To get to the observatory, visitors can ride the three-minute ropeway or embark on a 40-minute hiking trail that's renowned for its alpine plants.

Yamanashi Pref. Fujiyoshidashi Arakura 3353-1

0555211000

Open 24 hours

View All

Yamanashi Pref. Minamitsurugunyamanakakomura Yamanaka 1650

0555625587

[4/16-10/15]8:30-17:30[10/16…

View All

Yamanashi Pref. Minamitsurugunfujikawaguchikomachi Funatsu

0555723168

View All

04

Explore the natural monuments near Mount Fuji

Oshino Hakkai Springs is a set of eight ponds in a small village called Oshino, which is situated between Lake Kawaguchiko and Lake Yamanakako. Marvel at their flawlessly clean springs that were formed from Mount Fuji's meltwater, after filtering through layers of lava over several decades.

The Narusawa Ice Cave and Fugaku Wind Cave in the Aokigahara Forest provide mystical adventures and a refreshing escape from the summer heat. The Narusawa Ice Cave is a figure 8-shaped chilly cave that features standing icicles and blocks of ice cubes. The Fugaku Wind Cave used to serve as a natural refrigerator until the Showa era and visitors can learn how the silkworms and spices were stored inside.

The Funatsu Tainai Lava Tree Mold in the Kawaguchiko Field Center is a unique tree cave that's coated with lava from Mount Fuji. The inside of the cave resembles a mother's womb, and worshippers visit here to pray for the safe delivery of their children.

Yamanashi Pref. Minamitsurugunoshinomura Shibokusa

0555844221

Open 24 hours[Sokonuke Pond]…

View All

4.0

297 Reviews

Yamanashi Pref. Minamitsurugunnarusawamura 8533

0555852301

View All

3.0

16 Reviews

Yamanashi Pref. Minamitsurugunfujikawaguchikomachi Saiko Aokigahara 2068-1

0555852300

View All

05

Relax at hot springs with a great view of Mount Fuji

Yamanakako Onsen Benifuji no Yu offers up-close views of Mount Fuji's seasonal transition and is situated near Lake Yamanakako, the closest lake to the mountain.

The most popular season to visit is winter when the snowy face of Mount Fuji is painted red by the sunrise. Between December and February, the facility opens at 6am, so patrons have a better chance of capturing the red Fuji.

Fuji Chobo-no-Yu Yurari has three baths with mountain views, in addition to private baths where you can enjoy the stunning view all to yourself. The facility also provides a free shuttle service from Kawaguchiko Station, which can be booked by phone up to an hour before departure.

Located adjacent to the Fuji-Q Highland, Fujiyama Onsen features spacious and high-ceilinged wooden indoor baths. The resting room and balcony on the third floor are the best spots to see the mountain while cooling down your body after a hot bath.

4.0

146 Reviews

Yamanashi Pref. Minamitsurugunyamanakakomura Yamanaka 865-776

0555202700

10:00-21:00(Last entry20:30)

View All

4.0

127 Reviews

Yamanashi Pref. Minamitsurugunnarusawamura 8532-5

0555853126

[Weekday]10:00-21:00(Last en…

View All

06

Experience popular attractions around Lake Yamanakako

Yamanakako no Kaba's amphibious bus takes you on an adventure where you can enjoy the great landscapes surrounding Mount Fuji on land and water. This adorable hippo bus is particularly recommended for families with small kids and features see-through windows and ceiling that add a sense of openness to the tour.

Yamanakako "Swan Lake" offers a leisurely yet elegant tour in a swan-shaped cruise ship. Swans can be seen throughout the year on Lake Yamanakako, which inspired the design of the vessel. Visitors with a Mount Fuji Pass are eligible to take the tour for free.

There's also a 14-km cycling road, as well as several rental bicycle shops along the lakeside. Feel the refreshing breeze from the lake while you surround yourself with breathtaking views of Mount Fuji. The lakeside is home to various souvenir shops, restaurants, museums and parks, so you can enjoy the ride at your own pace.

Read more:
・Cycling Around the Fuji Five Lakes

Yamanashi Minamitsuru-gun Yamanakakomura Hirano 506-296

0555738181

9:15-15:15 (Subject to chang…

View All

Yamanashi Pref. Minamitsurugunyamanakakomura Hirano 506-1

0555620130

Depending on the season

View All

07

Visit the unique amusement parks

Fuji-Q Highland is one of the most popular amusement parks in Japan and is filled with jaw-dropping and scary rides such as Do-Dodonpa, a roller coaster that boasts the fastest acceleration in the world (180 km per hour).

Forest Adventure Mount Fuji on the other hand is an outdoor park where visitors can challenge their fitness and agility levels on an obstacle course and zip line up in the trees.

Saiko Iyashi no Sato Nenba is a historic Japanese village that was turned into a tourist attraction after a devastating typhoon. Visitors can engage in various handicraft activities while admiring the traditional, thatched roof houses.

Oshino Shinobi no Sato is a ninja-themed village where visitors can participate in unique activities such as shuriken (star-shaped discs) throwing and fukiya (poisoned dart) blowing while dressed in ninja costumes.

Fuji Subaru Land is a family-friendly theme park that features fun attractions, a BBQ restaurant, and several dog fields. A rent-a-dog system is also available for a small cost.

Read more:
・Best summer events at Japanese amusement parks in 2019

Yamanashi Pref. Fujiyoshidashi Shinnishihara 5-6-1

0555232111

9:00-17:00*Changes depending…

View All

Fuji-Q Highland E-Tickets

¥6,900

Update date:2023/09/28

4.5

21 Reviews

Yamanashi Pref. Minamitsurugunnarusawamura Mt. Fuji 8545-1 Yamanashi Prefecture Enpun Province estate

09033450970

[Reception] 9:00-15:00 (chan…

View All

Yamanashi Pref. Minamitsurugunfujikawaguchikomachi Saiko (Negishi) 2710

0555204677

[Mar.- Nov.]9:00-17:00(Infor…

View All

4.0

91 Reviews

Yamanashi Pref. Minamitsurugunoshinomura Shibokusa 2845

0555841122

Depends on Sunday

View All

4.0

54 Reviews

Yamanashi Pref. Minamitsurugunfujikawaguchikomachi Funatsu Sword Maruo 6663-1

0555722239

[Apr.-Nov.][Weekday]10:00-17…

View All

08

Have an exceptional glamping experience at Hoshinoya Fuji

Hoshinoya Fuji is a glamping site (glamping means glamorous camping) in the red pine forest near Lake Kawaguchiko. The minimalistic yet elegant cabins feature a balcony where guests can take a deep breath while overlooking the stunning lakeside view.

In addition to seasonal culinary experiences featuring locally sourced ingredients, the facility offers various activities for guests, such as early morning canoeing, private bicycle tours, mountain trekking and smoked-food workshops.

星のや富士

山梨県南都留郡富士河口湖町大石1408

0570073066

View All

09

Fun activities around the Fuji Five Lake area

Visitors can immerse themselves in plenty of outdoor sports activities in the Fuji Five Lakes area, including fishing, wakeboarding, canoeing, windsurfing, flying board, SUP (standup paddle boarding), paddle and row boating, hiking and cycling.

Other than what's stated above, visitors can also enjoy scuba diving in the clear waters of Lake Motosuko, which is the deepest of the lakes at 121.6 meters. The lake offers captivating volcanic seascapes featuring freshwater fish, rock formations and algae, usually with decent visibility.

10

Museums for rainy day alternatives in Yamanashi

The Fujisan World Heritage Center is an admission-free facility that presents extensive information about the natural environment of this iconic volcano, as well as its historic significance as a pilgrimage site.

The Itchiku Kubota Museum showcases a collection of alluring tsujigahana textiles, using a tie-dye-based technique revived by Ichiku Kubota.

The Fuji Spring Water Aquarium displays numerous freshwater fish species in tanks filled with spring water from Mount Fuji. The admission fee is 400 yen for adults and 200 yen for children.

The Yamanashi Prefectural Maglev Exhibition Center is a great place to learn about the mechanisms behind the fastest train technology on Earth.

Read more:
・35 of the Best Things to Do in Yamanashi

4.0

94 Reviews

Yamanashi Pref. Minamitsurugunfujikawaguchikomachi Funatsu 6663-1

0555720259

9:00-17:00[July.-Sep.]8:30-1…

View All

4.5

356 Reviews

Yamanashi Pref. Minamitsurugunfujikawaguchikomachi Kawaguchi 2255

0555768811

[Dec.--Mar.] 10:00-16:30 [A…

View All

4.5

13 Reviews

Yamanashi Pref. Minamitsurugunoshinomura Shibokusa 3098 - 1 within fish park

0555205135

[July- Sep.]9:00-18:00[Oct.-…

View All

4.0

192 Reviews

Yamanashi Pref. Tsurushi Ogatayama 2381

0554458121

9:00-17:00 (admission until …

View All

11

Try local specialties of the Fuji Five Lake area

Yoshida no udon is a local specialty of Fujiyoshida City, Yamanashi and features homemade chewy noodles, horse meat and cabbage. This dish is usually priced at around 500 yen and there are more than 50 udon shops in the city. Many of them tend to close when they run out of ingredients, so try to visit before noon.

Hoto is a type of local udon noodles that is served with pumpkin and mountain vegetables in miso-based soup. Hoto Fudo is a traditional restaurant that runs four branches in Fuji-Kawaguchiko town. The building of their Higashikoji branch is inspired by the white clouds over Mount Fuji, so patrons can enjoy not only the local specialty but also the distinctive architectural design.

Robata Ryori Sanrokuen specializes in fireside skewers that feature locally sourced fresh water fish, duck, wild pig, and vegetables. The restaurant occupies a 150-year-old traditional Japanese house with high ceilings, creating an authentic countryside feel for patrons.

吉田のうどん 富士

山梨県笛吹市石和町広瀬760

0552610216

View All

4.0

180 Reviews

Yamanashi Pref. Minamitsurugunfujikawaguchikomachi Funatsu Koiji 2458

0555728511

11:00-20:00 (ends as soon as…

View All

Sanroku Sono

Yamanashi Minamitsuru-gun Fujikawaguchikomachi Funatsu 3370-1

0555731000

View All

12

Camping grounds with the best views

The Lake Tanukiko Camp Ground is renowned as the place to capture a mystic phenomenon known as "Double-Diamond Fuji". This occurs around late April and August every year when the sun sits on top of the mountain and the reflection on the lake's surface creates a double-diamond. Visitors are required to make reservations if they wish to spend the night.

The Fumotoppara Camping Ground is a spacious auto camping field that offers several lodges and facilities. Campers can visit this site for an unbeatable view of Mount Fuji.

13

Drive around the Asagiri Plateau

Located at the foot of Mount Fuji in Fujinomiya City, Shizuoka, the Asagiri Plateau is an ideal area to drive around, with idyllic pastures and a mind-blowing view of the western side of Mount Fuji. If you are lucky, you can see dairy cattle eating grass or paragliders in the clear sky above.

You can stop at the Michi-no-Eki Asagiri Kogen roadside station where there are restaurants, fresh dairy products such as soft serve ice cream, and many other local souvenirs. Asagiri Kogen Mochiya is also a facility for tourists and features an outdoor playground, camping and BBQ grounds, souvenir shops and restaurants.

14

Fun activities around Mount Fuji on the Shizuoka side

The Fuji Safari Park is a popular tourist destination that houses approximately 900 animals, including tigers, lions, elephants, and bears.

To see the animals up close, visitors can drive around the Safari Zone in their car or be driven around on the Jungle Bus (which has wire-netted windows) while feeding the animals. Visitors can also join a Night Safari Tour to see nocturnal carnivores such lions and tigers at their most active.

Those who are looking for extreme recreation should try paragliding above the Asagiri Plateau while enjoying a superb view of Mount Fuji. The Asagiri Kogen Paraglide School and the Sky Asagiri School of Canoe and Paragliding offer tandem flight courses for beginners, assisted by professional instructors.

The Fuji International Speedway is a motorsports race track where various national championship and international races take place. Visitors can make their racing dream come true on their go-karting circuit too.

4.0

492 Reviews

Shizuoka Pref. Susonoshi Suyama Fujiwara 2255-27

0559981311

9:00-15:30*Subject to change…

View All

4.5

5 Reviews

Shizuoka Pref. Fujinomiyashi Nebara 282-1

0544521031

Depends on the course

View All

[Shizuoka/Fujinomiya] ★ Local coupon dealers ★ Beginners welcome! Paragliding casual half-day experience flight course

¥7,000

Update date:2023/09/28

4.0

82 Reviews

Shizuoka Pref. Suntougunoyamachou Nakahinata 694

0550781234

9:00-17:00(Subject to change…

View All

15

Rainy day alternatives near Mount Fuji in Shizuoka

The Fuji Kachoen Garden Park is an air-conditioned greenhouse facility that houses an extensive collection of colorful flowers such as begonias, fuchsias, and hydrangeas. Visitors also have the opportunity to see and interact with various birds, including 30 species of owls, flamingos, and emus.

Gotemba Premium Outlets is a spacious shopping mall where visitors can browse more than 200 stores carrying Japanese and international brands.

A free shuttle service from the Gotanba Station is available every 15 minutes and if you are coming from Tokyo, you can take direct buses from Shinjuku, Tokyo, Yokohama and many more locations.

Read more:
・Where to Go in And Around Shizuoka

4.0

96 Reviews

Shizuoka Pref. Fujinomiyashi Nebara 480-1

0544520880

[4/1-11/30]9:00-17:00(Inform…

View All

Shizuoka Pref. Gotembashi Fukasawa 1312

0550813122

[Mar.- Nov.]10:00-20:00[Dec.…

View All

16

Admire the Shiraito Falls

The Shiraito Falls in Fujinomiya City, Shizuoka are 20 meters in height and 150 meters wide and is considered to be the most beautiful waterfall in Japan.

As the name Shiraito ("white threads") suggests, you will be stunned by the beautiful contrast of silky, white water and green trees in the surroundings. The contrast becomes even more beautiful during autumn when the trees turn red and yellow.

17

Kid-friendly tourist attractions in Shizuoka

The Makaino Farm Resort on the Asagiri Plateau is a perfect family destination, with a variety of enjoyable outdoor and indoor activities such as cow milking, horse riding, handicraft workshops, and cooking classes.

The farm offers a wide range of opportunities to interact with animals so that visitors can have a better understanding of the environment and other living species.

Mount Fuji Children's World also provides a great family outing, with indoor and outdoor playgrounds, lodgings, BBQ and camping grounds. The compound consists of three themed zones - Town, Land of Water, and Meadowland - and children can spend a full day running around in a green, hassle-free environment.

4.0

156 Reviews

Shizuoka Pref. Fujinomiyashi Utsuno 1327-1

0544540342

9:30-17:30[11/21-3/20]9:30-1…

View All

4.0

16 Reviews

Shizuoka Pref. Fujishi Kazaki 1015

0545225555

[Apr.- Sep.]9:00-17:00[Oct.-…

View All

18

Stroll around a traditional shrine

Fujisanhongu Sengen Taisha is a Shinto shrine that was established by the Emperor Suinin over 1,000 years ago to appease the volcanic eruptions of Mount Fuji.

It's worshipped as the most important amongst over 1,300 Sengen shrines where Asama-no-Kami (the great god of Fuji) is enshrined. The grounds feature crystal clear ponds fed by the spring waters of Mount Fuji, as well as the Inner Shrine, the Outer Gate, and the Tower Gate constructed by Tokugawa Ieyasu.

Omiyayokocho is an open-air food court outside of the shrine. It is the perfect place to try various local dishes such as Fujinomiya Yakisoba, a chewy stir-fry noodle dish sprinkled with flavorful sardine powder.

3.5

34 Reviews

Shizuoka Pref. Fujinomiyashi Miyachou 4-23

0544252061

10:00-17:30 (until Summer 18…

View All

19

Savor Japanese confectionary while admiring traditional Japanese architecture

Located in a deep bamboo forest, Toraya Kobo welcomes lovers of sweets who come for their traditional delights, which have been carefully crafted by culinary artisans.

Patrons can enjoy treats such as daifuku (glutinous rice cake stuffed with red-bean) and other seasonal offerings at their in-house cafe, together with sencha tea harvested from the neighboring green tea field.

Architecture fans should also explore the Former Kishi Residence, a sukiya-style contemporary house in the grounds where Nobusuke Kishi (the 56th and 57th prime minister of Japan) resided in his later years.

Read more:
・The Sweet Side of Mount Fuji

4.0

157 Reviews

Shizuoka Pref. Gotembashi Higashiyama 1022-1

0550812233

[Apr.- Sep.] 10:00-18:00[Oct…

View All

4.0

34 Reviews

Shizuoka Pref. Gotembashi Higashiyama 1082-1

0550830747

[Apr.- Sep.]10:00-18:00[Oct.…

View All

20

Family vacation at a spacious resort

Gotemba Kogen Tokinosumika is a resort facility in Gotemba City that comprises accommodation options, restaurants, hot springs, and even a brewery that makes fine beer using spring water from Mount Fuji.

This resort offers various indoor and outdoor attractions, such as bouldering, a playground, a goldfish aquarium and a pool, making it an exciting place for families with young children.

During autumn and winter, the compound is illuminated with millions of colorful LED lights, offering an even more special stay for guests.

4.0

284 Reviews

Shizuoka Pref. Gotembashi Kouyama 719

0550873700

Depends on facility

View All