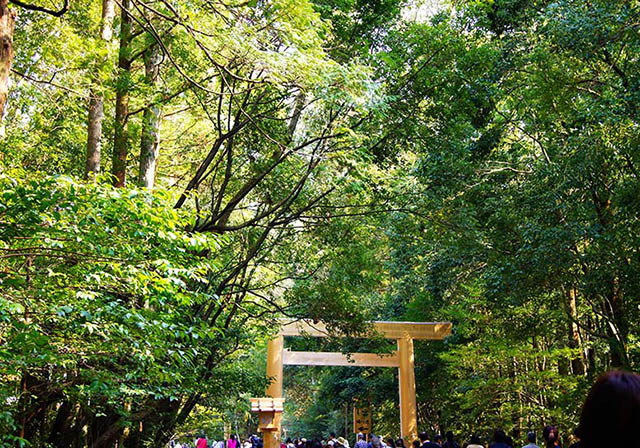 On their first to Japan many tourists are drawn to the bigger cities, but if you want a more laid back experience you should visit Mie Prefecture.

From the beautiful mountains to the calming coasts this area has tons to offer with its impressive shrines such as Ise Jingu, the stunning scenery along the trails of Kumano Kodo, luxurious hot springs, delicious food, and much more.

Here are the best things to see and do in Mie Prefecture, with a strong focus on Ise-Shima.
Ise Jingu - A great walk when you're surrounded by nature

"Akafuku" - a sweet soup made from red beans. ※Summertime is "Akafuku-gori"

The formal route that most people will take, is the visit to Geku Outer Shrine — known for enshrining Toyouke Omikami (the goddess of agriculture and industry). You can proceed to the Naiku Shrine from here. The Geku Outer Shrine is a 10-minute walk from Iseshi Station.

A 5-minute walk from the shrine however will land you at the famous Akafuku tea shop. In the summertime, you can enjoy some refreshing Akafuku-gori. This is shaved ice with matcha syrup served with Akafuku-mochi (a rice cake topped with sweet red bean paste). In the wintertime, you can warm up with Akafuku-zenzai, a sweet red bean soup with mochi.

4.5

128 Reviews

Mie Pref. Iseshi Honmachi 14-1

0596227000

View All

Mie Ise-shi Toyokawacho 279

0596241111

5:00-18:00 (depending on the…

View All

Ise Jingu (Naiku) - main shrine "Kotai Jingu"

Amaterasu Omikami (sun goddess) was enshrined around 2,000 years ago in the Inner Shrine. This place is known as the most sacred shrine in Japan.

Legend has it that the sun goddess hid herself in a cave after she could'nt tolerate her brother's violent acts. Hiding herself away inadvertantly deprived the Earth of sunlight. The other gods became worried, so they tricked her into coming out willingly with luringly good music & dance.

If you want to see the Holy Mirror (symbol of Ameterasu Omikami), then you will need to go inside the main sacred palace located within the main sanctuary.

Following an ancient Shinto custom, the main shrine building is completely rebuilt every 20 years, with the most recent rebuild completed in 2013.

Due to the large size of the grounds, you might want to set aside 1-2 hours if you're planning on seeing everything.

4.0

21 Reviews

Mie Ise-shi Ujitachicho 1

0596241111

[1-4, Sep.]5:00-18:00[May-Au…

View All

03

Oharai-Machi & Okage-Yokocho

Store "Okagesama" in Okage-Yokocho

The street view of Oharai-Machi

Just a street down from Ise Jingu, you will find yourself in the small district of Oharai-Machi where there are many shops and restaurants.

In the center of Oharai-Machi lies Okage-Yokocho. This beautifully stone paved street is lined up with traditional style building that will give you a sense of what it was like in the Edo/Meiji period.

Restaurants like the Butasute restaurant is known for their delicious Wagyu beef. Be sure to try their tasty tofu donut while in the area. Isuzugawa Cafe is praised as one of the best cafes in the area. It is situated right on the Isuzukawa River, so enjoy a fresh cup of coffee with a homemade cake while you enjoy the view of the river and the surrounding greenery.

Read more at:
・Where to Eat in Ise

Mie Pref. Iseshi Ujinakanokirichou

0596238838

[3-7/Oct.] 9:30-17:30 (Apr.-…

View All

04

Try Ise udon at "Okada-ya"

Ise Udon

Getting souvenirs at Okage-Yokocho is also great fun

If you are going on a trip to Ise, trying udon is a must. Udon in Ise is unique. You'd be surprised to find that the noodles are much thicker and much softer.

The udon noodles are mixed with a sauce made of tamari soy sauce and dashi (soup stock), topped off with green onion slices. Okada-ya is praised by the locals as having the best bowl of Udon in Ise! If the locals say its the best, then who am I to argue.

4.0

62 Reviews

Mie Pref. Iseshi Ujimazaikechou 31

0596224554

10:30-17:00

View All

05

Tsukiyominomiya: the hidden spiritual hot spot of Ise Jingu

A little known power spot located between the inner & outer shrines - "Tuskiyomi-no-miya"

Tsukiyominomiya is famous as the hidden spiritual hot spot of Ise Jingu. It is located near the inner shrine (Naiku). Within Tsukiyominomiya there are 4 shrines that are dedicated to deities Tsukiyomi-no-mikoto (god of the moon and brother of the sun goddess), Tsukiyomi-no-mikoto-no-aramitama (soul of power), Izanami and Izanagi (the mother and father gods of all other gods in Japanese mythology).

These 4 shrines are meant to be visited in a specific order, so be sure to follow the instructions. First you start with one dedicated to Tsukiyomi-no-mikoto, then proceed to Tsukiyomi-no-mikoto-no-aramitama, then to Izanagi's shrine, and then lastly to Izanami's shrine.

Mie Pref. Iseshi Nakamurachou 742-1

0596241111

[1-4/Sep.] 5:00-18:00[May--A…

View All

06

Futami Okitama Shrine: a place of purification

They say the "Futami Okitama Shrine" is benefitial for lovers

Located in Futamiura, Futami Okimata Shrine is where many begin their visit to Ise Jingu.

A visit to Futami Okimata Shrine is believed to bring success in marriage and goodluck for matchmaking. Enshrined here is the deity Sarutahiko-no-okami (god of guidance). You will see many frog statues around the shrine, since they are considered to be the deity's familiars.

During a ceremony called Hamasangu, visitors can first stop here to purify their minds and bodies. During purification, enjoy the fresh breeze and gentle sounds of the waves. After having been cleansed of impurifications, you should then head over to Ise Jingu.

4.0

373 Reviews

Mie Pref. Iseshi Futamichoue 575

0596432020

[Awarding place] [Summer] 5…

View All

07

Meoto Iwa: A Place of Beauty and Love

As long as you find the right rock, she'll stay by your side

Can you feel the love tonight

Near the Futami Okimata Shrine you will see two large rocks in the ocean connected together by a rope. This spot is Meoto Iwa which means "Wedded Rocks", with the larger rock representing the husband and the smaller one representing the wife.

A romantic place for couples to visit, the best time to go is from May to July when you can enjoy the stunning view of the rising sun between the two rocks. If you visit in autumn and winter, you can also get a beautiful view of the moon shining between the rocks. This spot is understandably very popular with visitors and local photographers.

Mie Pref. Iseshi Futamichoue 575 Meoto Iwa in

0596432020

View All

08

Eat Authentic Matsusaka Beef

Sample image of Wagyu - Yakiniku

Sample image of Wagyu - Yakiniku

A visit to Mie is not complete without trying some delicious Matsusaka beef. The meat comes from cows that are raised in strict conditions which results in a beef with lots of marbling, giving it that melt-in-your-mouth quality.

Sukiyaki is a popular dish featuring thinly sliced Matsusaka beef and is usually accompanied by a variety of vegetables that is cooked in a soy sauce broth right at your table. Another dish to try is Amiyaki which features Matsusaka beef grilled to perfection. If you want something fancier, stop at Wadakin where you can enjoy amazing gourmet Matsusaka dishes.

Read more at:
・Japan's Best Wagyu is in Mie

09

Experience the Mediterranean while being in Japan at Shima Mediterranean Village

Landscape of the area

Feels like a beach resort in places

Located in Ago Bay, this beautiful resort has all mediterranean style buildings which make it seem otherworldly.

The resort is surrounded by stunning scenery which draws in many tourists. Shima Mediterranean Village is made up of 5 towns, each designed differently to replicate the styles of the original Mediterranean areas they represent.

Even if you decide not to stay here, you can come for the cuisine and enjoy various dishes from Greece, Italy, Portugal, Spain, and more.

10

Stay at Shima Kanko Hotel

Chosen for the Ise-Shima summit - Shima Kankou Hotel

Café & Wine bar "Rian"(リアン)

Also situated on Ago Bay, Shima Kanko Hotel is a great place to relax and enjoy the beautiful surrounding views of the area. After seeing some wild birds in the hotel's large Japanese garden, enjoy a beautiful sunset over Ago Bay in the evening.

There are many activities offered at the hotel including stargazing, tea ceremonies, pottery painting classes, and more. As a top rated hotel, it was chosen for the Ise-Shima summit in 2016.

Mie Pref. Shimashi Agochoushinmei 731

0599431211

View All

11

Take a ride on pleasure boat: The Kashikojima Espana Cruise

Sail the Japanese waters with the "Kashikojima Espana cruise"

"Goza Shirahama" Beach has been selected as one of the top 100 locations

The Kashikojima Espana cruise is a great way to sightsee and enjoy the beauty of Ago Bay whilst being aboard a spanish-themed pleasure boat.

The boat has many outdoor seating areas but you can also get a private room for a fee of course. If you do prefer outdoor seating, sitting on the deck of the boat will give you a 360 degree view of the beautiful scenery. The cruise lasts roughly around an hour.

One of the highlights of the cruise is a visit to a cultured pearl factory where they show you the process of pearl culturing.

Mie Pref. Shimashi Agochoushinmei 752-11 (Kashikojima)

0599431023

9:30-15:30

View All

12

Get the whole Ama experience at the Ama Hut Osatsu Kamado in Toba

Ama divers

Fish caught in Ise and fried on the spot

At the Ama Hut you will be able to talk to some remarkable women, known as Ama, who carry on a tradition that has lasted for thousands of years.

These women dive into the ocean without diving equipment to catch shellfish, abalone, sea urchin, sea cucumber, and more. Ama will rest in huts by the shore called "Ama Huts". This is where visitors can enjoy a meal made from freshly caught seafood.

As you enjoy your meal, listen to the interesting stories of the Ama divers to learn what their life at seas is like.

Read more at:
・Meeting Mie's Ama Female Divers

4.0

19 Reviews

Mie Pref. Tobashi Ousatsuchou 1238

0599337453

[Lunch] 11:30-13:30 [Titime…

【URL】https://osatsu.org/

View All

13

Learn everything about pearls at Mikimoto Pearl Island

Watch the Ama acquire pearls in real-time

Check out the shells that actually contained pearls in the Pearl Museum

Purchase these items in the "Pearl Plaza" next door to the Pearl Museum

Mikimoto is known as the first person in the world to successfully produce a cultured pearl. At Mikimoto Pearl Island, you can learn all about him and everything there is to know about pearl cultivation.

The Ama divers are famous for collecting the oysters used for cultivating pearls. Listen to the unique whistle they use to control their breathing (no oxygen tanks used) and then watch them go down to the depths. Be sure to take a look at the stunning pieces of pearl jewelry on display.

Mie Pref. Tobashi Toba 1-7-1

0599252028

8:30-17:30(depending on the …

View All

14

Ishigami-san (Shinmei) Shrine: The shrine for women

Ishigami-san (Shinmei) Shrine

A subordinate shrine of Shinmei-Jinja Shrine, this is where the Ama women have gone to do their worshipping for many years. Now, women from all over Japan go to Ishigami-san Shrine with the promise that Ishigami-san will grant each of them one wish.

Visitors write down their wish on a piece of paper, put it in the wish box, and then pray in front of the statue of Ishigami-san to have their wish fulfilled.

Mie Pref. Tobashi Ousatsuchou 1385

0599336873

open everyday

View All

15

Experience the underwater world at Toba Aquarium

Dugong

Enjoy a sea lion show

Visit the biggest aquarium in Japan! It's one of the hottest tourist spots in Toba, home to more than 30,000 aquatic animals from 1,200 different species.

Enjoy learning about various sea creatures such as jellyfish, sea lions, seals, and otters. Toba Aquarium is divided into 12 zones, each with its own theme. Every hour there are the animal shows which are very popular and feature performances by dugongs, sea lions, and walruses.

At the "Weird Living Creatures Research Center" you will be able to learn about the strangest sea creatures you have ever seen!

4.5

807 Reviews

Mie Pref. Tobashi Toba 3-3-6

0599252555

9:00-17:00 [7/20-8/31] 8:30…

View All

16

Eat Oysters at Yokichiya

You can get a plump oyster like this

Toba city is very famous for its oyster culture. A trip here is not complete without trying these fruits of the sea.

If you want to cook your own oysters, there are many places where you can buy freshly caught ones.

If you want to enjoy oysters restaurant-style, one of the best places to go is Yokichiya which is famous for its all-you-can-eat oyster deals at great prices (starting from November until March). In other parts of the year, they offer different seafood such as eel and octopus.

3.5

19 Reviews

Mie Pref. Tobashi Uramurachou 1414-15

0599325520

[Monday-Friday]11:00-14:00[S…

View All

17

AQUAIGNIS Hot Spring Resort

AQUAIGNIS Hot Spring Resort

At AQUAIGNIS you can enjoy the hot springs in style. Located in Komono in Mie prefecture, this stylish and tranquil resort is the perfect place to go to relax.

Luxuriate in the outdoor hot spring bath while soaking in the beautiful surrounding scenery. Even if you aren't staying at the resort, you can still use the hot spring bath for 600 yen. The mountain spring water will leave your skin feeling silky smooth.

They also have a beauty salon, relaxation facility, and even a stawberry farm where you can enjoy stawberry picking. All you need for rapid rejuvination.

18

The spectacular light illuminations at Nabana-no-Sato

Acclaimed to be the no.1 illumination performance in 2018

Enjoy scenes like this during the daytime

Located in Kuwana city, Nabana-no-Sato is a large and stunningly beautiful botanical garden. Tourists from all around the world are drawn here to see the wide variety a flowers.

A flower festival is held in spring where the fields come alive! You will come across the tulip gargen landscape; a barrage of colors that come together to form a grand-scale like painting. Each season has its own variant of flowers which are breathtakingly beautiful.

The light illuminations though are what Nabana-no-Sato is most famous for. These take place from mid-October up till May. The main area of the light installation stretches nearly 90 feet high and 500 feet wide. Each LED light is lit in a sequence, making the entire thing look like a moving picture. Quite the show.

Mie Pref. Kuwanashi Nagashimachoukomae Lacquer field 270

0594410787

10:00-21:00 (Depends on the …

View All

"Nagashima Spa Land" is the place to be if you're searching for some scream-inducing joyrides

"Mitsui Outlet Park Jazz Dream Nagashima" located in Spa Land

Located near Nabana-no-Sato is Nagashima Spa Land. This is the second biggest amusement park in Japan. With over 40 rides, there is something for the whole family to enjoy; from small rides for young children to gigantic rides for the thrill seekers.

Be sure to spend some time shopping at Jazz Dream (Nagashima's outlet shopping mall) where you can find name brand items at budget-friendly prices. When you are ready for some relaxation, head over to Yuami no Shima, a massive hot spring complex that will accomadate your wishes. With their indoor and outdoor hot springs baths, saunas, hot tubs, and massage services, they should have what you need.

Mie Pref. Kuwanashi Nagashimachourayasu 333

0594451111

9:30-17:00 * Season, Sunday…

View All

4.0

488 Reviews

Mie Pref. Kuwanashi Nagashimachourayasu 368

0594458700

[Shop] 10:00-20:00 (dependin…

View All

International race circuit - "Suzuka Circuit"

Race with your kid at the "Motopia"!

Located in Suzuka city, the Suzuka Circuit is the longest racetrack in Japan. Many car races take place here, but if you want to experience the thrill of driving a race car, you can pay to get behind the wheel of an electric car and zip around the track.

Besides the racetrack, there' an amusement park and swimming pool for those who want to bring their children. There are a ton of restaurants in the vicinity for when you get hungry, so no worry there. If you want, you can go to a race car themed hotel and fill up your tank. Excuse the pun.

3.5

3 Reviews

Mie Pref. Suzukashi Inouchou 7992

0593781111

Facility/Season/Held Depends…

View All

21

Hike along the Kumano Kodo

"Kumano Kodo" has been selected as a world heritage site

The Ise trail that begins ar Kumano

Kumano Kodo (熊野古道) is a general term that refers to a network of 4 pilgrimage trails that connect the shrines of Kumano Sanzan together. There are three main Kumano shrines: Hongu Tiasha, Hayatama Taisha, and Nachi Taisha. The trails are located in the southern part of the Kansai region. Pilgrimage routes were created so that people could move easily between the sacrad areas of the Kii-Peninsula.

Aside from that, there are also many other pilgrimage trails that connect different ares such as Ise, Osaka, Wakayama, Koya, and Yoshino. The Iseji route begins at Kumano, where you have the option to move east to get a front-row seat of Kumano Hayatama Taisha, and then finally you can head all the way to Ise Jingu in the North. Pack some lunch if you're thinking about it.

An old proverb says "Seven times to Ise, three times to Kumano" expresses how often a person was willing to make the trip. How willing are you?

Tanabe, Wakayama Prefecture other

0735420735

Free walking

View All