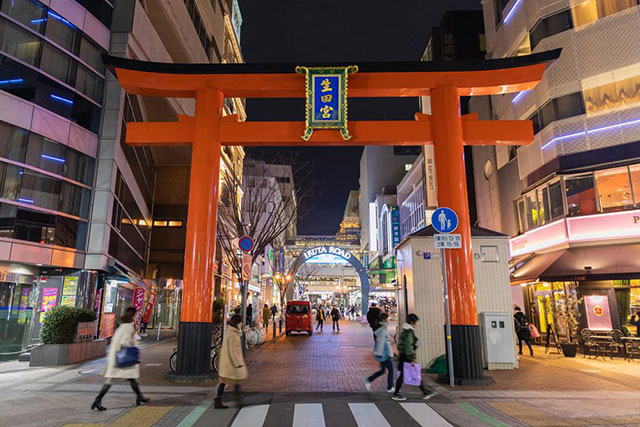 If there's something to like more about Kobe than its beef is its nightlife. As a mid-size city with locals who love food and a good night out, Kobe offers a vast amount of eating and drinking places mostly in the lit up Sannomiya District and within walking distance of each other. We'll share with you some of our favorite night hangouts and hope you have a night to remember like we did.
Before heading to any place in particular, we recommend a walk around Ikuta Road and its surroundings; this is where the night fun begins and for most this is where it ends. During the work week and especially on Friday nights the scene is about working men and women going out to relieve the stress of the long working days.

The streets come alive with the energy of the local crowd and this, in turn, will get you a Kobe state of mind. Word of caution, since a lot of the working people in Kobe City live in the outskirts, come Saturday, the vibe in this part of town changes drastically, so for a livelier time (out on the central streets at least) we recommend going out on a Thursday or Friday night. That being said any night out in Kobe will be an interesting night.

Start the night with delicious food. Sure you should try some good old Kobe beef, but better to leave that for lunch when it is not as expensive. Instead, head to Baan Somdet for some good looking and great tasting Thai food. Anything on the menu is great but their dumpling appetizers are one of our favorites.

BAAN SOMDET

兵庫県神戸市中央区北長狭通2-5-1 タイシンサンセットビル3F

0783212033

View All

03

Otohatoba Music Exchange Bar

For those not so keen on the izakaya vibe but more interested in the underground vibe of Kobe, Otohatoba Music Exchange Bar is a cool basement hangout with a live DJ putting a spin on Kobe's party scene. The music is big on electronic and experimental sounds but the owner and the regulars are open to other propositions. If you happen to be traveling with your turntable in your suitcase, give Otohatoba a shout and you might be joining the night's line up. And although the crowd is mainly Japanese, don't be shy and you can easily find out about other happening events to keep the night going.

Another one of the hip hangouts of Sannomiya is a second-floor hideout along Yamate Kansen Av. called Bar Second Chance. As with Otohatoba, you will find a variety of DJ's spinning throughout the night. One big difference is that as a self-proclaimed pub, this place offers an extensive bar food menu. If you like to party till the early hours of the morning, this is one of the spots to add to the list.

セカンドチャンス

兵庫県神戸市中央区中山手通2丁目1-12

0783913544

View All

For a cozier and jazzy night out (and close to Bar Second Chance), head over to Garage Paradise. This is another go-to spot for locals looking for live music and a chance to meet new friends. Besides the pool table, at Garage Paradise you'll find a stage where local and foreign acts get the crowd moving on the dance floor. And if you make it to the dance floor, be open to showing your R&B moves, which will improve your chances of walking out with new friends.

Garage Paradise (ガレージパラダイス)

兵庫県神戸市中央区中山手通1-13-7 B1

0783916640

View All

This is the only bar on our list outside of the Sannomiya District and to us, it is a must if you want to have a memorable night out while in Kobe. Make Shift is the brainchild of Giles, a Canadian and one of the nicest bar owners in town. This funky bar is located right underneath the train tracks and to get to it you'll need to hop on the Hankyu-Kobe Line towards Osaka but only for one stop. Once there, enjoy the well-curated space which doubles as a cafe-shop during the day and a live music bar at night. If you don't catch a live show, feel free to talk to the regulars and enjoy their stories of life in Kobe City.