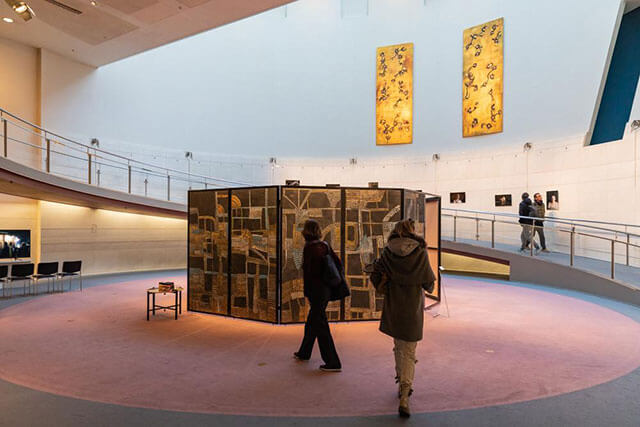 Architectural marvel, arts and culture venue, and lifestyle store: Aoyama's Spiral Building is all of these and more. In Tokyo, a dynamic city that is forever being redeveloped and reimagined, few buildings manage to capture the public imagination over the long term. Yet the Spiral Building, which appeared on the skyline way back in 1985, remains a true Tokyo landmark that shouldn't be missed when in this tony neighborhood.
Located on the Aoyama-dori strip just south-west of Omotesando Station and the Omotesando - Aoyama-dori intersection, the Spiral Building is easily found thanks to banners out front bearing its iconic name. Look up and you'll notice that the aluminum and glass facade is a deliberately inconsistent mix of shape, texture, and size. Architect Fumihiko Maki, whose other standout works include Roppongi's TV Asahi Headquarters and the 4 World Trade Center building in New York City, intended this to reflect what we might call the organic, 'beautiful mess' of the surrounding streets.

Upon entering you'll find yourself in a lobby area that is almost always hosting a pop-up retail event of some sort. These have in the past taken themes as diverse as traditional Japanese craftsmanship, and Converse's classic Jack Purcell sneaker. Whatever is going on here is likely to be presented in an inventive and thought-provoking way.

To your right meanwhile is a sizable staircase: ignore for now, as ascending that would cause you to miss the impressive architectural centerpiece that gives the Spiral Building its name. Instead venture further inside and you'll enter the Spiral Garden. This vast, circular-shaped exhibition space both spans the building's two main floors and connects them via a ramped walkway that spirals upwards around its perimeter.

Work shown here ranges from established names through to regular degree shows from Tokyo art and design universities. While paintings and graphic works frequently hang from the walls, attention is seized by three-dimensional installations and sculptures that make great use of the expansive space and tend towards the envelope-pushing and avant-garde.

Make your way up the spiraling walkway to find Spiral Market, one of Tokyo's best zakka ('miscellaneous goods') lifestyle stores. Here the selection of products for home, kitchen, and everyday personal use encompasses both established design classics (such as the Chemex coffee maker from the USA, unchanged in form since the 1940s) and new items such as the best-selling fold-flat acrylic flower vases from Japan's own D-Bros. This is a great place to pick up a gift that embodies contemporary Japanese design at its best.

Exit Spiral Market at the opposite end to the winding walkway to find another small lobby, lined with artworks and dotted with a few seats, that gives an overhead view out onto Aoyama-dori: perfect for people-watching.

Finally, head down the lobby staircase to find the one attraction not yet mentioned: the Spiral Building's bar and cafe-restaurant. Adjacent to the exhibition zone and very much visible from the spiral walkway, this is a see-and-be-seen kind of dining experience that fashionistas, in particular, will enjoy. A small counter serving cocktails and champagne makes a great spot to perch while you wait for a table (or simply enjoy a quick drink before heading elsewhere), while the eclectic menu features such delights as grilled chicken with mustard sauce and roast Hungarian duck breast in a raspberry sauce.