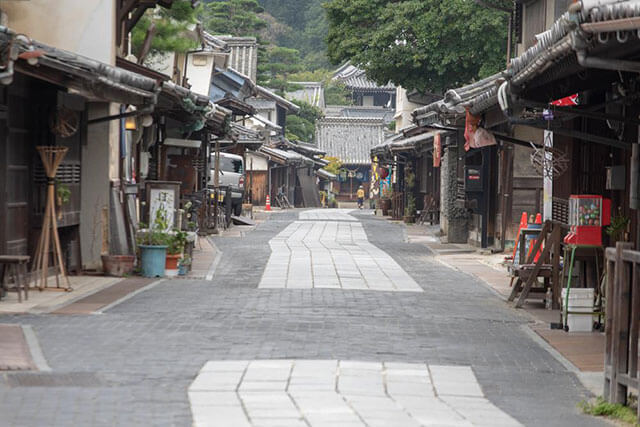 In the past quarter-century, there has been a movement picking up steam to preserve and protect towns like Takehara, but, as writers like Alex Kerr have pointed out tourism can be both preservative and corrosive. Takehera has attempted to walk the tightrope of all towns that throw out a life preserver to visitors: hold on to what was not bulldozed or covered with concrete in the 1950s and 1960s, renew interest in the past, and integrate modern life with historical infrastructure. The result in Takehara is a quaint, typical small city, with a particularly well-preserved slice of old town left behind by wealthy salt and shipping barons. The best measure of success, perhaps, is that there is plenty to divert the visitor to Takehara, and not all of it in the old city.
You could do worse than starting your day at Shiokaze. It happens to be almost directly across from Takehara Station, making the ideal beginning point when wandering town. Go for the morning set, if you're there on time, or go further down the menu to the pancakes and sandwiches. A powerful cup of coffee will help put some spring in your step, too.

潮風

広島県竹原市中央2-2-1

0846220696

View All

Just up the way from the station takes you to a cobbled shotengai, one of the shop-lined arcades that thread their way through Japan's cities and towns. In Tokyo and Osaka, the shotengai are becoming shutter streets as shoppers choose to buy their sundries at metro stop-adjacent developments, but there is still life on Ifull Street, with some shops along the arcade's roof-lined sidewalk looking recently opened. Past the shotengai, on flatlands reclaimed from the ocean and occupied by salt makers, the city takes on the appearance of—hence the nickname—a Kyoto backstreet, old homes and shops coexisting with more recent, sturdier construction.

Pay a visit to the preserved homes open now to visitors, and make sure to stop by and pay your respects to Masataka Taketsuru and his wife Rita Cowan. The scion of the Taketsuru brewing family went to Scotland at the turn of the last century and brought back with him secrets of Scottish distilling that he used to found Nikka Whisky. The NHK miniseries Massan about the couple's romance brought renewed interest in the story of the Nikka Whisky founder and his Scottish bride—and, as a result, visitors to his hometown of Takehara.

3.5

50 Reviews

Hiroshima Pref. Takeharashi Honmachi 3-10-29

0846222021

8:00-12:00/13:00-17:00

View All

Wherever the kimono rental craze began, it has now penetrated even relatively lowkey spots like Takehara—with good reason: there is something undeniably special about wandering an Edo Era streetscape in period clothes. At Tikuraku, things are less hectic than they are at rental shops in Kyoto or Tokyo, and the shop occupies a handsome building that was home to a kimono shop as early as the Meiji period.

Hiroshima Takehara-shi Honmachi 3-chome 11-10

0846221558

View All

Takehara has no shortage of spots to stop for lunch. You could opt for the local, sake lees-enhanced take on okonomiyaki at Horikawa, which has the benefit of being right in the old town, across from the stairs up to Saihoji, or make the effort to get to Uango. Finding this soba and tempura spot set in a nondescript house on a hill near the river is an experience in itself, but the payoff is delicious.

手打蕎麦 雨安居(うあんご)

広島県竹原市下野町2297-8

08068919707

View All

Work off lunch with a climb up to Saihoji. The temple is perched on a hill with a commanding view. Try to picture the town as it would have looked in the past, with much of the landscape west of the river given over to salt flats. Beyond the town, the Inland Sea and the nearby islands can be seen clearly. The temple architecture is stunning, as well, recalling Kyoto's Kiyomizudera Temple.

Hiroshima Pref. Takeharashi Honmachi 3-10-44

0846227745

Precincts Free

View All

Catch dinner at Trattoria M for a taste of authentic Italian crafted from local produce or the more boisterous Kushi no Ie for kushikatsu, but definitely pencil in on your itinerary a plan to end the night at Bar Roberta. An old school cocktail bar that wouldn't look out of place on a Ginza backstreet, Bar Roberta has true artisans behind the bar, along with a deep library of bottles.