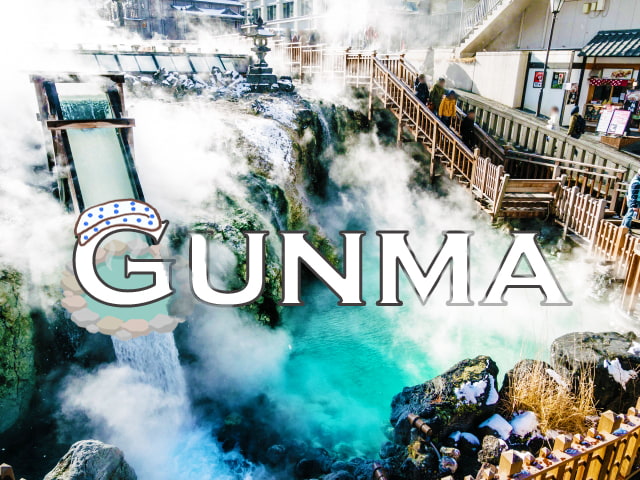 Located in the north west area of the Kanto region on the main island of Honshu, less than 2 hours from Tokyo, Gunma prefecture is overflowing with onsen mainly concentrated in the north and north east regions of Minakami, Katashina and the most famous, Kusatsu in the western regions. Not only its abundance of onsen, but as one of just eight landlocked prefectures in Japan, the area is predominantly mountainous with plenty of hiking and skiing opportunities with about 25 ski/snowboard resorts to choose from.
Relatively easy access from Tokyo, Gunma Prefecture is a good getaway for the weekend for those living in the nearby areas needing some refreshing clean air in the wild or to relax and soak up in the onsen. While most of the Gunma's population inhabits the center and southeast of the prefecture, northern area has been left relatively wild, enticing adventurers into the vast mountains and the Nikko and Oze National Parks which cross over from Tochigi Prefecture into the northeast of the prefecture.

white wonderland, skun cabbages at Oze National Park

Gunma prefecture, Tochigi prefecture, Fukushima prefecture, Niigata prefecture

View All

For a year-round, with its abundance of onsen spurting all around the prefecture, soaking in onsen (hot spring) has been the unofficial pastime of the people for centuries. Out of the many great resorts, Kusatsu is by far the most famous with 4,000 liters of sulphuric spring water spurting out per minute. Sainokawara onsen is one of the largest gigantic outdoor baths that can accommodate up to 100 people, and also, quite a rare opportunity in Japan for a mixed gender bathing in a riverside open-air baths at Takaragawa onsen.

Sainokawara onsen gets lit up after sunset

Aside from chilling at an onsen, Gunma has many more attractions to offer from mountain climbing/hiking, skiing, rafting, "canyoning", biking, museums, and much more. Mt. Akagi, Mt. Haruna, and Mt. Myogi which dominate the Gunma's landscape are a popular hiking spots, as well as Minakami where they have a large number of canyoning courses to choose from to satisfy anyone's desired thrill levels, this is a must not be missed place for an exciting adventure during summer. Skiers and snowboarders are recommended to take a visit to the resorts at Mt. Shirane and Mt. Haruna during the winter for a good snow.