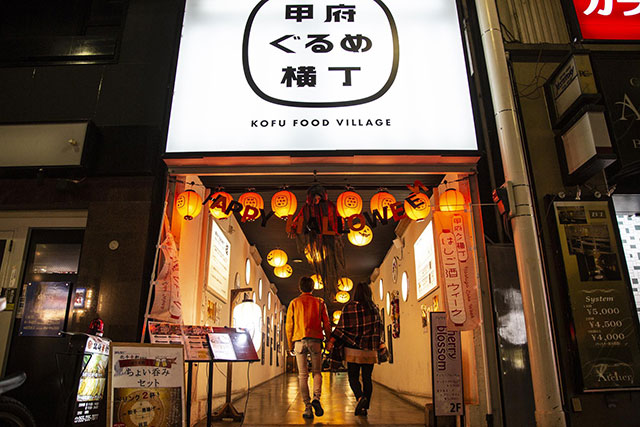 Towns like Kofu are in an odd position, right on the tourist track, blessed with a stunning natural landscape and sitting atop the surrounding fertile farmland, but tough to get folks to stick around on their way to somewhere else. Even if someone makes a detour for one of the city's festivals, or to stop by the Takeda Shrine, tracking down the best places to eat and drink can be tough. The Kofu Food Village is an admirable project: slowing visitors down and giving them a reason to relax for an evening in the city, and delivering some much needed redevelopment to the city.
While the Kofu Food Village project is new, it is built within a shell with plenty of history. The Yoshino Building went up in 1946, anchoring a moderately swinging nightlife district. The building was home to supper clubs, snack bars and grimy-glamorous hostess bars, and the party kept going—until the Bubble burst. A long decline set in, with nearly all tenants having long vacated the Yoshino. A few years back, some younger Kofu residents conceived of creating a yatai mura (a food stall village) in the Yoshino, and the result is the Kofu Food Village. There is something of a yatai feel to the shops in the main area, but plenty of other options, as well.

Assisted by those who aim to achieve their own goals and create a lively place in Kofu, the project was born. With time, local restaurants and izakaya shifted their business or opened a branch in the Kofu Food Village. There is still plenty of room to grow, with a number of spaces still vacant, but for the first time in decades, the Yoshino Building is buzzing. It's a fitting tribute to the heady atmosphere that prevailed in the building over most of the past six decades, and a sign that there's still life left in Kofu.

In recent years, cities like Kofu have been the target of revitalization campaigns by savvy transplants and younger locals that see the benefits of living in a small town but want a taste of the city sometimes. Kofu Food Village is like Ikebukuro or Ueno's afterwork hangout strips writ small. Those that commute into Tokyo on the Chuo Line Limited Express every morning and come back to the mountains at dusk might get a drink at Shinjuku instead, but there are plenty of folks for whom Kofu Food Village fits their lifestyle perfectly, and hopefully more on the way.

There's no shortage of options at Kofu Food Village, with cheap and cheerful izakaya, Hokuto Shinken for tantanmen, Shanghai Shokudo for Chinese, La Rocca for pizza, and yakitori at Roka. Kofu Food Village lives up to its heritage, as well, with a number of snack bars still calling the building home, including the local favorite LiLi. If you aren't familiar with the snack bar experience, expect glasses of whiskey and shochu and older men belting out enka ballads (for the uninitiated, a local snack bar in Kofu might not be the best option). And for something completely different, visit the friendly Filipina hostesses at Cherry Blossom up on the second floor, sip a highball and let rip with your best rendition of "Take Me Home, Country Roads."

An interesting treat is the cozy Oasis, where the focus is on the agricultural riches of Yamanashi. Veggie-centric plates are paired with local Koshu and Muscat Bailey A wines. Elsewhere in the Food Village, the 10-seat Brasserie Yamanashi also focuses on wine, but with a French-inspired menu heavy on game and rich sauces.

Kofu Food Village is easy enough to get to, once you're in Kofu. Simply walk south from Chuo Main Line's Kofu Station, a nice stroll that takes in the local castle and the central area of the city. Some shops are open for lunch but the best time to experience the Food Village is to arrive in the evening and plan to stay late (plenty of hotels nearby!), bouncing between shops before heading to one of the karaoke or snack bars or heading out to experience Kofu's modest nightlife.