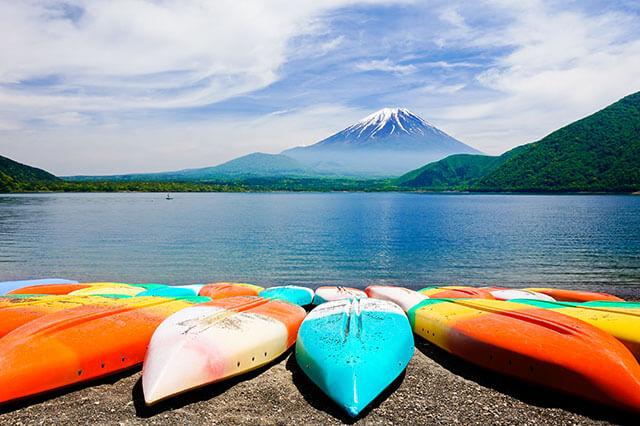 Yamanashi is most famous for Japan's highest mountain, Fuji, but they have plenty more things that you can enjoy. It's not far from Tokyo at all and very easy to access by train or bus. Touristy places such as Mt. Fuji, the onsen (hot springs), fruit picking, and other in-season events are always crowded with people from in or outside of Japan. They also have good local food, such as hoto (noodles in a vegetable soup), fresh fruits and fine wines. Here is a selection of activities and delicious options to help make your Yamanashi trip unforgettable!
01

Mt. Fuji and the Fuji Five Lakes (Fuji-Goko)

Although Yamanashi has a lot of different attractive activities, we can't talk about this prefecture without talking about Mt. Fuji. Mt. Fuji is a 3,776-meter-high mountain and the tallest in Japan. It has been a symbol of Japan for a long time and is loved by Japanese people. Fuji-Goko refers to the Fuji Five Lakes that lie at the base of Mt. Fuji. Lake Kawaguchi-ko, Lake Yamanaka-ko, Lake Sai-ko, Lake Shoji-ko and Lake Motosu-ko are the names of the five lakes.

From Tokyo, renting a car is a good idea, as it will make it easier for you to explore Yamanashi. There are also trains and buses traveling to the Mt. Fuji area, so no worries if you don't want to drive! If you are visiting from overseas, you can get a special bus ticket known as the "Mt.Fuji Pass" ( http://bus-en.fujikyu.co.jp/mtpass/) that allows you to travel by bus as much as you want in the Fuji Five Lakes area.

Read more
Getting Around the Fuji Five Lakes
Yamanashi's Fuji Five Lakes

02

Go camping in the best Mt. Fuji viewing spot

There are many camping places around the Fuji Five Lakes area. Among them, the Koan Camping Ground has amazing activities that you can enjoy right in front of Mt. Fuji. The Koan Camping Ground sits on the northwestern shore of Lake Motosu-ko, one of the Fuji Five Lakes. Lake Motosu-ko is the deepest and has the clearest water among the five lakes. If you see Mt. Fuji from here, you might recognize the view, as it's the image that appears on Japanese 1000 yen bills!

Koan offers a range of water activities and eco tours in addition to their camping and cabins. Kayaking, wind surfing, and SUP are all pretty popular or you can try fishing too! Koan is also famous for appearing in the anime "Yuru-can" ("Laid-Back Camp"). It will make your camping experience even more exciting if you watch this anime before visiting Koan!

Official Website : Koan Camping Ground

Read more
Camping Around Mount Fuji
With only a couple of hours' drive separating Tokyo from the Fuji Five Lakes region and the Asagiri Highland, the pristine nature around Mount Fuji is an excellent option to escape the summer heat of the big city.…

4.0

16 Reviews

Yamanashi Minamikoma-gun Minobucho Nakano Kura 2926

0556380117

View All

03

View Mt. Fuji from the most popular spot

Arakurayama Sengen Park is one of the best Mt. Fuji viewing spots in the Fuji Five Lakes area and has been a cover photo for the Michelin Green Guide Book Japan. You might also find photos with beautiful cherry blossoms if you search online. The most famous shot incorporates three Japanese symbols into the one picture - cherry blossoms, the five-story pagoda and Mt. Fuji.
In the springtime, people from both Japan and abroad come to capture this picture. There are 398 steps to get to the five-story pagoda, which makes it even more special to see the combined view of Mt. Fuji and the pagoda.

Read more
A photographer's dream: five spots to visit in Yamanashi
Yamanashi is a photographer's dream: towering peakings, including Fuji, verdant lowlands, densely forested foothills, and charming villages and townscapes.…

Yamanashi Pref. Fujiyoshidashi Arakura 3353-1

0555211000

Open 24 hours

View All

04

Check out the natural treasures

There are many sites of natural heritage around Mt. Fuji. Oshino-Hakkai is one that you should definitely visit and was recognized as a UNESCO World Heritage Site, Fujisan sacred place and artistic inspiration, in 2013. It's a set of eight spring ponds in the village of Oshino.
Oshino is situated between Lake Yamanaka-ko and Lake Kawaguchi-ko, and there are quite a few shrines and natural art in the village. Ponds are believed to have been holy places for long time.

Another natural treasure that you should see in this area are the caves. Fugaku-Fuketsu and Narusawa-Hyoketsu will make you feel like you are in a different world.

Fugaku-Fuketsu is the wind cave, which is located in the woods of Aokigahara. Inside the cave is pretty cold, with the average temperature only 3℃, even in the summer. It was once used as a fridge for silkworm eggs. The walls of the cave don't reflect sound, which gives you an extraordinary feeling.

There are beautiful icicles too. Narusawa-Hyoketsu is also in the Aokigahara woods. It's a tunnel-type ice cave that has a ring-like pit shape that you can walk through. The total length is 150 meters and you can see the whole cave in around 15 minutes. Enjoy an icy adventure at the foot of Mt. Fuji!

Read more
Deep in the Caves of the Fuji Five Lakes
Inside and out, Mount Fuji lives up to the title of World Heritage Asset while providing visitors with a great range of beauty and exploring opportunities.…

3.0

16 Reviews

Yamanashi Pref. Minamitsurugunfujikawaguchikomachi Saiko Aokigahara 2068-1

0555852300

View All

4.0

297 Reviews

Yamanashi Pref. Minamitsurugunnarusawamura 8533

0555852301

View All

Yamanashi Pref. Minamitsurugunoshinomura Shibokusa

0555844221

Open 24 hours[Sokonuke Pond]…

View All

Fuji-Q Highland is a famous theme park with scary rides! It's best known for its fast roller coasters like FUJIYAMA that have thrilled many fans all over the world. You can enter the park without an admission fee.

Next to the Fuji-Q coaster area is "La ville de Gaspard et Lisa", a theme park based on the world-famous French picture book that has a Parisian atmosphere.

There is another theme park based on the anime "Thomas and Friends" known as Thomas Land. It's the only theme park in Japan where you can experience the world of Thomas and Friends.

After hanging out for a whole day at Fuji-Q Highland, you can relax at the nearby Fujiyama onsen!

Read more
Drop the kids off at Yamanashi: five options for tots to teens
There's no reason that you can't drag the kids along on a hike up Mount Fuji or down Nishizawa Ravine, but, especially for those toting under-12s, sometimes you need a place to let them burn off some energy.…

Yamanashi Pref. Fujiyoshidashi Shinnishihara 5-6-1

0555232111

9:00-17:00*Changes depending…

View All

Fuji-Q Highland E-Tickets

¥6,900

Update date:2023/09/23

Yamanashi Pref. Fujiyoshidashi Shinnishihara 4-17-1

0555221126

[Mornings bath] 6:30-9:00 (8…

View All

06

Combined views of Mt. Fuji and seasonal flowers

Yamanaka-ko Hanano Miyako Park is a flower garden that's situated at 1,000 meters above sea level! They have different flowers each season that are accompanied by changing views of Mt. Fuji. It's just like taking a picture of Mt. Fuji with different colored frames.

Depending on the time, temperature and humidity, you might be able to see what's known as "Diamond Fuji". It's a phenomenon that takes place when the sun illuminates the top of Mt. Fuji's summit, appearing like a shiny diamond on the top of the mountain. The beautiful lighting reflected on the lake is also breathtaking.

Read more
Where to Go in the Mount Fuji Area
So you've climb Mount Fuji and the view from the top has left you wanting to explore more of this beautiful region below.…

Yamanashi Pref. Minamitsurugunyamanakakomura Yamanaka 1650

0555625587

[4/16-10/15]8:30-17:30[10/16…

View All

07

Fun activities for a rainy day

Sightseeing on a rainy day isn't always the best thing. However, there are many places where you can have fun inside in the Mt. Fuji area! The Fujisan World Heritage Center is probably the best choice. They have a mini Mt. Fuji that was made from washi (Japanese paper), as well as exhibitions that explain the natural and cultural history of Mt. Fuji and the value of its World Heritage listing.

The Kawaguchiko Monkey Performance Theater is another good choice for a rainy day. Enjoy amazing performances by smart monkeys and make your day bright with laughter!

Read more
Mount Fuji Alternatives For a Rainy Day
So you've traveled to the Fuji Five Lakes with the goal to get a close up look at Mount Fuji and get social media-worthy photos along the way but the weather's not cooperating and the main reason for your trip is hidden behind thick clouds.…

4.0

94 Reviews

Yamanashi Pref. Minamitsurugunfujikawaguchikomachi Funatsu 6663-1

0555720259

9:00-17:00[July.-Sep.]8:30-1…

View All

4.0

58 Reviews

Yamanashi Pref. Minamitsurugunfujikawaguchikomachi Kawaguchi 2719-8

0555768855

From 10:00

View All

08

Popular gourmet experiences in the Mt. Fuji area

When visiting the Mt. Fuji area, there are several meals that you should try! Yoshida-no-udon is the first thing, if you get a chance. It's a traditional meal of Fujiyoshida City that has various toppings, such as horse meat and cabbage. There are more than 50 shops where you can eat these udon noodles in the city. They have limited numbers of udon available each day, so you better go before it's sold out!

Another popular item is Houtou noodles. At the Houtou-Fudo Higashi-Koiji branch, you can enjoy this delicious, big bowl of vegetarian-friendly noodles, Fudo Hoto, inside an interesting looking building.

Read more
What to Eat at the Fuji Five Lakes
With all the energy you'll use on the numerous outdoor activities available around the Fuji Five Lakes, and especially after climbing Fujisan, the next best thing to do is find a generous warm meal or a snack along the route to keep you going to regain a few calories.…

4.0

180 Reviews

Yamanashi Pref. Minamitsurugunfujikawaguchikomachi Funatsu Koiji 2458

0555728511

11:00-20:00 (ends as soon as…

View All

09

"Limited season only" Mt. Fuji, a once-in-a-lifetime mountain climbing experience!

Japan's highest volcano, Mt. Fuji is 3776.24 meters in height and has been recognized as one of the symbols of Japan. Looking at it is wonderful, but climbing to the top to watch the sunrise is something that you should do before you die!

It's located on the border between the prefectures of Yamanashi and Shizuoka. There are several routes to the top and you can select the trail depending on your hiking experience and physical health. Most of the routes open in the middle of July. But the Yoshida route, which starts in Yamanashi, opens from the beginning of July.

To witness sunrise at the top, you need to start climbing around noon. There are numerous mountain houses where you can stop to eat dinner and have a small nap. Stay there until midnight, then start climbing to the top so you arrive in time for sunrise.

Official Website : Mt. Fuji Climbing

10

Seasonal events in the Mt. Fuji area

While the season for climbing Mt. Fuji is limited, the surrounding area has many events that take place throughout the year.

In the spring, you can enjoy the festivals celebrating the sakura or cherry blossoms. The Fuji-Shiba Sakura Festival and the Arakurayama Sengen Park Sakura Festival are both pretty popular.

Summer is also known as a festival season, with the Kawaguchi-ko Herb Festival, fireworks and the Yoshida Fire Festival taking place!

They have an Autumn Colors Festival where you can enjoy the beautifully colored leaves of Kawaguchi-ko.

In winter time, Kawaguchi-ko has winter fireworks, Lake Sai-ko has an ice festival, and there are illuminations too!

Read more
Fireworks Festivals Take Over Fuji Five Lakes
Summer in Japan is synonymous with festivals (matsuri) and fireworks (hanabi).…

Yamanashi Pref. Minamitsurugunfujikawaguchikomachi Motosu 212

0555893031

8:00-17:00 * Check official…

View All

4.0

12 Reviews

Yamanashi Minamitsuru-gun Fujikawaguchikomachi Kawaguchi

0555723168

Free visit

View All

11

Experience a special train ride near Mt. Fuji!

It's a recent trend even among Japanese people to take this "Fujisan View Express". As the name suggests, you can enjoy a sweeping view of Mt. Fuji from the train window. You can select the station where you want to embark, including Otsuki Station, Kawaguchiko Station, Fujikyu Highland Station or Fujisan Station. Keep in mind that their special seats in the first car need to be booked in advance (http://www.fujikyu-railway.jp/fujisan-view-express/en/reserve/ ).
The ticket price depends on where you want to go and you'll need to add 400 yen as an "express fee" in addition to the normal train fare. If you are booking a ticket in the first car, you need pay an additional 900 yen.

Read more
Riding the FUJISAN VIEW EXPRESS
While visiting the Fuji Five Lakes (Fujigoko in Japanese) region the obvious number one attraction is Mount Fuji itself.…

12

Fruits picking in the "Kingdom of Fruits"!

Yamanashi is known as the prefecture that produces the most fruit in Japan and you can enjoy fruit picking throughout year.
Strawberries in December to May, cherries and peaches from May to July, blueberries in June to August, grapes from July to October, Japanese pears from September to November, apples from September to December.

It's literally a paradise of fruits! You can go fruit picking and taste incredibly fresh fruits direct from the farm. If you prefer to enjoy them as a parfait, visit one of the local cafes where they serve gorgeous fruits parfaits.

13

Visit wineries in Japan's well-known wine-growing area

Fuji-san and fruits are not the only things that Yamanashi is famous for. Its wine is also very popular! There are many wineries with great views in this area.
Among them, our recommendations are Sadoya and L'Orient wine.

Sadoya has been established since 1917 and is only five minutes' walk from Kofu Station. They offer a 30-minute tour to learn about their wine-making process and there's also a restaurant and chapel inside.

L'Orient has 70 years of history and is now known for producing quite unique and innovative products, such as wine with yeast. They also offer tours and other activities that include grape picking.

Read more
Going sideways in Yamanashi: the five best wineries in Japan's wine country
Sitting at about the same latitude as the south of Spain and California's Monterey peninsula, drier than much of the rest of the country, with rich volcanic soil and a Pacific breezes,…

4.0

29 Reviews

Yamanashi Koshu-shi Katsunumacho Todoroki 878-2

0553443131

[Shop] 9:00-17:00 (Saturday …

View All

14

Explore the art museums

The Yamanashi Prefectural Museum of Art is famous for its collection of Jean-Francois Millet's art. Lots of people from outside of the prefecture come to this museum to see Millet's collection, especially on weekends. The museum has 70 of Millet's works, including 12 oil paintings.
There is also a great spot to see Mt. Fuji from the window, "Fujimi-no Mado", inside the museum. You will see the real life picture there!

Itchiku Kubota Museum is another art museum that we recommend. Kubota is a Japanese textile artist who is famous for the technique called "Tsujigahana". You can learn more about him and his work while discovering the beautiful collection of art in this museum.

Read more
The artistic side of Yamanashi: five of the best museums in the prefecture
Not many people think of the rocky, picturesque prefecture of Yamanashi as a hotbed of art, both traditional and contemporary, but the museums and galleries in the region have become a major attraction for artists and art appreciators.…

4.5

150 Reviews

Yamanashi Pref. Koufushi Kugawa 1-4-27

0552283322

9:00-17:00 (admission until …

View All

4.5

356 Reviews

Yamanashi Pref. Minamitsurugunfujikawaguchikomachi Kawaguchi 2255

0555768811

[Dec.--Mar.] 10:00-16:30 [A…

View All

15

Enjoy traditional Japanese house café hopping

Yamanashi has a lot of cozy cafés that are located in traditional Japanese houses.

Tsugurasha is one place where you can enjoy Yamanashi's fruits transformed into desserts - their pancakes with seasonal fruits are absolutely delicious! They also have grape milkshakes that taste incredibly fresh.

The café Kujiragumo offers macrobiotic food while Sakagura -Kai has local sake and sake-marinated fish…there are plenty of cafes and restaurants where you can enjoy tasty food and the coziness of traditional Japanese houses!

Read more
Five popular old-fashioned cafes in Yamanashi
Sprawling to the west of Tokyo, Yamanashi is a scenic prefecture that's rich in natural wonders and easily accessible as a day trip from the capital.…

4.0

7 Reviews

Yamanashi Koshu-shi Katsunumacho Katsunuma 2997

0553398915

View All

4.5

7 Reviews

Yamanashi Pref. Yamanashishi Kita 567 Yoro Shuzo inside

0553224047

[Lunch] 11:30-16:00 (LO 15:0…

View All

16

Feel the nature at the Forest Therapy Base

Nishizawa Keikoku (gorge) is one place where you can enjoy the great nature of Yamanashi. It's one of the Forest Therapy Bases in Japan. Forest Therapy is a scientific-based therapy that centers around healing individuals in the forest. The Japanese non-profit organization "Forest Therapy Society" issues certification for Forest Therapy Bases that offer healing through the woods.

The most famous spot in Nishizawa Keikoku is the Nanatsugama Godan Waterfall. It has been selected as one of the top 100 waterfalls in Japan. There is limited access to the forest during the wintertime, so it's better to visit at other times of the year if you want to see everything!

Read more
A slice of heaven: Nishizawa Ravine
Yamanashi has some of the most beautiful hiking trails in the country, and it has the benefit of being within easy driving distance of Tokyo or accessible from highway buses and rail lines.…

17

Spectacular night views at Fruits Park and a lovely outdoor hot spring

Fruits Park is a place where you can enjoy seasonal plants in the daytime and spectacular views at night. It is also known as one of the Three Major Night Views of Japan.

Nearby you can find Hottarakashi Onsen, which is one of the most unique hot springs in Yamanashi. Their outdoor hot spring offers panoramic views while relaxing in the baths. It opens one hour before sunrise, so you can enjoy a sunrise bath with views of Mt. Fuji! If you're not a morning person but still want to soak up the romantic scenery, opt for a sunset or nighttime bath to enjoy the starry sky.

4.0

418 Reviews

Yamanashi Pref. Yamanashishi Yatsubo 1669-18

0553231526

1Hours before sunrise on Sun…

View All

18

Kikyoya Shingen Mochi Factory

Shingen mochi is everyone's favorite souvenir from Yamanashi! It's a small cup of soft rice cake pieces with soybean powder and brown sugar syrup on top. The way they wrap the cup is very cute and it has always been a very popular gift from Yamanashi.

The factory offers factory tours and there's an outlet shop of Kikyoya products. They also sell bags that you can pack as full as possible with their sweets and then just pay for the bag.

Yamanashi Pref. Fuefukishi Ichinomiyachoutsuboi 1928

0553473700

9:00-17:00

View All

19

Fuefuki Togenkyo Spring Festival

Many tourists love to view the beautiful, iconic cherry blossoms in Yamanashi. As the "Fruit Kingdom" though, Yamanashi is not only a place to view cherry blossoms but it is also Japan's number one producer of peaches so its peach blossoms are a must see!

Peach blossoms are a darker pink than cherry blossoms and at the Fuefuki Togenkyo Spring Festival you can view the breathtaking beauty of thousands of peach blossoms in full bloom. The festival is held annually from the end of March to mid-April. You can also view other flowers such as Asian skunk cabbage (Mizu-basho) and field mustard blossoms.

Yamanashi Pref. Fuefukishi Yatsushirochouoka 2223-1

Open 24 hours (9:00-17:00 fo…

View All

20

View Cormorant Fishing in Isawa on the Fuefuki River

Cormorant fishing (Ukai) is a unique way of fishing that showcases 800 years of traditional culture. The fishermen wade in the waters with their trained cormorant birds tied to leashes. The cormorants dive into the water to catch the fish but are prevented from swallowing them completely because of a snare tied around their necks. The fishermen then retrieve the fish from the birds.

On the banks of the Fuefuki River, you can enjoy a 50-minute show to see this style of fishing. The event is free of charge and takes place every year from July 20th to August 19th on Wednesdays, Thursdays, Saturdays, and Sundays at 8pm.

21

Isawa Onsen Fireworks Festival

The Fuefuki city Summer Festival goes out with a bang, ending with the biggest fireworks festival in Yamanashi Prefecture. Held annually on August 21 from 7:30pm to 9pm, around 30,000 people flock to the Fuefuki riverbed to enjoy viewing 10,000 shots of fireworks.

The launching area is not far from the spectator area so everyone gets a good view of the show. The viewing area is the Fuefuki riverbed in front of the Fuefuki Town Hall. If you are on foot it is a 20-minute walk from Isawa Onsen Station on the JR Chuo Line, or by car it is a 15 minute ride from the Chuo Expressway Ichinomiya Misaka Exit.

22

Samurai battle event! Kawanakajima Kassen in fall

If you like Japanese history, especially the samurai period, then this event is for you! Fuefuki City hosts this samurai battle action event called Kawanakajima Kassen Sengoku Emaki ( https://www.yamanashi-kankou.jp/foreign/english/english034.html ) each fall.

Kawanakajima Kassen is a battle between Takeda Shingen and Uesugi Kenshin who battled for over 12 years since 1553. The actual, direct battles happened five times. At the event in Fuefuki City, participants are separated into two groups - Takeda's force and Uesugi's force. You can see the battle on the event day or participate as a soldier with samurai amour if you enroll for the event in spring!

Official Website : Kawanakajima Kassen Sengoku Emaki

23

Developed area around Kofu Station

JR Kofu Station is one of the busiest areas in Yamanashi. Koshu Yumekoji, Takeda Shrine, Maizuru Castle Park and Kofu Gourmet Street are all popular spots that are easy to visit from this station.

Koshu Yumekoji is a three-minute walk from the station. It's known as a landmark of Kofu City and has various buildings that exude an old-world Japan atmosphere.

Takeda Shrine was established in 1919 to celebrate Takeda Shingen and you can still observe the heritage from back then.

The Maizuru Castle Park has a giant stonewall of rare heritage.

Before taking a train, stop by the Kofu Gourmet Street to grab some drinks and local Yamanashi food!


Read more
Happy days are here again: Kofu Food Village
Towns like Kofu are in an odd position, right on the tourist track, blessed with a stunning natural landscape and sitting atop the surrounding fertile farmland, but tough to get folks to stick around on their way to somewhere else.…

3.5

92 Reviews

Yamanashi Pref. Koufushi Marunouchi 1-1-25

0552986300

[Weekday] 10:30-17:30[Saturd…

View All

4.0

444 Reviews

Yamanashi Pref. Koufushi Kofuchumachi 2611

0552522609

[Giving Office/Shuin Recepti…

View All

3.5

283 Reviews

Yamanashi Pref. Koufushi Marunouchi 1

0552276179

Depends on facility*The park…

View All

24

A gorge beauty in the Shosenkyo area

Shosenkyo is a well-known gorge that is often recognized as Japan's most beautiful gorge. It has been selected as one of Japan's special scenic spots.

There are a lot of amazingly beautiful spots in the gorge, including the Sengataki Waterfall and the stone gate of Ishimon. Safe and well-organized walking trails take you to all the pretty spots in the gorge. There are different types of beauty depending on the season, so you can go many times throughout the year.

Read more
Three outdoor highlights in Yamanashi
Yamanashi has some of the prettiest countryside in the land, and it's location, a short trip west from Tokyo, make it popular with outdoorsy daytrippers.…

Besides these natural treasures, there is also a museum of shadowgraph. It's the first shadowgraph museum in the world!

The Kanazakura Shrine is also a great place to visit during your gorge walk. Kanazakura translates as "golden cherry blossom" and there are hundreds of sakura trees inside the shrine. This shrine is believed to bring people good luck with money through the power of golden cherry blossom tree and the crystal that they have inside the shrine.

Yamanashi Pref. Koufushi Takanarichou 1035-2

0552872511

9:00-17:00

View All

3.5

39 Reviews

Yamanashi Pref. Koufushi Mitakechou 2347

0552872011

[Shop] 9:00-17:00 [Goshuin …

View All

25

Minobusan Kuonji Temple

The Minobusan Kuonji Temple is one of the numerous temples on Mt. Minobu and is considered the most important temple in the Nichiren sect of Buddhism.

There are 287 steps to get to the main hall from the temple gate. But don't worry, you can use the slope elevator for free from the Seishin parking area to the main hall, then you can board the ropeway- a lifting device that will take you to the summit of Mt. Minobu. On a limited number of days, you can see "Diamond Fuji" from the top of Mt. Minobu.

4.5

238 Reviews

Yamanashi Pref. Minamikomagunminobuchou Minobu 3567

0556621011

[Apr.-Sep.]5:00-17:00[Oct.-M…

View All

26

Shimobe Onsen where Shingen Takeda healed himself

Shimobe Onsen is a hot spring that has been historically loved by local people for many years and was selected as one of the top 100 best hot springs in Japan. It's a great place to enjoy the atmosphere of a hot spring town, with a public bath that you can use without staying overnight.

They also have a farmers market every Sunday morning, as well as a yamame (cherry salmon) festival in the summer where you can try catching them in the river!

27

A gigantic space with fun activities - Fujikawa Craft Park

Are you tired of being in a small and crowded space? This is a humongous park where you can enjoy heaps of activities all day along!

The Fujikawa Craft Park is 53 hectares in size (11 times bigger than the Tokyo Dome). They have different flowers throughout the year, a BBQ space, a kirie (paper cutout) museum, washi (Japanese paper) postcard-making workshops, kayaking, and plenty more activities that you can enjoy! It's a perfect place to visit for families with children.

4.0

33 Reviews

Yamanashi Pref. Minamikomagunminobuchou Shimoyama 159

0556625545

[Park] Open 24 hours (manage…

View All

This is another camping ground that featured in the anime "Yuru-can"! Just like many other beautiful areas at the foot of Mt. Fuji, Shibire-ko has great views featuring different nature depending on the season. It's not one of the Fuji Five Lakes, so you can enjoy more nature with less people. There are also activities that you can enjoy on the water, such as a kayaking tour!

Yamanashi Prefecture Nishiyachiyo-gun Ichikawa Misato-cho Yamaeya Four Tail Unit

View All

29

Hoshino Resort Resonare Yatsugatake

The Hoshino Resort Resonare is a European-styled design hotel amidst the fresh air of Yatsugatake.

They have an amazing pool called "il mare" inside where children can also play in the water.

On the pretty stone path of Piment Street you can enjoy shopping with the feeling of being somewhere in Europe. Cozy cafés, gelato shops, stylish gift shops…there are around 20 sophisticated shops to entertain you!

Yamanashi Pref. Hokutoshi Kobuchisawachou 129-1

0570073055

8:00-21:00 (each Depending o…

View All

30

Achieve a beautiful mind and body during a shrine visit

The Misogi Shrine is a shrine where people come to become beautiful. The shrine's philosophy is about making people's minds (and other things that you can't visualize) beautiful, so they can spend every day brightly and lively.
The process of making our minds crystal clear is known as Misogi and that is what this shrine is all about.

There is also a Noh theater inside the shrine. Noh is a traditional Japanese musical drama with masks. Not many shrines have Noh theaters inside, which makes the Misogi Shrine very special! This shrine became particularly famous after a Japanese celebrity got married here!

Yamanashi Pref. Hokutoshi Kobuchisawachou Takahara

0551363000

[Weekday]9:00-16:30[Saturday…

View All

31

Try the taste of popular whiskey at the Suntory Hakushu distillery

If you want to find a good Japanese whiskey, you have to try the one from Suntory. Hakushu is one of the whiskeys that Suntory makes. It's a single malt whiskey with a light, smoky flavor and herbal notes. Not only can you buy popular Suntory whiskeys at this distillery, but also participate in their factory tour! It's a very popular tour, so you need to make a reservation in advance.

Official Website : Suntory Hakushu Distillery

4.5

363 Reviews

Yamanashi Hokuto-shi Hakushucho Torihara 2913-1

0551352211

9:30-16:30(Last entry16:00)

View All

32

Shop wisely at a plateau resort!

If you feel like shopping in a resort area while enjoying Yamanashi's natural adventures, then visit the Yatsugatake resort outlet!
They have an excellent choice of clothing, sports and outdoor, shoes, and accessory shops, as well as restaurants in a refreshing area with lots of trees and plants. In addition to these shops, they also have an outdoor school where your children can learn different crafts and participate in activities in the woods. The shopping complex is pet friendly too!

八ケ岳リゾートアウトレット

山梨県北杜市小淵沢町

0551205454

View All

33

Paint to your heart's content in an artistic resort

The Kobuchizawa Art Village is located in the southern area of Yatsugatake. It is a huge resort, with hotels, restaurants, a spa, a golf course and other facilities.

The Nakamura Keith Haring Museum is one of the highlights of this village! You can recharge your energy through the pop art of Haring. The resort hotel has an artistic atmosphere too, with unique architecture and a lodge-style atelier that is like an art exhibition in itself!

Read more
Gritty street art in the hills of Yamanashi: explore the Nakamura Keith Haring Collection
Even if the name doesn't ring a bell, you've surely seen Keith Haring's kinetic street art somewhere, since his images have spread globally, plastered on shirts, Swatches, and stickers.…

Kobuchizawa Art Village Resort and Spa

Yamanashi Pref. Hokutoshi Kobuchisawachou 10060-341

0551-36-5272

View All

34

Indulge in a luxurious experience on a 1900-meter-high hill

On the Kiyosato Terrace, you can enjoy unforgettable views accompanied by their tasty food. This terrace is the highest place in the entire Sun Meadows Kiyosato complex. Enjoy the refreshing Yatsugatake blue sky with mountain views!

Seisen-ryo which has been there since 1938 was originally a Christian educational institute but is now open to public and a very popular place to spend the night!Soft cream is also very popular. Speaking of soft cream, it became so famous that it is said to be "Seisen-ryo soft cream".

4.0

10 Reviews

Yamanashi Pref. Hokutoshi Oizumichounishide 8240-1 Kiyosato San Medozu

0551484111

9:30-16:30(Depends on the se…

View All

Seisen-Ryo

Yamanashi Pref. Hokutoshi Takanechoukiyosato 3545

0551482111

View All

35

Only in summer! 360℃ views with 600,000 sunflowers

Hokuto City is known for having the longest daylight hours in Japan. In this bright city, there is a sunflower festival (Akeno sunflower festival) held every summer where you can see 600,000 beautiful sunflowers. It is such a bright view with all of the yellow flowers and a backdrop of great mountains such as Mt.Fuji, Yatsugatake and so on. Your heart will be shining all night long after seeing this dazzling scenery!