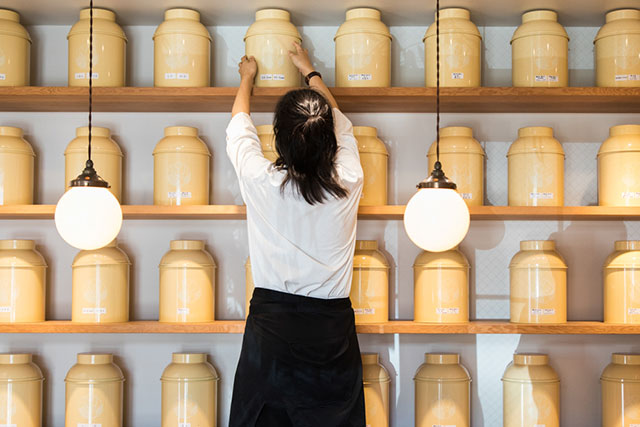 In Shizuoka, a city already famous for green tea, it's hard for a tea shop to stand out. To do so requires not only an impeccable product line but also exquisite service, consistent execution, and thoughtful innovation which elevates the unique qualities of its tea to new heights. chagama Tea House, the retail shop of wholesaler Marumo Mori, has been juggling these elements since 2014 in a bid to honor the traditions of Japanese tea while delivering something uniquely its own.
chagama serves as a storefront for Marumo Mori, a company run by a duo of tea experts who have been pursuing the perfect cup of tea since 1958. Nobuki Mori is the only ninth-level tea examiner in Shizuoka Prefecture, and several top‐level tea examiners.
They visit plantations, and using all five senses, find the best-quality teas at their optimal time for harvest; tea is stored with nitrogen and only processed to order, meaning Marumo Mori's teas are as fresh as possible.

To better connect with their loyal customers, Marumo Mori opened chagama in 2014. The shop takes its name from the cast-iron pot used to heat water during a Japanese tea ceremony (also the shop's illustrated logo). LIning the shelves is a rotating selection of approximately 70 varieties of tea, which can be purchased loose or in convenient tetra bags. chagama realizes that a wall of tea can be a daunting challenge for the uninitiated, so staff are trained to explain the unique qualities of each. They're also happy to brew you a sample to help you find just the right flavour: like the rich umami of Ten-Ten (roughly translated as "the heavens") or the gentle sweetness of Kagoshima's saemidori (clear green). Stop by the shop often or follow them on social media to catch short-run specials before they sell out. If you're not yet set up to brew and serve tea at home, chagama also features tumblers and teapots to either start or round out your collection.

For those who want to try more than a sample, chagama runs a cafe with daily specials according to the weather that make the most of seasonal ingredients. If your idea of tea ends at a classic cup, prepare to have your mind blown by hot or iced Sencha Espresso (324 yen), an internet sensation made via an espresso machine specially calibrated to prepare fresh sencha without burning its leaves. Evenings at chagama reveal tea cocktails like a towering green tea mojito shaved ice topped with tangy slices of lime (1000 yen).

chagama is conveniently located several minutes east of Sunpu Castle Park on foot, and is open from 10:00 to 19:00 from Tuesday to Sunday (closed Mondays a holiday is open).