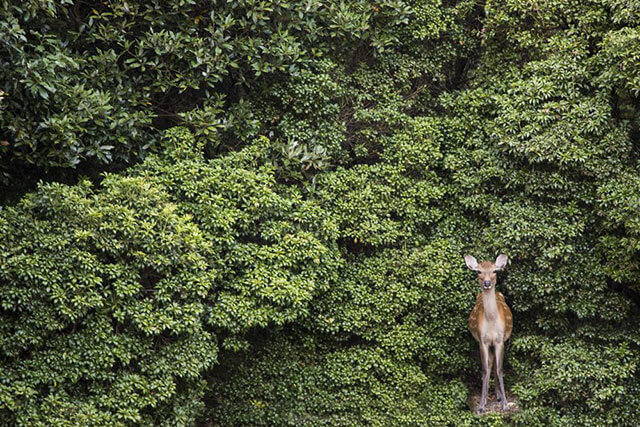 The small and historic city of Nara is a popular and must-see tourist destination in the Kansai region, and the city has many interesting spots and districts to visit.

Covering a large area on the eastern side of the city is Nara Park, a great place to relax and take a stroll. Many of Nara's most popular attractions are actually located within the limits of the park, but the park covers such a vast area that it is always easy to escape the crowds. The park's most famous residents are the 1000 or so free-roaming deer, which in Shinto are believed to be messengers of the gods. The deer are fairly tame and vendors around the park sell crackers to feed them, with some deer even having learnt to bow before receiving one.
The park houses some of Nara's most visited and famous spots, including Todai-ji, one of the largest wooden structures in the world housing a giant bronze Buddha; the renowned shrine of Kasuga Taisha located in the woods to the east of the park, famous for its lantern festivals; and Kofukuji, an interesting temple complex with one of the largest wooden pagodas in Japan. At the centre of the park you can also find the Nara National Museum which houses a fantastic collection of art of ancient artefacts.

02

Naramachi: Old Merchant District

Naramachi is the old merchant's district, and its narrow streets are lined by traditional townhouses and warehouses from the Edo era. Many of the buildings have been preserved or faithfully recreated, and so exploring the area feels like stepping back in time. Don't miss Koshi-no-Ie (Naramachi Lattice House) or Nigiwai-no-Ie, two fine examples of historic buildings with authentic period interiors, both of which are also free to enter.

Naramachi

Nara Nara-shi Chuincho , Gangojicho , Nishinoshinyacho

0742271820

View All

03

Naramachi Kobo(shop & dine)

While walking through the district you may stumble across the Naramachi Kobo, a small network of attractive alleyways (numbered one to three) which are home to a variety of shops selling everything from clothes and accessories to sweets, art and hand-crafted souvenirs, and there a number of boutique cafes serving tea and cake.

Also check out Shika-no-Fune, a restaurant, shop and gallery serving traditional Japanese dishes in a wonderful authentic setting.

For foodies there are a number of high-class restaurants in the area, including some Michelin-star establishments, and the popular Kurumi-no-ki, a simple and rustic but stylish cafe/shop in a peaceful and green spot.

4.0

41 Reviews

Nara Pref. Narashi Hourenchou 567-1

0742238286

[Monday-Friday] 11:00-16:00 …

View All

Nishinokyo is a fairly large area to the west of JR Nara Station that is perhaps less frequently visited than other parts of the city, but it is home to a number of interesting and historic spots for those who make the effort.
There are a few UNESCO World Heritage sites in Nishinokyo, including Yakushiji, one of Japan's finest and oldest temples, and the Former Site of Heijokyu Imperial Palace where there is an impressive recreation of one of the great halls. The palace's last remaining building was moved to nearby Toshodaiji, a beautiful temple with splendid grounds and gardens famous for its lotus flower blooms in the summer.