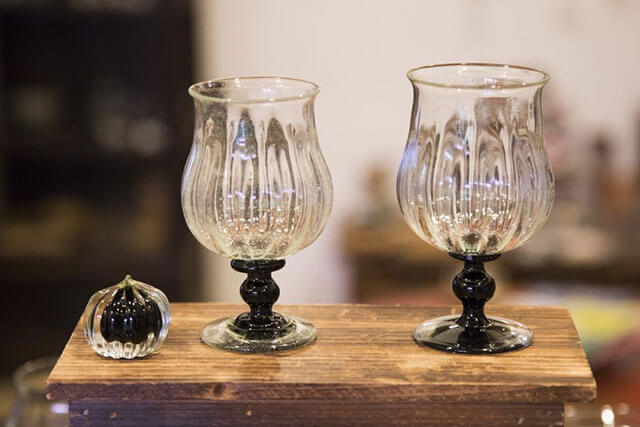 Nara, best known as a day trip from Kyoto, is normally visited just for its famous park and deer. However, there is plenty more to the city besides the cultural sights and wildlife. Nara offers boutiques and independent outlets, showcasing the best in local handicrafts and food. The small size of the city discourages large companies and instead lets the original creators stand out.
Kurumi no Ki is a sundries boutique in northern Nara. Its items are all handcrafted with delicate care. The goods range from clothing to organic groceries to locally made ceramics. Kurumi no Ki also offers a kitchen and cooking equipment section. Window shoppers can admire the vintage teacups, and book lovers can peruse the selection of cookbooks. The small, light-filled space is next to a cafe, also a part of the shop. Here, shoppers can refresh themselves with the fresh lunch menu, offering a macrobiotic and seasonal twist on the local foods. Kurumi no Ki is the perfect place to find a unique present while supporting local craftsmen and small companies.

Nara Pref. Narashi Hourenchou 567-1

0742238286

11:00-17:00

View All

Located in the back streets of Nara, Kito Kito is difficult to find but well worth the complex trek. The small house has been transformed into a store selling locally made crafts. Each item is handpicked by the owner and sold to benefit the artist. Kito Kito acts as both an exhibition space and boutique for the artist. Visitors are free to peruse the goods without feeling pressured to purchase anything. The shop is difficult to find but cannot be missed. The store lacks a sign but is recognizable by its stained glass, which glows in the evening. It can be accessed through a narrow alleyway and is located near a small garden. The store still looks just like someone's home but instead houses a trove of handmade curiosities. Kito Kito also offers crafting classes. Be sure to check the event calendar to participate.

Founded in 1716, Yu Nakagawa was created when Japan was first falling into the Western influence of art and design. The store wanted to preserve the Japanese tradition of hemp-woven products without any infiltration. Three-hundred years later, the company is still hand weaving its products with the original patterns. There are stores all across Japan, but the flagship and main offices are in Nara. Yu Nakagawa sells a variety of hemp products, ranging from towels to tote bags to clothing. The company is so well known throughout Japan that souvenirs from Yu Nakagawa are common for domestic visitors.

Nara Nara-shi Ganriincho 22

0742252188

10:00-19:00

View All

Kitamachi is a tofu shop selling soybeans in various forms. The shop uses only soybeans grown in Nara and sells tofu for everyone and for every meal. Housewives pick up blocks for dinner, and children devour the soy-based snacks. The shop is most famous for it okara, or leftover tofu, donuts. The leftover tofu gets blended into the donut mix, creating a unique and healthy flavor. The okara donut is best paired with the soy milk soft cream. Soy pudding is also a popular dessert, a sweet with a rounded creamy flavor.