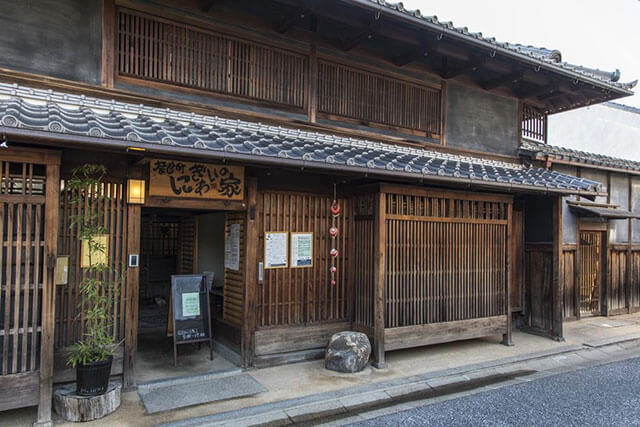 The Kansai region of Japan is an area steeped in history and cities such as Osaka and Kyoto attract visitors from all over the world. Nearby Nara is a much smaller city, but as a former capital and administrative centre for the whole of Japan, it too has a deep cultural heritage, with numerous UNESCO World Heritage sites and designated national treasures dotted around the city.
The Naramachi district is a small area southwest of Nara Park. It can easily be missed by visitors but is well worth exploring. As the former merchant quarter, the area is home to many traditional townhouses, some of which have been lovingly preserved, both inside and out, to give us a rare glimpse into urban life during the Edo period. Other houses and buildings in the district have been converted to cafes, restaurants, shops, and museums, but they all retain their traditional charm, and walking down the narrow streets and alleyways is an evocative experience.

Naramachi

Nara Nara-shi Chuincho , Gangojicho , Nishinoshinyacho

0742271820

View All

The Koshi-no-Ie (or Naramachi Lattice House, as it is called in English) is one of the most well-known buildings in the district, thanks to its wonderful wooden lattice exterior. A former merchant house that has been recreated down to the very last detail, visitors can browse in the shop at the front and then explore the lavish (for the time) living quarters at the back. It is one of the best examples of a traditional machiya style house and should not be missed. Admission is free and it is closed most Mondays.

4.5

207 Reviews

Nara Pref. Narashi Gangoujichou 44

0742234820

9:00-17:00

View All

Naramachi Nigiwai-no-Ie is an attractive wooden-fronted tradesman's house that is almost 100 years old. Feel free to wander throughout the property and explore the tatami rooms, traditional-style kitchen and the wonderful Japanese garden tucked away at the back. Entry is free, but it is closed on most Wednesdays.

Naramachi Museum has many displays and artefacts relating to the history of the district, and although there is little English-language information, it is still interesting for a quick look, and entry is free.
Not far from the museum is Koshindo, a shrine where you can see many red fabric ornaments representing a monkey hanging from the eaves; these are called Migawari Zaru and are a common sight in Naramachi, since they are believed to be charms against misfortune. Look out for the three wise monkeys perching on the roof of the shrine.

4.0

66 Reviews

Nara Pref. Narashi Nishinoshinyachou 14

0742225509

10:00-16:00

View All

05

Gangou-ji (UNESCO World Heritage)

Gangou-ji is the district's most famous temple and the oldest of its kind in Japan, dating back to the formation of the city itself in the early 8th century. It is a registered UNESCO World Heritage site but the temple complex is much smaller than it once was, as many of the merchant houses of Naramachi were later built on its grounds. The Gokuraku-do is a hall designated as a national treasure, while the treasure house contains many fine relics from the temple's earlier periods. The grounds of the temple make for pleasant strolling and are full of ancient stone lanterns and grave markers.

4.0

260 Reviews

Nara Pref. Narashi Chuinchou 11

0742231377

9:00-17:00 (However, entry t…

View All

The Naramachi district is located about 20 minutes' walk east of JR Nara Station, or a 15 minutes' walk south of Kintetsu Nara Station.