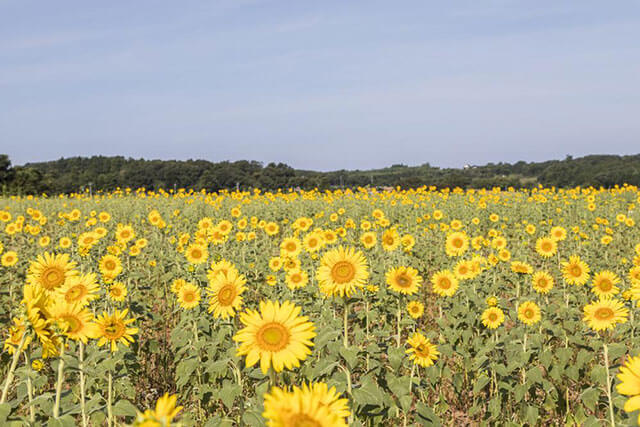 Fukui is not at the top of most itineraries for travel in Japan—and that's a good thing. It means that the prefecture is full of undiscovered gems and unique experiences that can be experienced with a minimal amount of the holidaymaker crush that can make traveling to more popular locations frustrating, especially if you're headed there with the family. Here are five places to get you and yours started on planning a trip to Fukui.
01

Take a trip from the old town of Mikuni to the towering cliffs at Tojinbo

The old town of Mikuni flourished as a node on the coastal shipping route that linked Honshu to northern Japan during the Edo, serving as a pitstop for the Kitamaebune freighters. The town's well-preserved buildings have been reborn as cafes, ice cream shops and guesthouses. After exploring Mikuni, your next stop has to be Tojinbo. From Mikuni Station hop the train one stop down to Mikunimato Station, then take the bus out to the cliffs. Start by climbing to the top of the 180 foot Tojinbo Tower to take in a stunning view of the Sea of Japan and the Fukui countryside. There are trails that run up and down the cliffs, but, if you've got younger members in your party, hop onto one of the boat tours that run up and down the coast.

Absolutely tailor-made to satisfy even toughest adolescent customer, Shibamasa World, a short distance from Hamaji Beach, is a theme park and water park. For kids, there are rides and games, a work park where kids can experience the thrill of toiling at various mundane jobs, a maze, and even a play zone for infants and toddlers. The water park is one of the largest in the country, boasting wave pools, play parks and fifty waterslides. Ten times the space would be required to cram in a description of every attraction at Shibamasa World. It's got to be on the itinerary, if you're traveling to Fukui with the family.

4.0

2 Reviews

Fukui Pref. Sakaishi Mikunichouhamaji 45-1

0776812110

Varies by season and Sunday

View All

When the sunflowers rise and shine in late summer, the fields at Ikegami Himawari Park are full of families strolling through and pausing for cutesy photo opportunities. Spots like this are hard to hit by public transit, but if you've rented a car, make sure to drive through the farmland north of Mikuni, ending up at Ikegami Himawari Park.

04

Take a day trip to Echizen Matsushima Aquarium

Traveling and living in Japan will turn you and your kids into aquarium spotters. It seems as if even tertiary tourist spots have installed aquariums as part of a drive to bring in out-of-towners, and they range from very good to not-that-bad. The Echizen Matsushima Aquarium is somewhere in the middle, but throw in a detour to Mikuni Seaside Natural Park and a trip out to the Hamaji Beach, and it makes a good family day trip. Apart from the usual attractions, the glass-floored observation room, looking down on an artificial reef, is particularly fun.

4.0

207 Reviews

Fukui Pref. Sakaishi Mikunichousaki 74-2-3

0776812700

9:00-17:30[During summerWeek…

View All

05

Experience mineral springs at Awara Onsen Ashiyu

The truth is that onsen are best for couples. If you're traveling with kids, there are some resorts that work (Sentopia Awara might be an option), but, for most kids, relaxing in scalding hot alkaline water is just not their scene. Instead of writing off the pleasures of onsen altogether, bring the family by the Awara Onsen Ashiyu, a foot bath just north of Awara Yunomachi Station on Echizen Railway's Mikuni Awara Line.